| | |
| --- | --- |
| August 08, 2023 | Volume 19 Issue 30 |
---



HRG Miniature Roller Type LM Guide
The HRG from THK is an LM Guide that uses rollers for the rolling elements. As the smallest roller type guides, the HRG8, 10, and 12 achieve higher rigidity and a longer service life than other LM Guide models of similar size. It can handle loads applied from four directions. The HRG can be used in a variety of mounting orientations (wall-mounted, horizontal, inverted, and vertical), making it suitable for a wide range of applications.
Find out more from THK.
---
---


Advanced alloy development for automotive lands ORNL team high honors
Dean Pierce of the U.S. Department of Energy's Oak Ridge National Lab and a research team led by ORNL's Alex Plotkowski were recently honored by DOE's Vehicle Technologies Office for development of novel high-performance alloys that can withstand extreme environments. Pierce collaborated with Cummins to develop and create pistons from a new steel alloy made with chromium. An ORNL-developed aluminum alloy for 3D printing was also recognized.
Read the full article.


Toyota Land Cruiser is back!
Toyota's off-road icon and longest-running nameplate is making a big comeback to North America for the 2024 model year, returning to its rugged roots as a true off-roading 4 x 4. Land Cruiser will be available in three grades: Land Cruiser 1958 (with cool round headlights), Land Cruiser, and the limited-run Land Cruiser First Edition. All will be available with the range-topping i-FORCE MAX hybrid powertrain producing 326 hp and 465 lb-ft of torque.
Read the full article.


Wow! The best high-speed rotary bearing in THK history
THK has developed its best-performing, high-speed rotary bearing ever: the High-Speed, Double-Row Angular Contact Ring BWH. This rotary bearing has balls aligned inside a cage between the inner and outer rings and is part of the THK Rotary Series, along with the cross-roller ring. The main features are its ability to receive loads in all directions as well as its high rigidity and rotational accuracy, which are equal to that of cross-roller rings. By adopting a new structure to change the rolling elements from rollers to balls, this product achieves the greatest high-speed performance ever offered by THK.
Learn more.


Top Tech Tip:
2D, 3D, or 2.5D? Choosing a vision system for your automation project
If you're looking at machine vision systems for automation, you will need to decide whether to invest in a 2D, 3D, or 2.5D camera system. That choice will have a major impact on the deployment's cost, complexity, capabilities, and functionality. OnRobot's Kristian Hulgard, General Manager - Americas, explains the differences, benefits, and shortcomings of each system type.
Read this informative OnRobot article.


When metals can't survive: Machined ceramics as an alternative
Technical Ceramics are so hard and wear resistant that they cannot be machined with conventional tools -- but they can outlast and outperform other materials in demanding or harsh applications. Insaco's proprietary diamond grinding process and specialized techniques developed over many decades allow the company to produce and document parts to exacting specifications consistently. Learn all about the alternatives you have when metals just can't take it.
Read this informative Insaco article.


Potentiometer with extremely low torque requirement
Novotechnik, U.S. has just announced the P2200 potentiometer that operates with an extremely low torque requirement of 0.003 Ncm. This rotary position sensor is well suited for applications where the system to be measured can be affected by the torque requirements of the sensor. It offers a precision conductive plastic potentiometer in a servo size 11 housing with stainless steel bearing and a life of 100 million movements.
Learn more.


Mitsubishi to debut new 3D bin-picking robots
Join Mitsubishi Electric Automation at PACK EXPO 2023 in the Las Vegas Convention Center Sept. 11-13 for a first look at a new 3D Bin-Picking robot demo, perfect for automating packaging processes. Also learn how the combination of 3D vision for robotic guidance, dynamic path planning, and collision avoidance can work together to increase throughput and reduce the footprint needed to deploy Mitsubishi Electric robots. Lots more to see and discover.
Learn more.


New 32-bit Arduino Uno development board
Arduino has just launched its next-gen UNO board, a significant revision of its 8-bit technology. The new UNO R4 preserves the standard form factor, shield compatibility, and 5-V power supply of the popular UNO R3 but adds a 32-bit microcontroller with up to 16x the clock speed, memory, and flash storage with the integration of the RA4M1 processor from Renesas. Comes in two versions: basic UNO R4 Minima and comprehensive UNO R4 Wi-Fi.
Learn more about the UNO R4.


Good Reads: Most cars cost more to charge than fill up
Business Insider has an interesting piece on the cost to charge electric vehicles vs. the cost of a standard gasoline fill-up. It may surprise you that charging is often more expensive (for now) -- especially when using a public charger. Trucks, whether EVs or gasoline powered, run about even. [Image credit: Ford Mustang Mach-E GT Performance Edition/Ford]
Read the full article.
---
Most popular last issue


Aston Martin Valour: High-end muscle vibes
James Bond's favorite carmaker Aston Martin has given a street-muscle vibe with throwback styling to its latest limited-edition creation. Inspired by the original 1970s V8 Vantage and some other Aston Martin creations, the two-seat 705-hp Valour features a twin-turbo V12, a manual transmission, and powerful prowler looks.
Read the full article.
---
Videos+: Technologies and inspiration in action
Lockheed Martin inflatable space habitat burst test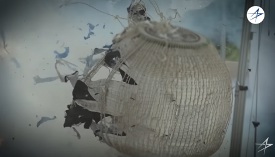 Engineers at Lockheed Martin in Colorado were busy earlier this year performing a subscale burst test of one of the company's inflatable space habitat modules. The test achieved validation by making it up to 253 psi (nearly six times the max operating pressure) before the big bubble-bursting boom. Next up for the engineering team is creep testing (life deformation testing) to validate the habitat's operational life capability.
View the video.
---