| | |
| --- | --- |
| August 15, 2023 | Volume 19 Issue 31 |
---



Cool Electronic Cabinets
Prevent hot weather failures that can affect production. UL Listed Cabinet Coolers produce 20 degree Fahrenheit air from an ordinary supply of compressed air to cool electrical controls. Thermostat control minimizes air usage. Maintains the NEMA 4, 4X (stainless steel) and 12 rating of the enclosure.
Website offers Calculator for choosing model.
---
---
---
Feature articles


Owners unimpressed with new-vehicle design and performance
For the first time in the 28-year history of the J.D. Power U.S. Automotive Performance, Execution and Layout (APEAL) Study, there is a consecutive year-over-year decline in owner satisfaction. The study is based on factors scored by new-vehicle owners. On the plus side, there were some real standouts for highest ranked vehicle brands and individual models such as the Porsche 911.
Read the full article.


How digital twins could protect manufacturers from cyberattacks
As more robots and other manufacturing equipment such as 3D printers become remotely accessible, new entry points for malicious cyberattacks are created. To keep pace with the growing cyber threat, a team of researchers at the National Institute of Standards and Technology and the University of Michigan devised a cybersecurity framework that brings digital twin technology together with machine learning and human expertise to flag indicators of cyberattacks.
Read the full article.


All-new Hyundai Santa Fe: Bigger and better
The totally redesigned Hyundai Santa Fe is bigger, better, and sports a high-end look. The boxy midsize SUV with a longer wheelbase, more interior room, and available third-row seating will come in two powertrain options: a 2.5-L 281-hp 4-cylinder turbo or a 1.6-L 226-hp gas-electric 4-cylinder turbo hybrid. A plug-in hybrid will be available later.
Read the full article.


Top Tech Tip: Innovative way to take up tolerances!
Smalley Linear Springs are a continuous wave formed (marcelled) wire length produced from spring tempered materials. They act as a load-bearing device with approximately the same load/deflection characteristics as a wave spring. Linear Springs are now available as a standard part in carbon and stainless steel, with over 200 sizes.
Learn more.


Transparent ceramics for extreme optics
Sapphire is an inherently transparent ceramic material that is resistant to extremes of temperature and environment. Sapphire can be processed to unique and precise shape/form by diamond grinding and polishing to allow full transparency. INSACO is a global leader in this capability -- and working with ultra-hard materials in general.
Learn more.


Telescoping linear actuators for space-constrained applications
Rollon's new TLS Series of telescoping linear actuators enable long stroke lengths with minimal closed lengths, which is especially good for applications with minimal vertical clearance, such as between the machine and ceiling or horizontally between machines. These actuators integrate seamlessly into multi-axis systems and are available in two- or three-stage versions. Equipped with a built-in automated lubrication system, the TLS Series features a synchronized drive system, requiring only a single motor to achieve motion. Four sizes (100, 230, 280, and 360) with up to 3,000-mm stroke length.
Learn more.


Ball screws or belt-driven actuators? How to choose
Two of the most common components for a linear actuator are ball screw systems and belt and pulley assemblies. There are benefits and limitations to these components, so choosing the right component comes down to the specifications needed for the application. Carlicia Layosa, Marketing Automation Manager at MISUMI, runs through some benefits and drawbacks of each technology.
Read this informative MISUMI blog.


Clutches and brakes for electric outdoor mobile equipment
As OEMs and drive train manufacturers work to bring emerging technology to life, they are partnering with Warner Electric engineers and electrification specialists on electromagnetic braking solutions for electric riding mowers, UTVs, ZTRs, and more. Lots of options, including enclosed and low-profile Spring Applied Emergency and Parking Brakes -- some even feature regenerative braking.
Learn more.


New HUCO nylon sleeve gear couplings catalog
The new and downloadable HUCO NSG Couplings Catalog features flexible molded nylon sleeve couplings with a double crowned tooth design that provide free axial movement, low friction, no heat buildup, and minimal stress during misalignment. Designs are available with up to 9.5-mm axial travel. With this no-maintenance design, the load is distributed near the center of the tooth for maximum strength.
Get all the specs.


LEGO Concorde: Fly high and fast
Cruise twice as fast as the speed of sound in your imagination with the new LEGO Concorde set. Built in the 1960s as part of a joint venture between the United Kingdom and France, Concorde was the first supersonic passenger-carrying commercial aircraft. This 2,083-piece set is an accurate scale model of the plane. Finished length is almost 3.5 ft. It boasts a removable roof to show off the opulent cabin interior, landing gear, and nose and visor tilts. Available Sept. 7.
Learn more.
---
Most popular last issue


Toyota Land Cruiser is back!
Toyota's off-road icon and longest-running nameplate is making a big comeback to North America for the 2024 model year, returning to its rugged roots as a true off-roading 4 x 4. Land Cruiser will be available in three grades: Land Cruiser 1958 (with cool round headlights), Land Cruiser, and the limited-run Land Cruiser First Edition. All will be available with the range-topping i-FORCE MAX hybrid powertrain producing 326 hp and 465 lb-ft of torque.
Read the full article.


Good Reads: Most cars cost more to charge than fill up
Business Insider has an interesting piece on the cost to charge electric vehicles vs. the cost of a standard gasoline fill-up. It may surprise you that charging is often more expensive (for now) -- especially when using a public charger. Trucks, whether EVs or gasoline powered, run about even. [Image credit: Ford Mustang Mach-E GT Performance Edition/Ford]
Read the full article.
---
Videos+: Technologies and inspiration in action
Mini motors and drive systems on-demand webinars: Chock full of informative details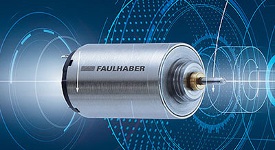 Faulhaber has made available a comprehensive library of on-demand webinars all about its miniature motors and drive systems. Each presentation is full of product details, technology overviews, selection help, design tips and tricks, and application examples. Topics include: stepper motors, brushless motors, DC motors, linear motors, encoders, gearheads, motion controllers, and more. Filled with useful information.
View the Faulhaber webinar library page.
---