| | |
| --- | --- |
| August 22, 2023 | Volume 19 Issue 32 |
---
---


What is the C-Flex Pivot Bearing?
It's a flexure-based bearing utilizing internal flat crossed springs, capsuled in a cylindrical housing, to provide precise rotation with low hysteresis and no frictional losses. The C-Flex bearing will offer infinite life when used within its rated load and rotation values. Applications include Medical, Industrial, Aerospace, Semiconductor, and Optical.

Advantages include: Frictionless, Backlash-free, Self-centering, Simple installation, Low hysteresis, Vacuum applications, Stock items, No lubrication, No maintenance, and Infinite life.
Learn more from C-Flex, The Leader in Flexing Metal Technology.
View the C-Flex Pivot Bearing training page.


54 Years Ago: Apollo 11 launch and Moon landing
An estimated 1 million people gathered on the beaches of central Florida in 1969 to witness first-hand the launch of Apollo 11, while more than 500 million people around the world watched the event live on television. Officially named as a crew just six months earlier, Commander Neil A. Armstrong, Lunar Module Pilot Edwin E. "Buzz" Aldrin, and Command Module Pilot Michael Collins were prepared to undertake the historic mission.
Read the full article.


Over 26,000 Stock Metric Gears
KHK USA Inc offers the largest selection of stock metric gears in North America -- with over 26,000 configurations. KHK USA offers Metric Spur Gears, Metric Helical Gears, Metric Internal Ring Gears, Metric Gear Racks, Metric Bevel Gears, Metric Worms and Wormwheels from stock! Free 3D CAD models, technical specs and 24/7 price and availability detailed online.
See what KHK USA has in stock for you today!


Porsche 911 S/T: Limited anniversary edition
Porsche is celebrating the 60th anniversary of the Porsche 911 with a limited-edition, first-of-its-kind 518-hp 911 S/T model. Created for everyday driving, the car combines elements of the 911 GT3 RS with the body of the 911 GT3 with Touring Package and supplements it with specially developed lightweight components. It is quick, nimble, and a dream ride for many a Porsche aficionado.
Read the full article.


What's next for airplane engines?
Is it possible to reduce fuel consumption and CO2 emissions by more than 20% compared with today's most efficient aircraft engines? CFM International, a 50-50 joint company between GE Aerospace and Safran Aircraft Engines, is working on it through its Revolutionary Innovation for Sustainable Engines (RISE) program. An open-fan architecture, carbon-fiber composites, ceramic matrix composites, and additive technology are all part of the technology mix to make it happen. [Image credit: CFM International]
Read this informative GE Aerospace article.


Detecting part errors: Automotive resistance welding machines
NewTek Sensor Solutions has designed a custom linear variable differential transformer (LVDT) position sensor for resistance spot welding machines used in automotive plants to detect missing or misaligned parts in nut and stud welding. Cars contain hundreds of welded nuts and studs that hold them together. Properly securing the right nut and stud to different car components is critical to safe operations.
Read the full article.


Electric linear actuators in mobile off-highway machines
Learn how Thomson electric linear actuators can perform complex motion profiles drawing power up to 400 W to replace hydraulic or pneumatic cylinders in mobile off-highway (MOH) equipment. Smart actuator applications are varied in both power and capabilities. This article takes a look at self-driving agriculture equipment and the ease with which electric and hybrid electro-hydraulic actuators control stroke, speed, position, and force for critical moving elements.
Read the full Thomson article.


See NORD's innovative and reliable packaging solutions at PACK EXPO 2023
NORD provides complete drive solutions for the entire packaging process from filling and sealing machines to palletizing and wrapping systems in end-of-the-line packaging. See what NORD has to offer at PACK EXPO in Las Vegas Sept. 11-13, 2023, including: IE5+ Permanent Magnet Synchronous Motors, DuoDrive Integrated Gear Unit and Motor, NORDAC ON/ON+ Variable Frequency Drives, Condition Monitoring for Predictive Maintenance, a Sealed Surface Conversion System, and much more.
Learn more.


New clamping innovation for precise 5-axis machining
The versatile Modular Pull Clamping System from Fixtureworks is ideal for machining from five sides with no tool interference and no need for additional machining setup. This innovative solution with a compact cylindrical design helps users achieve secure, precise workholding quickly and easily. It can be used as a mechanical zero-point clamping system for quick fixture change with 0.005-mm accuracy.
Learn more.


Ultimate guide to metal 3D printing with binder jetting technology
Desktop Metal has published its ultra-informative "Metal Binder Jetting Guide," a 40-page resource that will help interested parties explore binder jetting technology, which does not use a laser, and how it compares to other metal 3D-printing processes. Take a deep dive into what makes binder jetting a standout technology, and learn how it works, its many benefits, and real-world case studies of successful adopters.
Learn more.
---
Most popular last issue


Owners unimpressed with new vehicle design and performance
For the first time in the 28-year history of the J.D. Power U.S. Automotive Performance, Execution and Layout (APEAL) Study, there is a consecutive year-over-year decline in owner satisfaction. The study is based on factors scored by new-vehicle owners. On the plus side, there were some real standouts for highest ranked vehicle brands and individual models such as the Porsche 911.
Read the full article.


All-new Hyundai Santa Fe: Bigger and better
The totally redesigned Hyundai Santa Fe is bigger, better, and sports a high-end look. The boxy midsize SUV with a longer wheelbase, more interior room, and available third-row seating will come in two powertrain options: a 2.5-L 281-hp 4-cylinder turbo or a 1.6-L 226-hp gas-electric 4-cylinder turbo hybrid. A plug-in hybrid will be available later.
Read the full article.
---
Videos+: Technologies and inspiration in action
Robotic machining just got a whole lot better! All-electric force compensator for robotic sanding, grinding, and deburring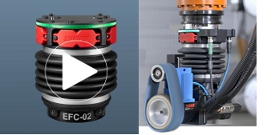 SUHNER's new end-of-arm EFC-02 active compliance system combines over a century of abrasives and material removal expertise with smart automation to deliver precise, constant force for robotic sanding, grinding, and deburring processes. The result is superior, consistent surface quality. EFC-02 is used for material removal or surface finishing -- even in tight or narrow spaces. It features simple robot programming for complex processes, Industry 4.0 functionality, and is fully compatible with angle grinders, orbital sanders, angle polishers, and straight grinders. Optional automatic changers for abrasives or belts are available.
Learn more and see how this new SUHNER innovation works.
---