| | |
| --- | --- |
| March 01, 2016 | Volume 12 Issue 09 |
---



Noisy Bearings?
Smalley wave springs are ideal for bearing preload. The wave spring preloads the bearing through its outer race, taking up play in the bearing. Preloading will reduce bearing damage, wear, noise and vibration. The wave spring prevents sliding between the rolling elements. Bearing springs come in metric sizes to match popular bearing sizes. Smalley has over 150 standard springs available, from 16 mm to 580 mm. Customs are available for unique bearing sizes with No-Tooling-Charges™.
---
---


Most Powerful DC Motor In Its Class
MICROMO is pleased to announce the latest addition to the FAULHABER DC motor series: the 3890 CR. Its graphite commutation, powerful neodymium magnet and high copper content in the FAULHABER rotor winding provide the compact 3890 CR with an enormous amount of power. The coreless rotor ensures cogging-free, precise synchronization with very low energy consumption, making it ideal for high performance applications requiring a compact, high torque motor.
---

Feature articles

New chips digitize battlefield radiofrequency signals blazingly fast
Competition for scarce electromagnetic spectrum is increasing, driven by a growing military and civilian demand for connected devices. As the spectrum becomes more congested, the Department of Defense will need better tools for managing the EM environment and for avoiding interference from competing signals. One recent DARPA-funded advance, an exceptionally high-speed analog-to-digital converter (ADC), represents a major step forward by sampling and digitizing spectrum signals at a rate of over 60 billion times per second!
Read the full article.

---


Application Note: Quadcopter propeller torque/thrust testing
The quadcopter's four propellers are designed to work in conjunction with each other to ensure that there are no torque imbalances that could send the vehicle spinning out of control. But just how would a professional developer or hobbyist perform accurate propeller torque and thrust testing? Advanced sensor specialist FUTEK has the answer.
Read the full article.


Materials: Researchers make headway on improved football helmet design
A shock-absorbing football helmet system being developed at the University of Michigan could blunt some dangerous physics that today's head protection ignores. The engineering researchers making the system were funded by a group that includes the NFL, Under Armour, GE, and NIST. Their early prototype, which includes a novel new material, could lead to a lightweight and affordable helmet that effectively dissipates the energy from hit after hit on the field.
Read the full article.


Wings:
NASA pushes for return of X-planes
If President Obama's federal budget request for the fiscal year beginning Oct. 1, 2016, is approved, next year will be the first in a bold 10-year plan by NASA Aeronautics to achieve huge goals in reducing fuel use, emissions, and noise by the way aircraft are designed. One exciting piece of this plan is New Aviation Horizons -- an ambitious undertaking by NASA to design, build, and fly a variety of experimental flight demonstration vehicles, or "X-planes."
Read the full article.
The BIG picture:
Must-see Atlas robot in action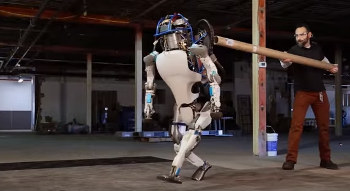 If you haven't seen it by now, it's time. Boston Dynamics has released a new video of its 5-ft 9-in. two-legged Atlas robot -- and it's a stunner. See the 180-lb humanoid walk in snowy woods, lift stuff, get assaulted, and get right back up. Atlas is electrically powered and hydraulically actuated. Body and leg sensors help it balance. LIDAR and stereo sensors help avoid obstacles, navigate, and manipulate objects.
Watch Atlas in action.


Engineer's Toolbox:
DFMA helps Marine design new career path
Patrick Bright, a former enlisted Marine who is studying aerospace engineering, uses Design for Manufacturing and Assembly (DFMA) software from Boothroyd Dewhurst to create a stabilizer solution for his removable Jeep seat, which he uses during camping trips to sit around the campfire. The project is part of his coursework at Embry-Riddle Aeronautical University.
Read the full article.


Metals: Photo-etched metals with spring characteristics
Tech-Etch specializes in the etching, forming, heat treating, and finishing of components made from metals with superior spring characteristics. Prototypes are delivered in five days. Materials include: MP35N, an ultra-high-tensile-strength metal with good ductility and excellent corrosion resistance used for medical implants; corrosion-resistant Elgiloy, ideal for stiffener bands and spring-energized seals; Beryllium Copper with excellent conductivity for battery contact, ground spring, and EMI/RFI shielding; many stainless steel varieties; Nitinol shape-memory alloy for stents and retaining springs; and Phos Bronze, which has good conductivity and cold workability for clutch springs, diaphragms, and contact springs.
Click here to learn more.


Actuators: Convert hydraulics to electric
Thomson Industries has developed an entirely new platform of electric linear actuators with integrated control systems that enable design engineers to convert a wider range of hydraulic applications to electric -- and substantially improve application control. The Electrak HD electric linear actuator boosts power to 10 kN (2,250 lb) with stroke lengths up to 1,000 mm (39 in.). It has been tested successfully to meet the toughest OEM environmental and electronic component acceptance tests. Perfect for heavy-duty applications such as mobile off-highway vehicles, utility vehicles, railroad equipment, roadwork and construction-site equipment, and more.
Click here to learn more.


Pneumatics: Grippers handle longer, bigger loads
SCHUNK has introduced several improvements on the original PGN-Plus and has announced the newest generation gripper, PGN-Plus-P. Enlarged supporting dimensions between the six load-bearing shoulders of the multi-tooth guidance allow higher moment capacity that can accommodate longer fingers and greater loads. The maintenance-free PGN-plus-P also has an enlarged drive piston area that increases grip force so that higher workpiece weights can be handled. In addition to the larger piston, the wedge drive mechanism has been redesigned for lower friction and greater surface area, which transmits more energy to the jaws creating even more grip force than previous generations.
Read the full article.


3D Printing: ULTEM 1010 resin for Fortus machines
Stratasys has made available ULTEM 1010 resin for the Fortus 400mc and 450mc 3D Production Systems. Added to the Stratasys material portfolio in 2014, this high-performance FDM thermoplastic offers the best heat resistance, tensile strength, and chemical resistance of any FDM thermoplastic. ULTEM 1010 resin is also bio-compatible per ISO-10993 and has food-contact certification of USP Class VI food contact (NSF 51). This material is ideal for aerospace, automotive, food processing, and medical device applications.
Click here to learn more.
---
Most popular last issue


Wheels:
Plastic tire chains try to get a grip in Europe
A French textile and rubber company has put snow chains on the market in Europe that have chain links made entirely of plastic. The chains use Elastollan, the thermoplastic polyurethane (TPU) from BASF. Although there are already a slew of different plastic chain sets on the market in the United States and abroad, what differentiates this technology is the materials incorporated and the molding technique used to put the chains together.
Read the full article.
---
Videos+: Technologies and inspiration in action
See SOLIDWORKS solutions in action: Fridge insider
Rotate the SOLIDWORKS-designed refrigerator with your mouse to watch videos on how the company's product portfolio was used to design different components of this refrigerator. Simply hover your mouse over any red hotspot on the refrigerator to watch a video demonstrating a SOLIDWORKS solution for built-in, integrated, design-to-manufacturing capabilities. SOLIDWORKS products featured include: CircuitWorks, Flow Simulation, Plastics, Composer, Inspection, Simulation, Electrical Schematics, Electrical 3D, Routing, and Costing.
View the video.


New FlexShapeGripper from Festo modeled after chameleon tongue
Festo's bio-inspired FlexShapeGripper can pick up, gather, and set down several objects with a wide range of shapes in one procedure -- without the need for manual tool-gripper conversion. The gripper consists of a double-acting cylinder: one chamber is filled with compressed air while the second one is permanently filled with water. A piston, which closely separates the two chambers from each other, is fastened with a thin rod on the inside of the silicone cap. The water-filled silicone cap wraps itself around the items in a flexible and form-fitting manner.
View the video.


---