| | |
| --- | --- |
| March 14, 2017 | Volume 13 Issue 10 |
---
In this issue of Designfax

U.S. Army 3D prints working grenade launcher
Expert Q&A: Early-stage costing for the real world
MIT researchers create new form of matter
Wings: Bell Helicopter unveils hybrid rotorcraft concept
Make the switch to eco-friendly switches with feeling
Engineer's Toolbox: Electron Beam Additive Manufacturing
Mike Likes: Impact-resistant carbon fiber
Get help fast specifying springs, wire forms, fasteners
Ultra-high-torque brushless slotless motor
IoT: Hardware cryptography-enabled microcontroller
Videos+: Technologies and inspiration in action

Smaller Springs, Smarter Applications

Most Popular Last Issue

Wings: Quieter supersonic jet X-plane tests
One-of-a-kind 'cannon tube' SCat gun 1,000th shot
Weird Science: Metal conducts electricity not heat

New Products

Electrical, Mechanical, Motion

Cover Image: Bell Helicopter debuts rotorcraft prototype. Army 3D prints grenade launcher, ammo. [Images:Bell Helicopter, ARDEC]

News

U.S. Army awards GE Aviation contract to develop silicon carbide power electronics

94-yr-old Li-ion battery inventor intros new technology for fast-charging, noncombustible batteries

New spin on old tech: Four-stroke engine cycle produces hydrogen from methane and captures CO2

Using low-temp process, Rutgers develops eco-friendly concrete
---


Low-cost IP55 Louvered Filter Fan Kits
Orion Fans delivers the industry's lowest cost filter fan kit, including louvered fan guard, filter, fan, metal guard, and hardware. The filtered fan kit protects against dust, dirt and moisture from entering industrial, electrical and electronic cabinets. In stock at Allied Electronics, these kits are rated to IP54, IP55 or IP56 and are available for 120, 172, 225, 254 and 280mm fans.
Get Product Info.
View Product Video.
In Stock at Allied Electronics.
---

Feature articles

U.S. Army 3D prints working grenade launcher and ammo

What's better than a 3D-printed prototype grenade launcher? One that works -- with 3D-printed ammo -- of course. Researchers at the U.S. Army Armament Research, Development and Engineering Center (ARDEC) and industry partners have been working hard to push the envelope in 3D-printing prototype technology. Did they succeed? Yup -- with a bang.
Read the full article.

---


Heard of a supersolid? MIT researchers create new form of matter
MIT physicists have created a new form of matter, a supersolid, which combines the properties of solids with those of superfluids. Studies into this apparently contradictory phase of matter could yield deeper insights into superfluids and superconductors, which are important for improvements in technologies such as superconducting magnets and sensors.
Read the full article.


15,000 Stock Metric Gears
KHK USA Inc offers the largest selection of stock metric gears in North America. With over 175 types, in more than 15,000 configurations, KHK USA offers the broadest selection of spur gears, helical gears, internal ring gears, gear racks, bevel gears, worms and wormwheels, and other gear types.

Click here to learn more.


Make the switch to eco-friendly switches with feeling
Leading consumer, industrial, medical, automotive, and enterprise technology device companies rely on C&K's switches to help them create lighting applications that are environmentally friendly and ideally suited for harsh environments. C&K's most popular tactile switches (the KSA, KSC and KSS models) offer engineers and designers excellent tactile feeling, low profiles, and actuator and sealing options to suit any design. For DIP switch options, the company offers low-profile and standard profile, coded rotary, SIP, and jumper DIP switches. The BD standard profile DIP switch is a popular choice, because it has an extended actuator and an open-bottom construction that allows for solder washing without the need for tape seal.
Click here to learn more.


Mike Likes: Hybrid material creates impact-resistant carbon fiber
DSM, the developer and producer of Dyneema ultra-high-molecular-weight polyethylene (UHMwPE) fiber, has found a way to leverage the fiber's extraordinary properties in diversely different end uses. Combining Dyneema with carbon fiber yields a hybrid, thermoset resin-based composite called Dyneema Carbon. The resulting lightweight material can increase impact energy absorption by up to 100% while removing the risk of splintering. As part of a hybrid composite, Dyneema can bring its strengths to products currently using pure carbon fiber: from golf clubs and field hockey sticks to racing bike frames and steering wheels (like the racing steering wheel shown here from OMP).
Click here to learn more.


Get help fast specifying springs, wire forms, metal stampings, fasteners
Product designers and engineers responsible for specifying springs, wire forms, metal stampings, fasteners, or other precision metal components for their products will now have access to an industry-first, web-based service that can guide them to the right solution in as little as an hour. The new online Rapid Response service connects customers to multiple problem-solving engineers embedded in MW Industries' 20 locations. Just submit your inquiry to the MW Industries home page. After beta-testing Rapid Response for several months, the company's technical experts have responded to more than 600 engineering queries within 24 hours of original contact. The company's solutions matched the customer's inquiry in more than 80% of cases.
Click here to learn more.


Ultra-high-torque brushless slotless motor
The 22ECT brushless motor is Portescap's latest addition to its Ultra EC mini motor platform line, designed specifically to deliver high torque in a compact size. With its unique coil technology and a patent-pending multipolar rotor design, the 22ECT has been developed to be one of the most advanced and highest performing brushless slotless motors in its class. The 22ECT is specifically optimized for high continuous torque at low to medium speeds, maximizing power between 10 K and 20 K rpm. These motors are capable of delivering two times higher continuous torque than comparable BLDC motors of the same size over the entire low speed range when used with gears. It is available in 60-mm and 82-mm length versions, with hall sensors and 3 different coils to match your speed and voltage requirements.
Click here to learn more.


IoT: Hardware cryptography-enabled microcontroller
One of the hardest challenges to solve in a connected system is the ability to ensure that the boot code has not been compromised. The CEC1702 hardware cryptography-enabled microcontroller from Microchip Technology eliminates this issue by making it easy for designers to verify pre-boot authentication and then provide firmware updated from known, trusted resources. This low-power, programmable ARM Cortex-M4-based 32-bit microcontroller offers easy-to-use encryption, authentication, and private and public key capabilities. It allows customer programming flexibility to minimize customer risk. It also provides significant performance improvements when compared to firmware-based solutions.
Click here to learn more.
---
Most popular last issue


Weird Science: Metal conducts electricity but not heat
There's a known rule-breaker among materials, and a new discovery by an international team of scientists adds more evidence to back up the metal's nonconformist reputation. According to a new study led by scientists at the Department of Energy's Berkeley Lab, electrons in vanadium dioxide can conduct electricity without conducting heat.
Read the full article.
---
Videos+: Technologies and inspiration in action
Smaller Springs, Smarter Applications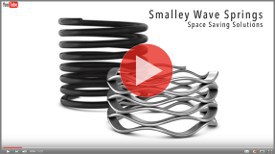 When space is an issue, Smalley Wave Springs can reduce spring heights by up to 50% compared to ordinary coil springs. Smalley's expanded manufacturing capabilities now allow us to coil wave springs to almost any diameter. Regardless of your unique application requirements, Wave Springs are an ideal solution to save space and weight.
Watch this video to learn more.
---