| | |
| --- | --- |
| March 21, 2017 | Volume 13 Issue 11 |
---



Proto Labs Torus
Torus is filled with complexities: bayonets, text on ribs, gears, bump-offs, clip cams and more. We created the design aid to illustrate that just because we manufacture parts really fast, it doesn't mean you're limited to certain features in the geometry of your part. Torus has a trio of interconnected sections, each highlighting features that serve various purposes in part design.

Get a free Torus design aid today!
---
---


Air Operated Conveyors
EXAIR's Line Vac connects to standard hose or tube to create a powerful conveyor. The design features large throat diameters for maximum throughput capability. A small amount of compressed air is injected through directed nozzles to produce a vacuum on one end and high output flows on the other.

Turn any ordinary pipe into a conveyor.
---
Feature articles


NASA works to create coolest spot in the universe
This summer, an ice chest-sized box will fly to the International Space Station, where it will create the coolest spot in the universe. Inside that box, lasers, a vacuum chamber, and an electromagnetic "knife" will be used to cancel out the energy of gas particles and freeze gas atoms to a mere billionth of a degree above absolute zero. That's more than 100 million times colder than the depths of space.
Read the full article.


Bullet-resistant Kevlar foldable shield aims to protect law enforcement
Brigham Young University engineering professors have created an origami-inspired, lightweight bullet-resistant shield that can protect law enforcement from gunfire. Made of 12 layers of Kevlar, the barrier can be folded compactly when not in use. When expanded -- which takes only 5 seconds -- it can provide cover for officers and stop bullets from several types of handguns.
Read the full article.


Motors vs. pneumatics: Getting a grip on precision
A gripping system for small parts that is both quick and powerful -- until now, that was often only possible with pneumatics. However recently, the leading expert for gripper systems and technology has developed a mechatronics-based EGP 40 gripper that easily achieves the same performance of its pneumatic counterparts. The drive that makes this impressive performance possible is small brushless DC servo motors from FAULHABER and MICROMO.
Read the full article.


Mike Likes: Designing with Wave Springs eBook
No one understands the needs of your applications more than you do. Smalley knows how critical it is to specify the right spring for your design. With tens of thousands of wave springs designed, and counting, they have tackled design challenges in nearly every industry. Their eBook, "Designing with Wave Springs," helps you find the right spring for your application and details how Smalley engineers offer space-saving solutions.
Get this valuable resource.


ABB sells its first-ever U.S.-made robot
In May 2015, ABB announced that it would begin producing robots at its Auburn Hills, MI, facility, making it the first major industrial robot company to commit to an American manufacturing footprint. It delivered its first U.S.-manufactured IRB 2600 robot (resplendent in a special red-white-and-blue paint job) to Hitachi Powdered Metals USA this month. In addition to the IRB 2600, ABB will begin manufacturing other popular robot models in Auburn Hills this year. The company estimates that by 2018 75% of all the models delivered to North American end-users will be manufactured in the United States. Previously, ABB robots sold in the Americas were made in Sweden and in China.
Read the full press materials.


Great resources: THK's guides for linear motion users
THK America has developed an online Resource Center packed with the latest industry insight and information on linear motion. Built into the navigation of thk.com, searchable content consists of white papers, briefs, case studies, articles, videos, e-books, and web content. Subjects cover a range of topics, including "The Value of a Domestic Supply Chain," "Design with Robots in Mind: What it Means for Engineers," and "THK: Shaping the Future of Service Robotics." Narrow your info search based on your project role. A Technical Calculator is available to quickly estimate the service life of THK products, including Linear Motion Guides, Ball Screws, and Linear Motion Guide Actuators.
Click here to learn more.


Schedule 80 poly pipe fittings
Bee Valve offers a full line of Schedule 80 pipe fittings. These hose, tube, pipe, and nozzle fittings are produced from glass-reinforced polypropylene for strength and durability. Polypropylene is the lightest of the thermoplastics. It has good resistance to most acids and is also a non-conductor of electricity. Bee Valve's Schedule 80 fittings are available in sizes from 3/8 in. to 3 in. Fitting configurations include tees, elbows, crosses, bushings, couplings, caps, and plugs.
Click here to learn more.


Low-cost tin-can stepper motors feature high torque and compact size
Nippon Pulse America's PF/PFC series tin-can stepping motors are conventional magnet-driven rotary stepper motors with a permanent magnet in their rotor core. Rotating in proportion to the number of pulses sent to the motor, the stepper motor is frequency synchronized and can change speed depending on the frequency of the pulse signal. Because of its high-torque output (2,500 mNm maximum torque) and low-profile construction, applications for tin-can stepper motors include printing, packaging, and medical devices. Optional gearheads are available to offer increased torque in a small package. Available from Servo2Go.
Click here to learn more.


Something different: Your chance to chime in on products and designs
Once in a while we get an email asking about product designs -- good and bad -- and what we think about them. "How come my bearings in my newer LG washing machine have worn out already?" or "Can't they make vehicle headliners that don't come apart?" are a few examples. While we don't have all the answers, we thought we'd turn it over to Designfax readers to chime in about their experiences, good and bad, with product designs -- and to voice their redesign suggestions.
Read the full article.
---
Most popular last issue


U.S. Army 3D prints working grenade launcher and ammo
What's better than a 3D-printed prototype grenade launcher? One that works -- with 3D-printed ammo -- of course. Researchers at the U.S. Army Armament Research, Development and Engineering Center (ARDEC) and industry partners have been working hard to push the envelope in 3D-printing prototype technology. Did they succeed? Yup -- with a bang.
Read the full article.
---
Videos+: Technologies and inspiration in action
Geneva Motor Show 2017: The top 14 cars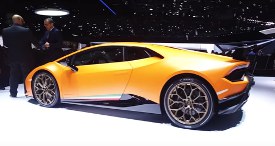 The Autocar team brings you all you need to know about one of the best high-end motor shows of the year. Top picks include: Aston Martin Valkyrie, Ferrari 812 Superfast, Mercedes-AMG GT Concept, Lamborghini Huracan Performante, and the Porsche Panamera Sport Turismo. Hope you've got deep pockets -- or know how to dream big!
View the video.
Lead screw anti-backlash nut comparison
See three different styles of anti-backlash nuts from Helix Linear Technologies and learn about their different features and benefits, including axial anti-backlash nuts, radial anti-backlash nuts, and torsional anti-backlash nuts. A comparison matrix chart is also provided and explained, along with the material makeup of the nut assemblies.
View the video.


---