| | |
| --- | --- |
| March 28, 2017 | Volume 13 Issue 12 |
---
---
---

Feature articles

NASA's new shape-shifting radiator inspired by origami

A technologist at NASA's Goddard Space Flight Center has teamed with a couple of researchers at Brigham Young University to advance an unconventional radiator that would fold and unfold, much like the V-groove paper structures created with origami, the art of transforming a flat piece of paper into a finished sculpture. The novel radiator controls the rate of heat loss by performing shape-shifting maneuvers.
Read the full article.

---


Sheet metal design guide
If you're looking for a basic guide to sheet metal design, this one from Xometry will serve your needs well. Be sure to follow the design requirements and tolerances in this guide to ensure parts fall closer to design intent. This is the type of information you'll sock away and then refer to again and again.
Read the full article.


Inspired design: Solar panels go incognito
If you always liked the idea of solar panels but thought their industrial look was off-putting, you now have options. Founded at MIT, Sistine Solar creates custom solar panels designed to mimic home facades and other environments. SolarSkin is a layer that can be imprinted with any image and embedded into a solar panel without interfering with the panel's efficacy. Now that's a bright idea.
Read the full article.


Modeling software tailored to your needs
ANSYS SpaceClaim® is a unique 3D platform for all your modeling. This versatile software's intuitive approach is ideal for design, reverse engineering, 3D printing, manufacturing and sheet metal. To find out how SpaceClaim is easy to learn and use, try it now.

Click here to learn more.


Injection Molding Material Selector!
Proto Labs' pocket-sized Material Selector is a quick reference guide to help you identify the right thermoplastic and liquid silicone rubber materials for your next injection molding project. It lists specific measurements like tensile strength, heat deflection and durometer to ensure you have the most suitable material for your part's application.
Get a free Material Selector today!


Are you using the Right Coupling for your motion control application?
Servometer® precision motion control couplings are available with both set screw and clamp style ends. Electrodeposited bellows technology offers seamless construction and the best combination of flexibility and strength among couplings technologies. These versatile, flexible nickel and stainless steel shaft couplings are capable of accommodating misalignments for parallel, angular and axial motion. Our recently released video showcases their unique characteristics, capabilities, design and various applications.
View video ...


Back-blow air nozzle for cleaning tiny inside diameters
EXAIR's new Model 1004SS, M4 NPT Back-Blow Air Nozzle has been designed to deliver the smallest, most effective airflow for blowing debris and liquids from small pipe or hose inside diameters, channels, bores, holes, internal threads, and other internal part features. An array of holes provides a forceful 360-degree airflow to clear out coolant, chips, and light oils from machining processes. This nozzle prevents blowing chips further into a part, tube, or pipe and eliminates any safety hazard created by blowing debris out the far end of a pipe or tube. Effective on diameters up to 1 in.
Click here to learn more.


Totally New: Smallest wave springs on the market
Smalley has expanded the Crest-to-Crest® Wave Spring Series. Smalley's popular C (imperial) and CM (metric) Series have been expanded; standard sizes are now available from stock down to .188 in. and 5 mm in diameter. Smalley Wave Springs can replace conventional coil springs while occupying only half the space and providing the same force and deflection. Request complimentary samples today!
Click here to learn more.


EPSON redefines 6-axis robots with Flexion N-Series
The new Flexion N-Series 6-Axis robots feature a compact folding-arm design poised to dramatically change the scope of automation in applications requiring smaller robots and workcells. The first robot introduced in the series, the Flexion N2, offers a 450-mm reach and 2.5-kg maximum payload. Unlike any other 6-axis robot on the market, the Flexion N-Series features a unique tight-space motion capability, maximizing efficiency for faster cycle times. In addition, the folding arm reduces required workspace up to 40% compared to standard 6-axis robots.
Click here to learn more.


IKO offers two lubrication options for cam followers
IKO International now offers two different long-term lubrication technologies for cam followers: a self-lubricating solution for the cam follower itself, as well as an external mechanism that lubricates the bearing surfaces against the rail. IKO's line of C-Lube cam followers include a thermoset solid lubricant pre-packed into the bearing space for long-lasting, maintenance-free operation. Stud diameters are available from 5 to 20 mm. IKO also offers separate, hood-like units that may be attached to metric cam followers. These supply high-quality lubricating oil to the outside diameter of the cam follower outer ring and track surface, enabling uninterrupted smooth motion on track surfaces for several years.
Click here to learn more.


Timken smartphone app for bearings and power transmission products
The Timken Company, a global leader in bearings and mechanical power transmission products, has released new catalogs that include housed units, seals, and tapered roller bearings. The catalogs feature expanded offerings, more technical information, and the latest on the company's growing product lines. Customers can access the company's catalogs through a new mobile app for smartphones.
Click here to learn more.


Smart sensors provide health checks for motors
The ABB Ability Smart Sensor for motors uses compact sensors to pick up multiple data streams from low-voltage motors and provides information about motor health and performance via a smartphone or a dedicated web portal. By converting regular LV motors into intelligent, connected machines, the solution enables advanced maintenance planning that will help businesses cut costs and boost productivity. Predictive analytics based on data from the solution can reduce downtime up to 70%, extend motor lifetime by as much as 30%, and cut energy consumption up to 10%.
Click here to learn more.
---
Most popular last issue


NASA works to create coolest spot in the universe
This summer, an ice chest-sized box will fly to the International Space Station, where it will create the coolest spot in the universe. Inside that box, lasers, a vacuum chamber, and an electromagnetic "knife" will be used to cancel out the energy of gas particles and freeze gas atoms to a mere billionth of a degree above absolute zero. That's more than 100 million times colder than the depths of space.
Read the full article.


Bullet-resistant Kevlar foldable shield aims to protect law enforcement
Brigham Young University engineering professors have created an origami-inspired, lightweight bullet-resistant shield that can protect law enforcement from gunfire. Made of 12 layers of Kevlar, the barrier can be folded compactly when not in use. When expanded -- which takes only 5 seconds -- it can provide cover for officers and stop bullets from several types of handguns.
Read the full article.
---
Videos+: Technologies and inspiration in action
FUTEK ultra-mini in-line load cell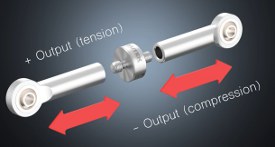 Introducing FUTEK's brand new in-line load cell: the LCM100 model. It's an ultra-miniature threaded load cell that has a capacity range of 1,000 g to 25 lb. RoHS complaint, the load sensor is great for both tension and compression applications. The most impressive feature of the LCM100 is its very low deflection, which allows it to provide high response rates and superior settling times.
See what makes the LCM100 a standout.
Learn about Metal Injection Molding from Dynacast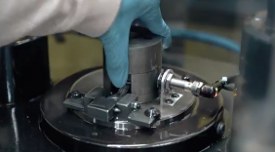 Learn about the design and product benefits of using Metal Injection Molding (MIM) technology, where thermoplastic injection molding meets powdered metallurgy. Product benefits include high performance, high density, high strength, and corrosion resistance. For the designer, advantages include the design freedom to create more complex geometries, tighter tolerances, and improved density. Materials include stainless steel, copper, low-alloy steel, cobalt chrome (F-75), and other specialty or custom materials.
View the video.
---