| | |
| --- | --- |
| May 23, 2017 | Volume 13 Issue 20 |
---
---
---

Feature articles

Kiruna Wagon wins Swedish Steel Prize 2017

It was all champagne wishes and caviar dreams for Swedish company Kiruna Wagon at the awards presentation May 11 for the Swedish Steel Prize 2017. Sponsored by steel company SSAB, the international competition aims to share knowledge about how high-strength steel can be used to develop stronger, lighter, and more sustainable products.
Read the full article.

---


Extreme Engineering: Fuel trim on SpaceX rocket launch
One way for private space company SpaceX to control costs for launch vehicles like the Falcon 9 is by optimizing fuel burned during launch to minimize waste. The SpaceX team ensures top performance with the help of a special fuel-trim valve, powered by robust, reliable, off-the-shelf servo motors from MICROMO (the FAULHABER Group).
Read the full article.


New movie-making drones autonomously shoot cinematography on the fly
In recent years, a host of Hollywood blockbusters including "The Fast and the Furious 7" and "Jurassic World" have included aerial tracking shots provided by camera-carrying drone helicopters, requiring separate operators for the drones and the cameras, and careful planning to avoid collisions. Now, a team of researchers from MIT and ETH Zurich hopes to make drone cinematography more accessible, simple, and reliable.
Read the full article.


15,000 Stock Metric Gears
KHK USA Inc offers the largest selection of stock metric gears in North America. With over 175 types, in more than 15,000 configurations, KHK USA offers the broadest selection of spur gears, helical gears, internal ring gears, gear racks, bevel gears, worms and wormwheels, and other gear types.
See what KHK USA has in stock for you today.
Air spray: The comeback of stunning military aircraft paint jobs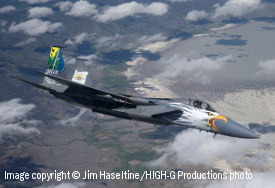 Eight Oregon Air National Guard members received a call to arms. Their wing commander handed them an assignment, stressing high priority. They worked 33 consecutive days, some pulling night shifts. Their orders: Paint a Boeing-built F-15 Eagle jet fighter in a manner that would elevate base morale at Kingsley Field in Klamath Falls, OR, and commemorate the Air National Guard's 75th anniversary across the state. By Dan Raley
Read the full article.


Mike Likes: Industrial 3D Printing for Dummies
Proto Labs' "Industrial 3D Printing for Dummies" book explains how additive manufacturing can accelerate and augment product development -- from prototype through production. Learn about new and existing technologies, available materials, and how 3D printing is being used for commercial applications in nearly every industry.
Request your free dummies book now!


Torque Feedback for Electric Servo Motors
Automated systems in a variety of different industries rely on servomotors to monitor linear and rotational motion. To close the loop, a strain gauge-based torque sensor is necessary to provide an accurate torque measurement. By mounting the sensor onto the gearbox housing, the servomotor can be commanded to generate the required torque.
Learn about this engineering system setup.


Passive component design kit for IoT
The new Passive Components for the Internet of Things Design Kit (Part No. KIT-IOT) from AVX allows engineers to quickly identify effective solutions for IoT devices with widely varying requirements for power, data-processing speed, form factor, and price. The kit contains RF microwave components (capacitors, inductors, circuit protection, and SAW filters), input voltage filtering and decoupling devices, and high-precision crystal products to address a wide span of IoT applications including: wearable devices, smart-home applications, medical electronics, industrial automation tasks, connected cars, and traffic control.
Click here to learn more.


'Hinge Selection Guide' online app
The newly launched "Hinge Selection Guide" online app from Reell Precision Manufacturing introduces a user-friendly resource to pinpoint ideal hinge and torque insert product solutions matching application requirements. This free tool opens an interactive window to designate an application's parameters, calculate the torque and rotational angle required for the hinge or torque insert, and ultimately identify the Reell products best suited for the job. The tool also enables users to access Reell's standard catalog products.
Click here to learn more.


Adhesive vent for automotive
The 5-mm, low-profile AVS 110 adhesive vent from GORE is perfectly aligned with the need to further miniaturize automotive control units, sensors, actuators, and motors, and to better protect these high-value electronics from the rigors of under-hood and under-chassis environments. The vent's 100% ePTFE all-membrane construction reliably protects against hazards such as splashes or immersions and automotive fluids. More reliable venting performance can reduce the need for heavier housings, seals, and gaskets.
Click here to learn more.


Stepper motor controller delivers 2,000x basic resolution
Precision positioning systems industry leader PI (Physik Instrumente) has released a higher performance model of its successful Mercury Stepper Motion controller. Stepper motors take up discrete positions in a revolution of a constant distance. Typical commercial models provide 200 to 1,000 full steps per revolution. Designed to deliver more than 2,000 times the basic motor resolution, the C-663.12 Mercury controller is the newest addition to PI's suite of motion control solutions.
Click here to learn more.


Dual-feedback voice coil positioning stage
The VCS20-020-CR-01-MC-F3K voice coil positioning stage can operate under closed-loop position control with force monitoring or closed-loop force control with position monitoring. It uses H2W voice coil motor NCC20-18-020-1A to generate a continuous/peak force of 2 lb (8.9 N)/6 lb (26.7 N) with a total stroke length of 2 in. (50.8 mm). The 1-micron resolution encoder allows for precise positioning. The 3-kg rated force transducer allows for 0.01- to 3-kg of push/pull force feedback control. It comes supplied with a high-accuracy crossed roller bearing. The motor coil is the moving part of the assembly in order to reduce the moving mass of the system. Power is supplied to the motor via a high-flex, high-reliability flat ribbon cable.
Click here to learn more.
---
Most popular last issue


New way to clear pollutants from water
When it comes to removing very dilute concentrations of pollutants from water, existing separation methods tend to be energy and chemical intensive. Now, a new method developed at MIT could provide a selective alternative for removing even extremely low levels of unwanted compounds -- and it can do it using very little energy.
Read the full article.
---
Videos+: Technologies and inspiration in action
Can a robo dog fetch you a cold one? Impressive!
If you haven't seen the all-electric SpotMini robot from Boston Dynamics yet, well, hold on to your hat. Or better yet, let this incredibly nimble droid (complete with extra arm) hold it for you. It runs, walks, scoots, and shimmies effortlessly and quietly for about 90 minutes on a single charge, depending on what it is doing. It has a variety of sensors, including depth cameras, a solid-state gyro, and proprioception sensors in the limbs, to help with navigation and mobile manipulation. SpotMini performs some tasks autonomously, but often uses a human for high-level guidance. We're sure you could train it to fetch from the fridge.
View the video.


Feel the burn -- Combustion simulation video
Combustion is a complex process which can only be handled by high-performing Computational Fluid Dynamics (CFD) software such as FloEFD. Watch this video to learn how to:

Optimize mixing of burning fuels and oxidizers;
Determine flame shape, patterns, and temperatures;
Minimize emissions to ensure your design meets stringent regulatory standards.

View the video.


---