| | |
| --- | --- |
| July 11, 2017 | Volume 13 Issue 26 |
---



The World's First -- and Best -- Linear Motion Guides
THK's original technology is behind the smooth and silent movement of the "Linear Motion System." The LM Guide is our major product that put the rolling of the linear motion part into practical use for the first time in the world. This improves the accuracy, rigidity, energy saving, velocity, productivity, and service life of the machine. THK offers a full support system from the beginning design phase throughout the maintenance, and follow-up service.
Click here to learn more.
---
---


Army demos, flies basic 'hoverbike' prototypes
The Army Research Laboratory and industry partners demonstrated the flying capabilities of a unique rectangular-shaped quadcopter Jan. 10 at Aberdeen Proving Ground. The joint tactical aerial resupply vehicle, or JTARV (aka "hoverbike") may one day make it possible for Soldiers to receive resupplies rapidly.
Read the full article


15,000 Stock Metric Gears
KHK USA Inc offers the largest selection of stock metric gears in North America. With over 175 types, in more than 15,000 configurations, KHK USA offers the broadest selection of spur gears, helical gears, internal ring gears, gear racks, bevel gears, worms and wormwheels, and other gear types.
See what KHK USA has in stock for you today.


Wings: Next Big Thing in Army aviation? Lockheed Martin S-97 RAIDER is fast and furious
The Lockheed Martin/Sikorsky S-97 RAIDER is a next-gen light tactical prototype helicopter that can reach speeds of more than 220 knots, nearly double the speed of a conventional helicopter, and is capable of flying at 10,000 feet in 95°F heat. It can carry six troops and external weapons, and it aims to redefine helicopter flight during the 21st century. Based on Sikorsky's Collier Award-winning X2 Technology, RAIDER incorporates the latest advances in fly-by-wire, flight controls, vehicle management systems, and systems integration. It also has retractable landing gear, active vibration control, a composite fuselage, active elevator and rudders, split torque transmission, and a rigid co-axial rotor system. These technologies enable the aircraft to operate at high speeds while maintaining the low-speed handling and maneuverability of conventional, single main-rotor helicopters.
View the video.


1/4 Ton Of Refrigeration
This small, stainless steel Vortex Tube produces 1/4 ton of refrigeration and has no moving parts to wear out. Temperatures range from minus 50 to +250 degrees Fahrenheit. Cooling applications include electronic controls, machining operations, heat seals, welding operations, hot melts and more.
Click here to learn all about it.


Top Engineer's Toolbox: Metal tape measure technology grows up
When first-timers see the Zippermast rise into the air from an unmanned vehicle, they are amazed by how high it can be extended. Inspired by the lowly metal tape measure design, the compact and super-sturdy Zippermast consists of three interlocked steel tapes that also function like a locking zipper, lifting cameras and sensor equipment up to 40 ft in the air. A small DC motor from FAULHABER provides the unique design with reliable retraction and extension, all incorporated into an amazingly small base housing.
Read the full article.


U.S. military 3D prints working grenade launcher and ammo
What's better than a 3D-printed prototype grenade launcher? One that works -- with 3D-printed ammo -- of course. Researchers at the U.S. Army Armament Research, Development and Engineering Center (ARDEC) and industry partners have been working hard to push the envelope in 3D-printing prototype technology. Did they succeed? Yup -- with a bang.
Read the full article.


OEMS and Motion Control: Optimized Performance vs. 'Good Enough'
OEMs have to balance a lot of competing factors -- cost, precision, safety, performance -- in order to build a superior machine. The motion experts at Kollmorgen discuss in depth the considerations, processes, and challenges machine engineers face when making motion-related decisions. Learn how flexibility, connectivity, modularity, changeover time, and costs can converge to create a total system approach that takes machines from 'good enough' to best in class.
Read now: Why Motion Matters
Cool Tools: Ultra-wide Samsung 49-in. HDR monitor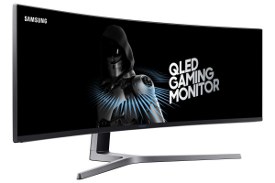 Officially it's a gaming monitor, but who says your design work shouldn't be a little fun? The new Samsung ultra-wide 49-in. CHG90 display features powerful, High Dynamic Range (HDR) picture enhancement technology typically reserved for high-end TVs, an exceptionally wide range of accurate color reproduction using QLED Quantum Dot technology, and AMD's new Radeon FreeSync 2 tech for stutter-free motion. Now, having two smaller monitors on your desktop is so 2016.
Click here to learn more.


Top Product: Infrared LED optimizes license plate recognition and more
Osram Opto Semiconductors is expanding its family of high-power infrared Oslon LEDs for illumination solutions to include a new wavelength, 810 nm. The new SFH 4703AS infrared emitter will improve the performance of inspection and scanning camera systems, such as those used to read license plates. The additional wavelength enhances image contrast, making it easier to read patterns from recorded images at any time of day. At 1-A current, the emitter generates 1 W of optical power. With this new device, designers can now choose from mutually compatible emitters in three different wavelengths.
Click here to learn more.


Top Testing: Single-cylinder engines for combustion research
Southwest Research Institute (SwRI) has designed and manufactured two advanced single-cylinder engines for combustion research and friction analysis, as well as alternative fuel, wear, optical, crank offset, and bore-to-stroke relationship studies. The engines, one for light- and medium-duty applications and one for heavy-duty applications, can accommodate either multi-cylinder or single-cylinder heads through a custom cylinder barrel and head support shelf. They include several unique patent-pending innovations, including mechanisms that adjust compression ratios and crankshaft offsets without the need for disassembling the engine. Optical access, dynamic cam phasing, secondary balancers, and floating liner devices can be added to the standard configurations. Specs available in online "Single-Cylinder Research Engine" flyer.
Click here to learn more.


Top Product: Alternative precision linear motion system: Faster, more accurate, zero backlash
With high speeds, incredible accuracy, and zero backlash at unlimited lengths, Nexen's patented Roller Pinion System (RPS) overcomes the limitations of conventional rack and pinion, ball screw, and belt drive systems. The RPS offers longer life, less maintenance, 99% efficiency, and can run without lubrication. Nexen Group is a leading manufacturer of precision motion control components, power transmission, and web tension control products.
Learn more about RPS.


Great Resources: Sheet metal design guide
If you're looking for a basic guide to sheet metal design, this one from Xometry will serve your needs well. Be sure to follow the design requirements and tolerances to ensure parts fall closer to design intent. This is the type of information you'll sock away and then refer to again and again.
Read the full article.
---
Videos+: Technologies and inspiration in action
CFD for Design Engineers
Frontload CFD and use simulation to optimize your designs during the early stages of the engineering process with the award-winning FloEFD:

Reduces overall simulation time by as much as 65-75 percent so you can get answers quickly;
Unique technology such as SmartCells ensures you don't sacrifice accuracy for speed;
Field-tested over 20+ years and proven successful as a complimentary design tool for a wide range of industrial applications.

Learn more in this quick video.


Giant 28-ft chainsaw widens Italian tunnels
If you are looking to widen two highway tunnels and don't want to disrupt traffic, what do you do? If you are Italian tunneling-machines and systems-maker Palmieri Group, you design and build a giant 28-ft (8.5-m) chainsaw that can handle cutting earth and rock, and you mount it on a huge, movable arc track. That way, you can install a fully enclosed protective lane tube for cars and trucks to use under the arc as you move forward. In 2016, the new machine had to endure a lot of dust, heat, and moisture. Palmieri specified a Hägglunds hydraulic motor and a closed hydraulic system by Rexroth, through which the fluid was pumped using two axial piston variable pumps. Magnifico! (Copyright image: Palmieri S.p.A.)
View the video.


Honey, I shrunk the V-8 engine!
Borrowing from the classic design of a V-8 engine to achieve high push/pull and holding forces, patented piezo actuator technology and linear stepping motion design principles come together to create the fastest and strongest non-magnetic drive of its class size. These piezoelectric motors are self-clamping, i.e. at rest or in steady state mode, they automatically hold the position without any need for power. Learn how this technology can be used in your application.
watch VIDEO | learn MORE


Sneak Peek: Airbus Racer helicopter demonstrator
At the recent Paris air show, Airbus Helicopters unveiled the aerodynamic configuration of the high-speed (400 km/h) demonstrator it is developing as part of the Clean Sky 2 European research program. Codenamed Racer (Rapid And Cost-Effective Rotorcraft), this prototype features an innovative "box-wing" design. Optimized for performance and low acoustic signature, lateral rotors as well as the main rotor will be driven by two RTM322 engines. An "eco mode" will be tested by the engine manufacturer to demonstrate an electrically powered "start and stop" of one engine in flight, generating fuel savings and increasing range. The Racer demonstrator will also benefit from a hybrid metallic-composite airframe specifically designed for low weight and low recurring costs. It will also be equipped with high-voltage DC electrical generation, which will significantly contribute to weight reduction. Final assembly of the demonstrator is expected to start in 2019, with a first flight the next year.
View the video.


What is friction stir welding?
In partnership with General Motors, Alcoa, and TWB Company LLC, researchers from the Department of Energy's Pacific Northwest National Laboratory have transformed a joining technique called friction stir welding, or FSW. The technique now can be used to join aluminum sheets of varying thicknesses, which is key to producing auto parts that are light yet retain strength where it's most needed. The PNNL-developed process also is 10 times faster than current FSW techniques, representing production speeds that, for the first time, meet high-volume assembly requirements. PNNL calls their technology the friction stir scribe process, and it can also be used to join dissimilar materials with different melting points, like steel and aluminum, or steel and polymers. The resulting parts can be used to make vehicles more lightweight and fuel efficient, while still meeting safety and durability requirements.
View the video.


---