| | |
| --- | --- |
| September 05, 2017 | Volume 13 Issue 33 |
---



Innovative Way to Take Up Tolerances!
Smalley Linear Springs are a continuous wave formed (marcelled) wire length produced from spring tempered materials. They act as a load bearing device having approximately the same load/deflection characteristics as a wave spring. Linear Springs are now available as a standard part in carbon and stainless steel, with over 200 sizes.
Click here to learn more.
---
---


24% More Torque Per Watt -- in a 10-mm Package
MICROMO launches the new FAULHABER 1016 SR series. At 10 mm in diameter and 16 mm in length, the 1016 SR series delivers over 24% more torque per watt than competitive motors with the same dimensions. Additional strengths include low power consumption, high energy-efficiency and minimal vibration & low audible noise, making it well suited for applications with small dimensions and very high requirements.
Click here to learn more.


New linear motor designs improve speed, positioning
Linear motors enable maximum precision and dynamic performance in various motion control tasks. These include not only rapid traverse, but slow constant speed for machine heads, spindle slides, tool management systems, part handling devices, and more. Plus they have only two main components. Learn about the latest offerings from Siemens.
Read the full article.


What is Electroforming? How does it actually work?
Electroplating may have been around for centuries, but only Servometer® excels at manufacturing dynamic convoluted bellows electroforms. Watch Servometer's five-step electroforming manufacturing process and learn how they are able to deliver electroformed components that feature extreme tolerances, complex geometries, lightweight construction, structural strength and how they can be applied to a variety of applications.
Download the whitepaper. No registration required.


Brushless motors -- What's the difference?
Brushless motors are used in an extensive variety of OEM applications, from pick-and-place equipment and robotic joints to GPS-based automated vehicle steering and pumps/fans/blowers. Do you know the difference between a brushless DC motor, brushless servo motor, and brushless torque motor? Learn more about these motors, when they're used, and how to choose the right one for your application.
Read the article now -- Brushless Motors: What's the big difference?
Allied Motion Technologies designs and manufactures precision specialty motion control components and systems.


Zinc foam with cost-saving feature
Goodfellow has announced the availability of two variants of zinc foam: 99.99% zinc deposited on a polyurethane foam and ZAMAK 410 Zn /Al4/Cu1/Mg0.04 zinc alloy foam with solid ligaments. Both combine the versatile properties of zinc or its alloy with the functional benefits of a foam. This combination should be of particular interest to design engineers working in the fields of heat exchangers, catalyst substrates, energy absorbers, filters, and mixers. Cost-saving feature: For the variant deposited on a polyurethane structure, it is possible to design the finished component in the base foam before metalizing, avoiding post-machining and thereby reducing costs. Editor's note: Goodfellow copper foam has been a favorite of Designfax readers for years, so check that out too.
Click here to learn more about Goodfellow metal foams.


Cooling: Orion expands DC fan and blower line
Orion Fans has expanded its DC fan and blower product listing to offer a viable, long-term source for customers when their current source obsoletes a fan or blower product. Orion has introduced 52 new DC fans and 4 new DC blowers. The additions to the DC fan and blower families include a wide range of package size, speed (RPM), airflow (CFM), and special-function combinations. Fan sizes include 25 mm, 30 mm, 35 mm, 40 mm, 50 mm, 80 mm, 92 mm, and 120 mm. New blower frame sizes include 51 mm x 15 mm and 60 mm x 15 mm.
Click here to learn more.


Self-clinching flush-head studs for thin metal sheets
PEM FHL and FHLS self-clinching flush-head studs from PennEngineering feature a unique low-displacement head design enabling close-to-edge installation of the fasteners in thin metal sheets. The studs provide ideal attachment solutions compared with weld studs and other conventional hardware by promoting easier and cleaner installation with fewer production steps and more reliable performance in service. Since the studs install permanently, they will never loosen or fall out over time.
Click here to learn more.


Mini high-torque brush DC motor
Portescap introduces the new 16DCT motor to its high-torque DCT range of Athlonix motors. The 16DCT motor can deliver continuous torque up to 5.24 mNm at a length of only 26 mm. This motor uses powerful Neodymium magnets and Portescap's proven energy-efficient coreless design. The optimized self-supporting coil ensures that high performance is delivered in a compact package, reducing the overall cost of ownership. Compared to similar motors in the market, the 16DCT has the lowest motor regulation (R/K2), which means it has a lower drop in speed at increasing load. This provides the most powerful motor available for various challenging application needs, including battery-operated tools, security systems, humanoid robots, rotary tattoo machines, and more.
Click here to learn more.


Stepper or servo motor -- Which should it be?
Bring out the full capacity of your machines through the most efficient mechatronic design. Hurley Gill, Senior Applications/Systems at Kollmorgen, outlines servo and stepper motor baseline capabilities for selection criteria like torque, speed, accuracy, and repeatability. Technical advantages and disadvantages are discussed, helping machine designers select the best motor-drive system for their application.
Click here to read: Servo or Stepper: Which Should It Be?
Kollmorgen designs and manufactures innovative motion control systems, including servo and stepper motors, drives, amplifiers, gearheads, and actuators.


Hybrid adhesives combine strength and speed for design and assembly
Loctite HY 4090 and Loctite 4080 GY Universal Structural Bonders from Henkel are designed to reach beyond conventional approaches and help overcome costly challenges. Loctite HY 4090 offers fast fixture time, substrate versatility, excellent durability, and enhanced safety. Its well-balanced properties make it ideal for a wide range of uses, including sign bonding, sealing and bonding of LED lighting fixtures, and speaker applications. Loctite HY 4080 GY is a new, high-strength, tough bonder with good impact, vibration, and shock resistance, as well as enhanced safety. Designed for use in a wide variety of industrial applications, Loctite HY 4080 GY provides long-lasting, durable bonding on everything from metals to plastics.
Click here to learn more.
---
Most popular last issue


INFINITI reimagines the 1940s racecar -- and then builds it
Ah, if only you could take a journey back in time but carry some of today's technology with you. It's been the premise of countless sci-fi thrillers, and now it's the inspiration behind a unique electric car showcase from designers and engineers at INFINITI, who reimagined what it would be like to build a 1940s grand prix race car using today's EV propulsion tech mixed with the hand craftsmanship of yesteryear.
Read the full article.


Big strides made in miniaturizing the brain of a drone
In recent years, engineers have worked to shrink drone technology, building flying prototypes that are the size of a bumblebee and loaded with even tinier sensors and cameras. Thus far, they have managed to miniaturize almost every part of a drone, except for the brains of the entire operation -- the computer chip.
Read the full article.
---
Videos+: Technologies and inspiration in action
Why air bearings over mechanical bearings?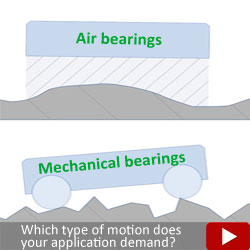 Air bearings are frictionless and will almost always outperform a mechanical bearing at scanning, assuming similar controls.
Air bearings never wear out.
A cushion of pressurized air results in surface averaging effects, meaning extremely smooth, flat, straight motion.
Scanning performance of air bearings is not affected by speed -- very slow or very fast.
Air bearings provide wobble-free rotary motion.
WATCH video | READ Air Bearing tech articles
---