| | |
| --- | --- |
| September 19, 2017 | Volume 13 Issue 35 |
---



Protogami
Protogami's three-dimensional flexagons create a continual kaleidocycle that exposes a different set of triangular faces with each turn of its living hinges. It lets product designers and engineers see commonly used materials like ABS, PC and acetal, and how they interact with different surface finishes.
Get a free Protogami today!
---
---
---

Feature articles

WWII Engineering: The saga of the bird-brained bombers
During World War II, the National Institute of Standards and Technology (NIST) was among those working intensely to develop guided weapons to help the Allies win the war. But before the advent of satellites and GPS, laser targeting, or even radar, how would one guide a bomb? Why, trained pigeons, of course.
Read the full article.

---


Air Operated Conveyors
EXAIR's Line Vac connects to standard hose or tube to create a powerful conveyor. The design features large throat diameters for maximum throughput capability. A small amount of compressed air is injected through directed nozzles to produce a vacuum on one end and high output flows on the other.
Learn more.


Wings: Industry sends NASA X-Plane ideas flying
It won't be long before NASA's aeronautical innovators will have a tough decision to make. While moving ahead with plans to field a new "quiet" supersonic X-plane during the next few years, agency researchers also are developing a plan for commercial airliners that are quieter, burn less fuel, and release fewer emissions. The big question is, what will a new subsonic X-plane look like? Five concepts are in the works.
Read the full article.


Mike Likes: Designing with Wave Springs eBook
We know how critical it is to specify the right spring for your design. With tens of thousands of wave springs designed, and counting, Smalley has tackled design challenges in nearly every industry. Their eBook, "Designing with Wave Springs," helps you find the right spring for your application and details how Smalley engineers offer space-saving solutions.
Get this valuable resource.


Getting a grip on precision: Mechatronics vs. pneumatics
A gripping system for small parts that is both quick and powerful -- until now, that was often only possible with pneumatics. However, recently the leading expert for gripper systems and technology has developed a mechatronics-based EGP 40 gripper that easily achieves the same performance of its pneumatic counterparts. The drive that makes this impressive performance possible is FAULHABER small brushless DC servo motors from MICROMO.
Read the full article.


How to replace metal with thermoplastics
Have you ever considered replacing your metal parts with plastic parts? It could be a viable option -- especially when it comes to the flexibility of manufacture, faster production cycle times, and the cost effectiveness of replacing metal parts with plastic parts. SolidWorks' Jeff Osman details general best practices to keep in mind regarding both design and manufacturability Osman has more than 23 years of experience in the mechanical CAD industry.
Read this informative blog.


Fastest way to dry your hands? FloEFD investigates
Have you ever wondered what's the fastest way to dry your hands when using one of those air-shooting hand dryers in a public restroom? Should you rotate your hands or leave them in one place? What position is most efficient? Proving that modeling everyday challenges is fun and insightful, Robin Bornoff from Mentor Graphics tackles these questions using the full-featured 3D fluid flow and heat transfer analysis simulation tool called FloEFD.
Read the full article.


Compressed Air: Aluminum SmartPipe+ is clever solution
SmartPipe+ is now available from Kaeser Compressors. This versatile, modular, no-rust aluminum piping system features lightweight materials and simple, compression-style connections. Available in multiple sizes from 3/4 in. to 2-1/2 in., SmartPipe+ is ideal for headers and branch lines all the way down to the point of use. It has a low coefficient of friction and provides the best possible laminar flow. The full-bore fittings minimize pressure drop, while the leak-free connectors prevent costly compressed air loss. SmartPipe+ can easily be integrated into existing steel, copper, or aluminum systems and can be modified to accommodate changing needs. Ten-year warranty.
Click here to learn more.


Electromagnetic actuated clutches
Miki Pulley's CS Electromagnetic Actuated Clutches are durable, versatile, and have excellent torque-transmission features to provide an efficient connection between a motor and a load. Benefits include low inertia, minimal drag, and very quiet operation. They function utilizing the magnetic force generated by the energized coil, providing engagement of input and output members of the clutch. Available with three different armatures, they feature an integrated bearing design that makes mounting fast and easy while ensuring application concentricity and excellent system runout. Available in bores ranging from 10 mm to 15 mm, with brake torques ranging from 3.687 ft-lb to 236.02 ft-lb (5 Nm to 320 Nm).
Click here to learn more.


Mini linear motor stage with magnetic direct drive
Motion and nanopositioning industry leader PI expands its PIMag series of high-dynamics linear motor stages with a new compact positioner for automation tasks. The V-408 stage is equipped with an incremental linear encoder for direct position measurement and a high-force 3-phase linear motor drive. The V-408 features high load-capacity precision crossed roller elements with anti-creep cage assist and a zero-wear, non-contact linear motor -- ideal prerequisites for long lifetime in high duty-cycle industrial applications. The high-force linear motor achieves velocities up to 1.5m/sec. An integrated optical linear encoder provides 10-nm resolution. Two models are offered with 25-mm and 50-mm travel range.



Compact touchless position sensors
TFD Series touchless linear position sensors from Novotechnik provide wear-free operation in tight spaces for measurement of short stroke lengths. They use a magnetic position marker to provide a touchless measurement range of 0 to 14, 24, or 50 mm (depending on model). These sensors make measurements through air and non-magnetic materials. Applications include textile machinery, packaging machinery, sheet metal machinery, medical applications, marine, mobile engine management systems, industrial trucks, construction machinery, and agricultural and forestry machinery.
Click here to learn more.
---
Most popular last issue


Marine Corps explores deploying 3D mobile fab labs
The Marine Corps' new X-FAB (expeditionary fabrication) facility is a self-contained, transportable additive manufacturing lab that can deploy with battalion-level Marine maintenance units. It houses four 3D printers, a scanner, and CAD software systems that make quick work of replacement and repair part fabrication.
Read the full article.
---
Videos+: Technologies and inspiration in action
Frankfurt Motor Show: 12 cars you should see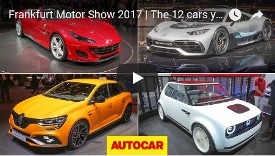 From the Mercedes-AMG super-boss Project One hypercar (complete with shark fin!) to the Ferrari Portofino and the Bentley GT, Autocar brings you all you need to know about the most important cars from the 2017 Frankfurt Motor Show (the IAA). And don't miss the adorable (can cool cars be adorable?) star of the event, the Honda Urban EV.
View the video.
See SpaceX's spectacular rocket crashes blooper reel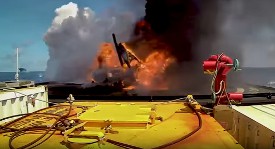 If you haven't see it by now, where have you been? Elon Musk's SpaceX has released a blooper reel that highlights its epic fails in perfecting rocket launches and landings in the quest to be the top private commercial provider of space transport services. You gotta love a good sport! Watch "How Not to Land an Orbital Rocket Booster" and relive the crashes and smashes that provided the growing pains for SpaceX to succeed.
View the video.
---