| | |
| --- | --- |
| November 07, 2017 | Volume 13 Issue 41 |
---



Spirolox® Retaining Rings
Spirolox retaining rings have no ears to interfere with mating components and are manufactured by coiling the ring from flat wire. Because coiling produces a retaining ring with no scrap, the Smalley Retaining Ring can be economically produced in carbon steel, stainless steel, coppers, and many other alloys.

Click here to learn more.
---
---


World's Smallest Stepper Motor is a Big Win
MICROMO presents the FAULHABER FDM 0620 series stepper motor. Measuring just 6mm in diameter and 9.7mm in length, including all components and connections, and with a 0.25mNm holding torque rating, the FDM 0620 stepper motor series is small enough to fit in the most compact spaces for limitless applications. This micro stepper motor is also now available for purchase online with and without leadscrew options.
Click here to learn more.


Breakthrough made in 3D-printed marine-grade stainless steel
Researchers at Lawrence Livermore National Lab have made a major achievement in 3D printing one of the most common forms of marine-grade stainless steel (316L) that promises an unparalleled combination of high strength and high ductility for the ubiquitous alloy. Better yet, the new material outperformed samples made with the traditional approach.
Read the full article.


Mike Likes:
C-Solder enables joining of carbon materials
Wow, you can probably file this under, "I really haven't heard of that before!" Materials specialist Goodfellow has just released a new tin-based, flux-free soldering alloy called C-Solder that enables the joining of carbon materials in both carbon-carbon and carbon-metal combinations. Using a classic soldering iron, heat gun, or torch, the resulting bond is both mechanically strong and electrically conductive. But what can you do with it? With C-Solder you can join carbon materials, including carbon fibers or carbon nanotube fibers in carbon-carbon arrangements; carbon to metals (e.g., copper aluminum, titanium, stainless steel), ceramics, and glass materials; and aluminum to aluminum without using flux. This lead-free product has excellent flow, does not leave a residue, and is not flammable.
Learn more about this truly unique product.


Biggest reasons engineers hate their CAD system
Darren Garnick of Onshape says that, in a recent CAD satisfaction survey of 230 design professionals, Engineering.com asked a very provocative question: What do you hate most about your CAD software? The research, sponsored by SOLIDWORKS®, revealed these four things that engineers and designers despise the most (in order of importance).
Read this informative Onshape blog.


First 7-axis motion and pressure sensor
TDK has announced the availability of the InvenSense ICM-20789 MEMS 7-axis integrated inertial device, combining a 3-axis gyroscope, 3-axis accelerometer, and an ultra low-noise MEMS capacitive barometric pressure sensor. The ICM-20789 features a single small footprint, with the industry's lowest pressure noise of 0.4Pa RMS and excellent temperature stability with a temp coefficient of +/-0.5 Pa/°C. Applications include: drones and flying toys; smart watches, wearables, activity monitoring; motion-based gaming controllers; virtual reality headsets and controllers; and indoor and outdoor navigation.
Click here to learn more.


Energy Harvesting Applications Design Kit (limited release)
AVX has announced the limited release of its new Energy Harvesting Application Design Kit. The kit features a wide range of low-loss components hand-selected to provide engineers with ideal solutions for energy storage, blocking, IC support, output filtering, and external connections in thermoelectric generators, solar cells, piezoelectric devices, and micro wind turbines. Parts include MLCCs, supercapacitors, Schottky diodes, inductors, and connectors. The kit also comes with a booklet that provides users with a brief introduction to energy harvesting and additional information about the components it contains.
Click here to learn more.


Totally New: Smallest wave springs on the market
Smalley has expanded the Crest-to-Crest® Wave Spring Series. Smalley's popular C (imperial) and CM (metric) Series have been expanded; standard sizes are now available from stock down to .188 in. and 5 mm in diameter. Smalley Wave Springs can replace conventional coil springs while occupying only half the space and providing the same force and deflection. Request complimentary samples today!
Click here to learn more.


Fasteners: Self-clinching free-running locknuts with modified threads
New PEM S-RT self-clinching free-running locknuts from PennEngineering feature a modified thread angle enabling easier tightening of mating screws and superior vibration-resistant locking performance in thin metal assemblies. The modified thread formation allows mating screws to spin freely during the attachment process until clamp load is induced during the screw-tightening process. The applied clamp load then engages the locknut's vibration-resistant locking feature, which securely and reliably locks the screw in place. Compared with traditional locknuts, excellent joint clamp load remains consistent, even after many on/off cycles.
Click here to learn more.


High-deflection isolation mounts for diesel engines and low-frequency applications
Tech Products Corporation, a leader in vibration and shock isolation solutions, has released its latest line of fail-safe vibration mounts called the Bell Mount Series. This line of vibration isolators includes global industry standard sizes of common diesel engine mounts. Typical applications include generator sets, compressors, pumps, off-highway, and construction equipment. Zinc-plated steel protects the high-strength natural rubber from fuel, oil, and weather. The rugged design incorporates interlocking metal components that make these some of the most durable mounts on the market.
Click here to learn more.
---
Most popular last issue


Mystery of Civil War sub crew deaths solved scientifically?
When the Confederate submarine HL Hunley was raised from the ocean floor in 2000, the skeletons of its eight crewmembers were found seated at their respective stations with no physical injuries or indications that they were attempting to escape after sinking the Union ship Housatonic on February 17, 1864 -- and then sinking themselves. What happened?
Read the full article.


20th anniversary of supersonic car land speed record
On Oct. 15, 1997, the British Thrust SSC team set the World Land Speed Record of 763.035 mph -- making it the first and only car to reach speeds faster than the speed of sound. Driver Andy green, also a Royal Air Force fighter pilot, describes in detail what it was like to make the historic final run and keep this awesome twin-engine machine on the ground in Nevada and on a straight course. Currently, Green is prepping to set a new land speed record of 1,000+ mph in the BLOODHOUND SSC jet-engine car in South Africa in 2019. Fascinating!
View the video.
---
Videos+: Technologies and inspiration in action
See world's most efficient aero engine assembled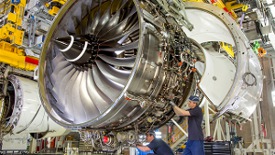 It takes more than 20,000 components perfectly fitted together to build the world's most efficient and fastest-selling wide-body jet engine, the Trent XWB. See how it is done at Rolls-Royce's assembly plant in Dahlewitz, Germany. The A350-1000 is the latest member of Airbus' leading wide-body family to use the engine line. The newest iteration provides 97,000 lb of thrust and includes new high-temp turbine technology, a larger engine core, and advanced fan aerodynamics.
View the video.
Will it fit? CNC vs. 3D printing for mated parts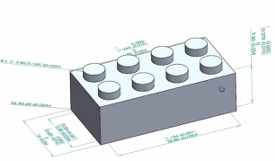 In the latest installment of their "Will It?" video series, Xometry engineers designed custom building blocks in multiple manufacturing processes to highlight design best practices for creating parts that mate. Watch as Greg Paulsen, director of applications engineering, reviews design tips and tricks for each process, including key takeaways on the differences in designing for CNC machining, PolyJet, SLS, and FDM.
View the video.
---