| | |
| --- | --- |
| November 28, 2017 | Volume 13 Issue 44 |
---
---
---

Feature articles

3D printing: Inner workings come into view
Researchers from Argonne National Laboratory, Carnegie Mellon University, and the Missouri University of Science and Technology team up to examine phenomena at the microstructural level. High-speed X-ray microscopy lets them watch -- in real time -- as 3D printers add layers.
Read the full article.

---


Making safer electrochromic inks
Chemists at Georgia Tech have developed a new method to more safely and easily produce electrochromic films, which change their color with the help of a tiny electric current. This could make the technology available to many industries that have not been able to use it before.
Read the full article.


Wheels:
Sam Schmidt, a quadriplegic, races Corvette 190 mph
Paralyzed from the chest down since a racing accident in 2000, Sam Schmidt thought he would never drive again. In 2014, Arrow engineers modified a Chevrolet Corvette C7 Stingray to create a smart, connected vehicle with a human-to-machine interface that Schmidt can operate safely and independently using only the motions of his head. That model and its companion technologies have since been updated for even more impressive results -- and Schmidt has even raced Mario Andretti.
Read the full article.


2018 Cool Parts Calendar
Request a free Proto Labs 2018 Cool Parts Calendar and keep all your projects on track next year. Every month you'll see a custom part made possible through 3D printing, CNC machining, injection molding, and the innovative companies behind the design of those parts.
Request your free calendar today!


Toolbox:
A quick look at NASA's shake-testing history
In order to ensure the James Webb Space Telescope can survive its rocket launch -- before it gets to its destination a million miles away, where it would be nearly impossible to fix -- engineers strapped the telescope to vibration tables and shook it in every direction. Hard. It's a process every spacecraft and satellite has gone through since the space agency first began sending satellites into orbit in the 1950s.
Read the full article.


How OEMs can save power through direct drive servo technology
How can Direct Drive servo technology help OEM engineers incorporate higher energy efficiency into machine design? This article by Kollmorgen Senior Applications/Systems Engineer Hurley Gill discusses how PMAC Direct Drive servo motor and drive technology not only reduces axis count, mechanical losses and noise, but also delivers increased efficiency and significantly lowers cost of operation. Gill presents a determinate measure and a specific method for calculating optimal inertia ratio for managing energy utilization of a servo motor during a machine's design to maximize power savings.
Read it now.


All about edge-welded metal bellows
BellowsTech, an industry leader in the development and manufacture of metal bellows using edge-welded metal bellows technology, proudly serves the aerospace, semiconductor, UHV, Cryogenic, Oil and Gas, and various other high-technology markets. Learn how edge-welded bellows can work in your application. This product video focuses on the unique characteristics and parameters of edge-welded metal bellows.
View video.


Thermoelectric alternative for beverage cooling
Laird's standard and custom thermoelectric cooling systems offer superior heat pumping capability with lower power consumption, noise, weight, and footprint compared to compressor-based systems. The 12-V or 24-V DC thermoelectric modules (TEMs) and thermoelectric assemblies (TEAs) offer reliability, design flexibility via vertical integration capabilities, and an overall lower cost of ownership. Thermoelectric coolers also operate at lower noise levels and provide a more environmentally friendly solution. This technology does not use ozone-depleting refrigerants, which must be phased out of new and existing equipment in the European Union by 2022.
Click here to learn more.


Wheel drive assemblies for electric vehicles
WheelMax Steering Drives from Allied Motion Technologies are fully integrated, electrically powered traction wheels with on-board steering systems for electric vehicles. Each WheelMax Steering Drive combines a traction wheel with tire, epicyclic gearbox, robust steering gear and bearing system, and two rugged PMDC brush motors, one for traction and one for steering power. The complete assembly is compact, easy to mount, and requires little to no maintenance. WheelMax Steering Drives handle loads up to 227 kg (500 lb) and provide 14 Nm (120 lb-in.) continuous torque at speeds up to 5 km/hr (3 mph). Applications include AGVs, autonomous robotic material handlers, pushers and tuggers, powered utility carts, and hospital patient handlers, among many others.
Click here to learn more.


Medium-load hexapod 6-axis motion platform
With the usability of 6-axis hexapods increasing in research and industry applications, PI introduces a new medium-load 6-axis precision motion platform, the H-825 hexapod. The H-825 provides a self-locking load capacity up to 30 kg (66 lb). The motion range is up to 55 mm (linear) and up to 38 degrees (rotation). High system precision is guaranteed by absolute encoders and an actuator resolution of 8 nanometers -- with excellent position repeatability of +/-0.1 Ám and +/-2 Árad, respectively. The parallel-kinematic design of the hexapod makes it smaller and stiffer than traditional 6-axis positioning systems while providing a higher dynamic range. Features long-lifetime brushless servo motors.
>Read technical articles and applications of PI hexapods
>Watch Hexapod System Videos
>Specifications, Datasheet, More Information


Proto Labs expands into sheet metal fabrication
Proto Labs has entered into a definitive agreement to acquire privately held company Rapid Manufacturing Group (RAPID), a New Hampshire-based custom parts supplier specializing in quick-turn sheet metal fabrication and CNC machining. With the acquisition, Proto Labs will be able to offer its customers another quick-turn manufacturing service while expanding its CNC machining capabilities. RAPID was founded in 2001 on the idea of using automation to provide custom sheet metal parts faster than traditional methods -- a story that closely parallels Proto Labs' own by optimizing product development and improving supply-chain efficiencies through a variety of digital manufacturing methods.
Click here to learn more.


Easy wire connection to PCB without wire soldering
In the fast-growing LED/lighting market, lead wire is a major component used in connecting a board to a lighting module. The conventional method of manually soldering the wire to a board presents limitations that result in a complicated assembly process and an unstable connection. Yokowo's new one-action Lead Socket Connector, however, eliminates wire soldering and allows users to easily plug the lead wire into the socket. A two-contact lock structure ensures a reliable connection. Applications for the Lead Socket Connector include LED lighting, LCD television backlights, tablets, PCs, and any device where a lead wire must be soldered onto a PCB.
Click here to learn more.
---
Videos+: Technologies and inspiration in action
Smaller springs, smarter applications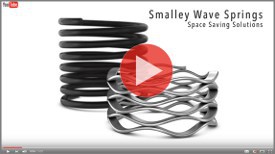 When space is an issue, Smalley Wave Springs can reduce spring heights by up to 50% compared to ordinary coil springs. Smalley's expanded manufacturing capabilities now allow us to coil wave springs to almost any diameter. Regardless of your unique application requirements, Wave Springs are an ideal solution to save space and weight.
Watch this video to learn more.
3D-printed car engine models that work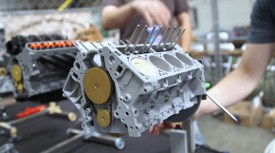 Some of the staff from Tested met up with Eric Harrell earlier this year. Harrell showed off his collection of 1/3-scale, functional 3D-printed car engines and transmissions at this year's Maker Faire. Harrell says he designs the engines from reference schematics and measurements to highlight how real engines work. He has also made his engine-replica files available online. (Shot by Gunther Kirsch and edited by Norman Chan, Tested)
View the video.
---