| | |
| --- | --- |
| December 05, 2017 | Volume 13 Issue 45 |
---
---


New Piezo Motor with Integrated Optical Encoder
MICROMO launches the new Piezo LEGS® Linear 6N motor, also called the Piezo LL06. This new motor is the next generation of the classic Piezo LEGS® LL10 with the same piezo ceramic actuators at its core as its popular predecessor, with some major redesign work. The LL06 features an integrated high-resolution optical encoder, plus a slimmer design and options for guides that steer the drive rod.
Click here to learn more.


New 3D printer is 10X faster than commercial counterparts
MIT engineers have developed a new desktop 3D printer that performs up to 10 times faster than existing commercial counterparts. Whereas the most common printers may fabricate a few Lego-sized bricks in one hour, the new design can print similarly sized objects in just a few minutes. The key to the team's nimble design lies in the printer's compact printhead.
Read the full article.


Reindeer Autopilot System
December 24th is always a busy night for Santa Claus. Since his first flights dating back to the late 18th Century, the number of children has grown exponentially. The herculean task of delivering to all these children requires expert routing and a sleigh with the latest in navigation and autopilot systems. The autopilot utilizes multi-axis load cells in line with the harness controls to precisely handle the reins and guide the eleven reindeer.
Find out how load cells are integral to Santa's sleigh.


Fastest production Corvette ever! 2019 Corvette ZR1
Is it too late to add just one more item to your 2017 wish list? Or too early to start one for 2018? Either way, make an exception for the 2019 Corvette ZR1. Just add it on -- in bold and underline. It is a wish list, after all. So what if the ZR1 starts at over 100 grand. With 755 hp, it's the fastest, most powerful production Corvette ever.
Read the full article.


Mike Likes: Control 3D printing at the voxel level
Stratasys has introduced GrabCAD Voxel Print, a new software solution for its J750 3D-printing solution that provides true voxel-level control during the design and 3D-printing process. Manipulating microscopic voxels, which represent volumetric pixels and are the building blocks of 3D printing, enables users to achieve 3D-printed effects and properties not possible before. Combine this with the full-color, multi-material 3D-printing capability of the Stratasys J750 3D Printing Solution, and you open up a whole new world of digital materials and advanced structures.
Click here to learn more.



17,200 Stock Metric Gears
KHK USA Inc offers the largest selection of stock metric gears in North America. With over 180 types, in more than 17,200 configurations, KHK USA offers the broadest selection of metric spur gears, helical gears, internal ring gears, gear racks, bevel gears, worms and wormwheels, and other gear types.

See what KHK USA has in stock for you today.


Two-way piloting solenoid valve
The Lee Company's new 2-way Piloting Solenoid Valve draws on the design elements of the company's ultra-compact and field-proven 3-way valve and provides a simplified flow path for applications requiring only two ports. MultiSeal technology radically simplifies port layout, offers significant space savings, reduces machining costs, and provides superior reliability over traditional sealing methods. Available biased either normally open or closed, and with lead wires or integral electrical connector, the single-coil 2-way Piloting Solenoid Valve weighs only 0.14 lb and consumes just 7.8 W at 28 VDC.
Click here to learn more.


Easy programming for hydraulic proportional controls
HAWE Hydraulik's eDesign, a new cloud-based, graphical programming interface for electronic control systems, enables users to design programs and to install them directly on the electronic control without knowing a programming language. HAWE eDesign already includes a large number of functions to program either the CAN-knot type CAN-IO or the company's electronic amplifier plug type EV2S. The programming interface is ideally suited to facilitate the transition from on/off valve technology to proportional control, and is primarily intended for low to medium complex programming. Built-in tutorials and hints simplify use.
Click here to learn more.


5 easy ways to reduce 3D-printing costs
According to Marcus Morrissette at Xometry, there are two main drivers to consider when pricing for outsourced 3D-printed parts: material cost and machine run time. Understanding these factors and how to optimize them is important to lowering costs for all of the 3D-printing processes Xometry offers, including Selective Laser Sintering (SLS), Fused Deposition Modeling (FDM), Direct Metal Laser Sintering (DMLS), PolyJet (PJ3D), and Binder Jet Metal (BJ3D). Consider these suggestions when designing your 3D CAD file.
Read the full article.


Alternatives to screws for compact electronics
Aluminum and stainless steel microPEM TackSert pins from PennEngineering provide cost-effective alternatives to micro screws for attaching top panels to base panels or chassis in compact electronic assemblies. They will attach top panels of any material to a base or chassis manufactured from common cast metals (such as magnesium and aluminum) or plastics (such as ABS and printed circuit boards). The pins ultimately eliminate many of the costs and issues associated with screws and integrate unique design features, promoting reliable and effective performance.
Click here to learn more.


Xmas tree-type fasteners
Micro Plastics' product line of "X-MAS TREE TYPE FASTENERS" has been expanded to include over 50 new standard sizes, with 8 special item clips. In addition, a metric line of over 20 sizes is also available. These uniquely designed fastening snap-in clips feature a ribbed shank that ensures fast and easy installation. Clips hold secure in a wide range of materials and work effectively in blind hole applications. A variety of head, prong, and point styles are available. The standard line offers fasteners to fit hole sizes of 1/8 in. through 3/8 in. and will accommodate panel thicknesses from .062 in. to 2.00 in. The metric line accommodates hole sizes of 3 mm through 8 mm and panel thicknesses from 1.6 mm to 50 mm. Fasteners are molded in corrosion-, abrasion-, and vibration-resistant black nylon.
Click here to learn more.
---
Most popular last issue


Sensors: Sam Schmidt, a quadriplegic, races Corvette 190 mph
Paralyzed from the chest down since a racing accident in 2000, Sam Schmidt thought he would never drive again. In 2014, Arrow engineers modified a Chevrolet Corvette C7 Stingray to create a smart, connected vehicle with a human-to-machine interface that Schmidt can operate safely and independently using only the motions of his head. That model and its companion technologies have since been updated for even more impressive results -- and Schmidt has even raced Mario Andretti.
Read the full article.


Battery-switching device increases Tesla road time
Nissan Leafs, which go about 107 miles on a charge, sometimes end up relegated to commuter cars due to battery-life worries. The mass-market, standard Tesla Model 3 can go double that, but even that distance can be disconcerting on long road trips. Both batteries could work about 50 percent longer with a device provisionally patented by researchers at Vanderbilt University.
Read the full article.


3D-printed car engine models that work
Some of the staff from Tested met up with Eric Harrell earlier this year. Harrell showed off his collection of 1/3-scale, functional 3D-printed car engines and transmissions at this year's Maker Faire. Harrell says he designs the engines from reference schematics and measurements to highlight how real engines work. He has also made his engine-replica files available online. (Shot by Gunther Kirsch and edited by Norman Chan, Tested)
View the video.
---
Videos+: Technologies and inspiration in action
Minimize mechanical misalignments, improve efficiency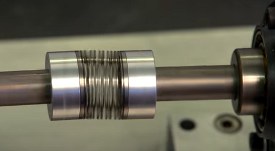 C-Flex Couplings combine the best qualities of disc, beam, and bellows couplings in a unique and economical new design. Made to couple two rotating shafts together, these couplings can accommodate large misalignments while transmitting high torque loads with zero backlash. Benefits include lower energy usage and less-frequent bearing failure. Flexible pivot bearings and super plastic torsional damping couplings are also available.
View the video.
World's first hybrid 3D printer shakes up market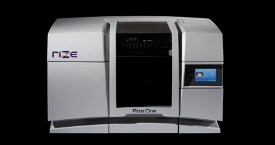 Rize One is the first inclusive 3D printer to combine two discrete technologies -- Fused Deposition Modeling (FDM) and Piezo Jetting -- into a single printer. It produces watertight and isotropic-strength thermoplastic parts, with detailed text and images, that are stronger than polycarbonate and 2X stronger than ABSplus. The printer is suitable for the additive manufacturing lab, the engineering office, or virtually any field location. It is office-safe (no toxic particle emissions) and features limited post-processing after 3D printing. Manufacturing engineers can even place a Rize One 3D printer next to the assembly line to build custom or replacement tooling, fixtures, and jigs on demand. Also ideal for efficiently producing a low volume of bespoke end-use parts.
Learn more and see it in action.
---