| | |
| --- | --- |
| December 19, 2017 | Volume 13 Issue 47 |
---



2018 Cool Parts Calendar
Request a free Proto Labs 2018 Cool Parts Calendar and keep all your projects on track next year. Every month you'll see a custom part made possible through 3D printing, CNC machining, injection molding, and the innovative companies behind the design of those parts.
Request your free calendar today!
---
---


Disney Research designs machines that bend
Replacing rigid joints and linkages with mechanisms that bend offers a number of potential advantages, even as it makes designing devices more difficult. A computational design tool developed by Disney Research promises to make this transition from rigid to compliant mechanisms easier using parameterized flexures.
Read the full article.


Researchers delve into how to get sprayed metal coatings to stick
When bonding two pieces of metal, either the metals must melt a bit where they meet or some molten metal must be introduced between the pieces. But researchers at MIT have found that in some situations, melting can actually inhibit metal bonding rather than promote it. To figure this out, they used an incredible high-speed camera that is so fast it can track individual particles being sprayed onto a surface at supersonic velocities.
Read the full article.


Engineer's Toolbox: Hinge fatigue testing
Torque hinges, friction hinges, and position hinges all describe a type of hinge that allows two parts to rotate about one another when a load is applied. The hinge then returns to its original position when that load is removed, due to its high torsional stiffness. But what does it take to perform fatigue and cycle testing to verify the hinge lifespan when integrated into the product? FUTEK lays it all out.
Read the full article.


Expert Tip: Wave Springs vs. Belleville Stacks
Whether you are stacking in parallel or series orientations, stacking multiple Belleville washers can complicate production resulting in misalignment or uneven loads. Trial and error is often needed to determine the appropriate loads when stacking individual washers. Stacks thought to be identical may not provide identical performance due to variance in the individual washer loads.

Wave springs, on the other hand, are manufactured to specified dimensions with tight tolerances to exact deflection and load performance. A single wave spring can be installed without the need to stack multiple springs together. As wave springs are coiled from flat wire, there are no tooling costs or scrap, allowing for the economical production of custom springs, including specialty alloys when desired. In contrast, a custom Belleville washer design can incur high costs for tool and die creation as well as the material wasted in the stamping process.
Click here to learn more.
Cool Tools: Ruggedized 'lunchbox' trifold portable computing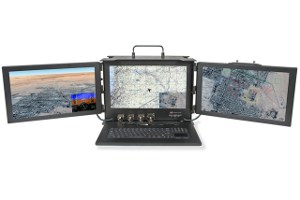 The new MTP family of rugged portable computers from Chassis Plans is designed for use in highly challenging real-world military, industrial, and commercial applications. The trifold computer offers three 18.5" (1,920 x 1,080) FHD LCD displays in a small form factor, with a total effective viewing area of all displays together of 5,760 x 1,080 pixels. It includes support for Intel Core and Xeon CPUs with up to 32GB of ECC system memory. Motherboard options include a COM Express embedded mainboard as a sealed, conduction-cooled unit or a more traditional ATX motherboard. This system is very customizable to a customer's specific needs, including a variety of motherboards, processors, expansion slots, IO and network communications, power requirements, etc.
Learn more.


Large atomizing spray nozzle covers 360 degrees
EXAIR's 1/2 NPT internal-mix 360-degree hollow circular pattern atomizing spray nozzle atomizes fluid and sprays away from the nozzle in all directions, up to 13 ft in diameter. These stainless steel nozzles are ideal where a liquid application is needed in a broad area, such as dust suppression, humidification, and cooling. They are commonly used with water, light oils, rust inhibitors, chemicals, paints, and dyes. They can also be used to coat the inside of large-diameter pipe or duct. By combining liquid and compressed air inside of the air cap, these nozzles produce the finest mist of atomized liquid that can be easily adjusted to meet the needs of your application. These spray nozzles provide liquid flows from 10.8 to 150 gal/hr.
Learn more.


Ground-breaking image-grade LiDAR technology
A startup called Innovusion has just launched a new LiDAR tech that aims to put the industry on notice. LiDAR surveying technology measures distance by illuminating a target with a laser light. An ideal choice for the level 4 and 5 autonomous vehicle and advanced driver assistance systems (ADAS) markets, Innovusion's compact system provides near picture quality with over 300 lines of resolution and several hundred pixels in both the vertical and horizontal dimensions. It detects both light and dark objects at distances up to 150 m away, which allows cars to react and make decisions at freeway speeds and during complex driving situations. Phased commercial rollouts are planned for 2018 and 2019.
Click here to learn more and get updates on the technology.


How to choose a lubricant for an acme screw
Ensuring optimal performance of acme screws and other types of lead screw assemblies often requires pairing the right screw and nut materials with the most suitable lubricant for a particular job, but how do you choose the right one? Chris Nook from Helix Linear Technologies runs through the varied functions of lubrication, the types of lubricants that are available, and the reasons why a particular lubricant may fail.
Read the Helix blog.


Voice coil stage with 1-micron positioning resolution
The compact HCDS-025-038-02-B1-01 Voice Coil Stage from Moticont has a footprint of just 2 in. x 5 in. (54 mm x 127 mm) and features a positioning resolution of 1 micron and a 0.125-in. (3.175-mm) open aperture. This precision cross roller stage has a 0.97-in. (24.6-mm) range of motion with 1 lb (4.4 N) of continuous force and 3.2 lb (14.2 N) peak force. The zero-cogging and low-inertia/high-acceleration voice coil-driven stage has a built-in home switch for accurate initialization. Because the coil is fixed and the magnetic assembly moves, there are no moving electrical components to fail. Designed for closed-loop servo operation, an integral quadrature optical encoder with differential outputs is included. This unit is available as part of an XY or XYZ stage. It can also be ordered as a complete plug-and-play system with a controller.
Click here to learn more.
---
Most popular last issue


Porsche is first to offer braided carbon fiber wheels
Porsche is the world's first vehicle manufacturer to offer lightweight wheels with braided carbon fiber, available now as an option for the Porsche 911 Turbo S Exclusive Series. The innovative wheels weigh around 20% less than standard alloy wheels and are 20% stronger. You can watch the wheels get made on an incredible machine in this article -- it's pretty fascinating!
Read the full article.


NASA testing nuclear reactor for human crews on Mars surface
NASA is testing a nuclear energy source that could literally "empower" human crews on the Mars surface, energizing Red Planet habitats and running on-the-spot processing equipment. The prototype reactor system features a Stirling engine that uses heat to create pressure forces to move a piston, which is coupled to an alternator to produce electricity.
Read the full article.
---
Videos+: Technologies and inspiration in action
3D printing helps drive Renault Sport Formula One R&D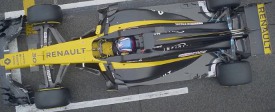 See how 3D Systems' 3D printing solutions help the Renault Sport Formula One Team overcome engineering challenges using SLA, SLS, and direct metal 3D printing for wind tunnel parts, investment casting patterns, and on-car parts to try to ramp up driving speed between races.
View the video.
The Rube Goldberg machine: A little history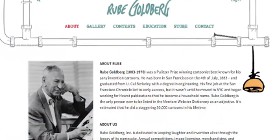 Rube Goldberg drew thousands of cartoons of his crazy contraptions, but no one actually built one until Purdue University engineering students started a contest in the 1950s. Fast forward to the 21st century, and the official Rube Goldberg Machine Contest is now a global enterprise, with teams of all ages and all stripes.
View the video.
---