| | |
| --- | --- |
| December 26, 2017 | Volume 13 Issue 48 |
---



Motors for model train meet demanding requirements
Building an N-gauge (1:160) model train system involves working with very small units. The 1930s-inspired BR 70 locomotive from Fleischmann is only 2.25 in. long when measured buffer to buffer. As on large locomotives, traction (and on the model, power transmission) between the wheel and the track is a crucial factor. To give the unit appropriately scaled big-train power with low vibration and noise, the folks at Fleischmann turned to customized DC motors from the FAULHABER Group.
Read the full article.
---
---


17,200 Stock Metric Gears
KHK USA Inc offers the largest selection of stock metric gears in North America. With over 180 types, in more than 17,200 configurations, KHK USA offers the broadest selection of metric spur gears, helical gears, internal ring gears, gear racks, bevel gears, worms and wormwheels, and other gear types.
See what KHK USA has in stock for you today.
---
Feature articles


What's different about the next Mars rover mission?
At a glance, NASA's Mars 2020 rover looks a lot like its predecessor, Curiosity. But there's no doubt it's a souped-up science machine: It has seven new instruments, redesigned wheels, and more autonomy -- and it has a system to prepare rock cores for pickup by a future mission. One thing that is the same: It will use the exciting (and harrowing) skycrane descent, just like its predecessor.
Read the full article.


Desktop Metal begins shipping to first pioneer customers
Just eight months after its initial introduction, Desktop Metal has begun shipping its metal 3D printer to early pioneer customers (including Google's Advanced Technology and Products group) as part of its Studio System rollout. Aimed at the engineering market, the system, which its makers claim is 10 times less expensive than existing technology, lets users go from CAD to sintered part without leaving the office.
Read the full article.


Happy New Year from Designfax!
Thanks to all of our readers, sponsors, writers, and article contributors for making 2017 another great year for us. We wish all of you a healthy, happy, and prosperous 2018!

Don't forget to pass along your issue of Designfax to an engineering colleague.

And if you're looking to advertise, we can help you out with that too.
Go to the Designfax advertise page.


See you in 2018 with our Best Of 2017 issues!


Wheels: Wards 10 Best Engines 2018
WardsAuto recently announced the winners of the annual Wards 10 Best Engines award program. For the first time, four electrified powertrains have made the cut to be included alongside traditional, gasoline-powered internal combustion engines. Notably absent are any winners from German automakers -- a first in the award's 24-year history.
Read the full article.


2018 Cool Parts Calendar
Request a free Proto Labs 2018 Cool Parts Calendar and keep all your projects on track next year. Every month you'll see a custom part made possible through 3D printing, CNC machining, injection molding, and the innovative companies behind the design of those parts.
Request your free calendar today!


'Impactful Times' tells story of decades of Sandia shock physics research
A group of veteran scientists has authored a new book that describes shock physics research at Sandia from its early history to today. Speeding bullets practically stand still compared to impact velocities achieved in shock physics studies, which deal with what solid materials -- condensed matter is the scientific term -- experience when objects collide with them at tremendous velocities, forming a shock that rapidly spreads and can change some of the material to a liquid, gas, or plasma.
Read the full article.


Great Resources: Design guidelines for selecting/using stainless steels
This extensive guide from the Nickel Institute helps designers better understand the large family of corrosion-resistant stainless steels. It describes typical corrosion modes and how to select materials to minimize or prevent corrosion. Forty-seven figures help illustrate important characteristics of, and end-use applications for, 57 different stainless steel types, including chemical compositions, physical and mechanical properties, properties at elevated temperatures, and heat-transfer characteristics.
Get your guide (no registration required).


Intelligent slewing ring bearing simplifies equipment monitoring
igus has developed an intelligent slewing ring bearing (SRB) that is installed with an isense PRT.W wireless sensor that detects wear, so the need for a replacement can be indicated with enough time in advance via the system's icom module. Slewing rings from igus are used in applications that handle high cycle speeds and loads, including control desks, welding equipment, indexing tables, and chainsaws. iglide slewing ring bearings have plastic sliding elements between aluminum or stainless-steel inner and outer bearing rings. These sliding elements are made of the high-performance, self-lubricating iglide J plastic, making them maintenance-free and friction and wear resistant.
Click here to learn more.


Dual-curing adhesive simplifies production
DELO now offers a dual-curing adhesive for structural bonds. DELO DUALBOND SJ2718 combines high strength and temperature resistance with a simple production process, making it ideal for use in automotive applications like the production of electric motors, where buried magnets are fixed in the rotor package. Designed for use where adhesive bonds are exposed to large mechanical stress and increased temperatures, this new, two-stage light-curing and heat-curing adhesive is faster and easier to use as compared to traditional epoxy resins that generally need additional equipment to hold components in position on production lines and in curing ovens. This product can be prefixed in 1 to 5 seconds, depending on the intensity of the UV light. With a strength on aluminum of 60 MPa and on high-performance plastic PA6 of 30 MPa, its performance is comparable to purely heat-curing structural adhesives.
Click here to learn more.


New Catalog: Custom engineered precision motion systems
Motion and precision positioning systems expert PI (Physik Instrumente) has released a new catalog outlining its capabilities for engineered motion and automation solutions for high-tech industries such as photonics, precision optics, semiconductor, and medical engineering. Customers have saved considerable time and resources by requesting free advice from PI's engineering teams around the world, who draw upon thousands of standard products ranging from electromagnetic to piezoceramic motors, digital and analog controllers, serial and parallel kinematic motion systems, capacitive, inductive and optical nano-precision sensors, and guiding systems that span from flexures to magnetic levitation and air bearings.
Get your catalog today.


Software: Robot control systems
Han's Robot, a subsidiary of global Chinese manufacturer Han's Laser, has licensed Energid's Actin premier control software for its new line of cost-effective collaborative robots ("cobots"), called Elfins. Actin is an easy-to-use robot control and simulation framework that offers robot manufacturers faster time to market, reduced software development costs, and powerful control with real-time adaptive motion. Han's Robot was able to leverage powerful collaborative features including collision avoidance, simplified task-based programming, interactive control, and the ability to extend, customize, and rebrand any of the components for advanced product differentiation. Energid provides robotic control systems for a wide range of global customers.
Click here to learn more.


LED controller for automotive lighting designs
Texas Instruments (TI) has introduced the first 3-channel high-side linear automotive light-emitting diode (LED) controller without internal MOSFETs, which gives designers greater flexibility for their lighting designs. The TPS92830-Q1's novel architecture enables higher power and better thermal dissipation than conventional LED controllers, and is particularly beneficial for automotive LED lighting applications that require high performance and reliability. The LED controller's flexible on-board features give designers the freedom to select the best MOSFET for their system requirements. With this new approach, designers can optimize their lighting power designs more quickly and efficiently for automotive system requirements and desired dimming features.
Click here to learn more.
---
Most popular last issue


The Rube Goldberg machine: A little history
Rube Goldberg drew thousands of cartoons of his crazy contraptions, but no one actually built one until Purdue University engineering students started a contest in the 1950s. Fast forward to the 21st century, and the official Rube Goldberg Machine Contest is now a global enterprise, with teams of all ages and all stripes.
View the video.
---
Videos+: Technologies and inspiration in action
On fire! See a steel ball bearing crushed by a hydraulic press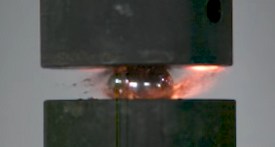 Some enterprising guys in Finland with a penchant for smashing stuff have created their own YouTube channel -- and they want to share all the fun. "Wanna see stuff getting crushed by a hydraulic press?" they ask. This time around, they crush a steel ball bearing, and as a bonus they catch the action on a borrowed super high-speed camera shooting 320,000 frames per sec. Watch what happens when the steel explodes, sending tiny particles outward at Mach 2.44 (18,000 mph).
View the video.
---