| | |
| --- | --- |
| January 09, 2018 | Volume 14 Issue 01 |
---



Spirolox® ID/OD Locking Retaining Rings
Smalley's Spirolox Retaining Rings can operate in an internal and external groove at the same time! There are many great benefits for the ID/OD Lock, some of which include concealed fastening, no required assembly tooling, tamper-proof, aesthetically pleasing and a 360° rotational capacity. There are over 6,000 standard rings in carbon and stainless steel, from 1/4" to 16" (6 mm to 400 mm) diameters, and No-Tooling-Charges™ on specials from .165" to 120" (4 mm to 3000 mm) diameters.
Click here to learn more.
---
---


World's Smallest Stepper Motor is a Big Win
MICROMO presents the FAULHABER FDM 0620 series stepper motor. Measuring just 6mm in diameter and 9.7mm in length, including all components and connections, and with a 0.25mNm holding torque rating, the FDM 0620 stepper motor series is small enough to fit in the most compact spaces for limitless applications. This micro stepper motor is also now available for purchase online with and without leadscrew options.
Click here to learn more.
---
Feature articles


Long-range sniper system is the BOSS
What does it take for an Army sniper to accurately hit a person-size target at extreme ranges? The Army thinks it may have the answer to this challenge in a new integrated fire control sighting system for military sniper weapons called the Ballistically Optimized Sniper Scope (BOSS).
Read the full article.
Air spray: The comeback of stunning military aircraft paint jobs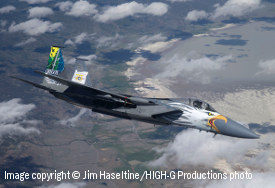 Eight Oregon Air National Guard members received a call to arms. Their wing commander handed them an assignment, stressing high priority. They worked 33 consecutive days, some pulling night shifts. Their orders: Paint a Boeing-built F-15 Eagle jet fighter in a manner that would elevate base morale at Kingsley Field in Klamath Falls, OR, and commemorate the Air National Guard's 75th anniversary across the state. By Dan Raley
Read the full article.


U.S. Navy electrifies aircraft carrier catapult
It may be "full steam ahead" for the U.S. Navy's newest aircraft carrier, the USS Gerald R. Ford, but it won't be the catapult that will be steam powered. Less than one week after it was commissioned, the Ford launched and recovered its first fixed-wing aircraft in July using the Navy's new electromagnetic launch system (EMALS) and advanced arresting gear (AAG) system.
Read the full article.


Mercedes brings yacht style to the Maybach 6 Cabriolet concept
If Thurston Howell III dreamed of the far-distant future while shipwrecked on "Gilligan's Island," he probably imagined tooling around the mainland with Lovey in something like the yacht-inspired Vision Mercedes-Maybach 6 Cabriolet concept. Recently displayed at Monterey Car Week in California, the 750-hp (550-kW) electric hard-top convertible is luxurious, pretentious, exaggerated, and a real head turner -- but it's full of clever and impressive design details too.
Read the full article.


WWII Engineering: The saga of the bird-brained bombers
During World War II, the National Institute of Standards and Technology (NIST) was among those working intensely to develop guided weapons to help the Allies win the war. But before the advent of satellites and GPS, laser targeting, or even radar, how would one guide a bomb? Why, trained pigeons, of course.
Read the full article.


Top Toolbox: Fastest way to dry your hands? FloEFD investigates
Have you ever wondered what's the fastest way to dry your hands when using one of those air-shooting hand dryers in a public restroom? Should you rotate your hands or leave them in one place? What position is most efficient? Proving that modeling everyday challenges is fun and insightful, Robin Bornoff from Mentor Graphics tackles these questions using the full-featured 3D fluid flow and heat transfer analysis simulation tool called FloEFD.
Read the full article.


Top Toolbox: Metal tape measure technology grows up
When first-timers see the Zippermast rise into the air from an unmanned vehicle, they are amazed by how high it can be extended. Inspired by the lowly metal tape measure design, the compact and super-sturdy Zippermast consists of three interlocked steel tapes that also function like a locking zipper, lifting cameras and sensor equipment up to 40 ft in the air. A small DC motor from FAULHABER provides the unique design with reliable retraction and extension, all incorporated into an amazingly small base housing.
Read the full article.


Top Product: World's darkest spray paint
A whole range of products can now take advantage of the world's blackest coating, Vantablack, thanks to the development of a new spray version called Vantablack S-VIS. It is easily applied at large scale to virtually any surface. Vantablack's carbon nanotube matrix structure absorbs virtually all (99.8%) incident light, enabling precision optical systems to be optimized. The material's developer, UK-based Surrey NanoSystems, has mimicked the performance of its original Vantablack with this new version that can be sprayed onto objects, rather than deposited using a chemical vapor deposition (CVD) process.
Click here to learn more.


Top Product: Zinc foam with cost-saving feature
Goodfellow has announced the availability of two variants of zinc foam: 99.99% zinc deposited on a polyurethane foam and ZAMAK 410 Zn/Al4/Cu1/Mg0.04 zinc alloy foam with solid ligaments. Both combine the versatile properties of zinc or its alloy with the functional benefits of a foam. This combination should be of particular interest to design engineers working in the fields of heat exchangers, catalyst substrates, energy absorbers, filters, and mixers. Cost-saving feature: For the variant deposited on a polyurethane structure, it is possible to design the finished component in the base foam before metalizing, avoiding post-machining and thereby reducing costs. Editor's note: Goodfellow copper foam has been a favorite of Designfax readers for years, so check that out too.
Click here to learn more about Goodfellow metal foams.


Top Training: Become a robot programmer in only 87 minutes!
Learning how to set up and program a collaborative robot -- or cobot -- no longer depends on real-life access to a robot or a training class. Now everybody with a desire to learn the concepts of cobots can log in to the Universal Robots Academy and get the introduction necessary to master basic programming skills. Become a master of the cobots! (That's a pretty sweet title.)
Click here to learn more.


Top Fun: LEGO launches NASA Apollo Saturn V set
For the inner child in you: Make history with the LEGO NASA Apollo Saturn V, the first rocket to put people on the Moon! With 1,969 pieces total, build the 3 stages of this stunning meter-high rocket and display it on the stand or launch it into orbit. Offload the S-IC and S-II sections, dock the lunar lander with the command service module, and complete a successful Moon landing mission!
Read all about the new set. You know you want one!
---
Videos+: Technologies and inspiration in action
See SpaceX's spectacular rocket crashes blooper reel
You gotta love a good sport! Elon Musk's SpaceX has released a blooper reel that highlights its epic fails in perfecting rocket launches and landings in the quest to be the top private commercial provider of space transport services. Watch "How Not to Land an Orbital Rocket Booster" and relive the crashes and smashes that provided the growing pains for SpaceX to succeed.
View the video.


Giant 28-ft chainsaw widens Italian tunnels
If you are looking to widen two highway tunnels and don't want to disrupt traffic, what do you do? If you are Italian tunneling-machines and systems-maker Palmieri Group, you design and build a giant 28-ft (8.5-m) chainsaw that can handle cutting earth and rock, and you mount it on a huge, movable arc track. That way, you can install a fully enclosed protective lane tube for cars and trucks to use under the arc as you move forward. In 2016, the new machine had to endure a lot of dust, heat, and moisture. Palmieri specified a Hagglunds hydraulic motor and a closed hydraulic system by Rexroth, through which the fluid was pumped using two axial piston variable pumps. Magnifico! (Copyright image: Palmieri S.p.A.)
View the video.


Honey, I shrunk the V-8 engine!
Borrowing from the classic design of a V-8 engine to achieve high push/pull and holding forces, patented piezo actuator technology and linear stepping motion design principles come together to create the fastest and strongest non-magnetic drive of its class size. These piezoelectric motors are self-clamping -- at rest or in steady-state mode, they automatically hold the position without any need for power. Learn how this technology can be used in your application.
Watch video.


Pushing the limits of motorcycle design and manufacturing
Matt Chambers, founder and CEO of Confederate Motors, talks about the impact that 3D Systems' Quickparts rapid parts and prototypes service has on his design-and-build business. With the exception of some engine components, wiring, wheels, tires, and lighting, 3D Systems makes every part of the super-boss P51 Combat Fighter motorcycle, saving a tremendous amount of time and hassle for Confederate Motors by being able to consolidate part production with one primary vendor.
View the video.


---