| | |
| --- | --- |
| January 23, 2018 | Volume 14 Issue 03 |
---
---


Meet the cobot cameraman
Collaborative robots are constantly breaking new ground, showing up in unexpected applications. The ARCAM ROBOTIC SYSTEM featuring Universal Robots' UR10 integrated with a Panasonic camera and 3D graphics package is now in operation in TV studios across the world.
Watch it in action:
---

Feature articles

3D printing with instant results? LLNL can do that
Instant gratification has come to 3D printing in a very big -- and a very little -- way, thanks to new, demonstrated advances by researchers at Lawrence Livermore National Lab. Using laser-generated, hologram-like 3D images flashed into photosensitive resin, the team has discovered they can build complex 3D parts in a fraction of the time of traditional layer-by-layer printing.
Read the full article.

---


1,000x resolution: New depth sensors sensitive enough for self-driving cars
For the past 10 years, the Camera Culture group at MIT's Media Lab has been developing innovative imaging systems -- from a camera that can see around corners to one that can read text in closed books -- by using "time of flight," an approach that gauges distance by measuring the time it takes light projected into a scene to bounce back to a sensor. Now members of the group have developed a new approach to time-of-flight imaging that increases its depth resolution 1,000-fold.
Read the full article.


Ford chases a retro spirit with 50th anniversary Mustang Bullitt
Ford has a special-edition model due out this summer -- the all-new Mustang Bullitt, which celebrates the 50th anniversary of the movie "Bullitt" and the car in its iconic 10-minute San Francisco chase scene with Steve McQueen as the driver. While the 2019 475-hp model is cool, the story behind the original movie car and how it resurfaced is just as interesting.
Read the full article.


Toolbox: Producing large 3D-printed metal parts gets automated
3D Systems has introduced a next-generation additive metal production platform designed to allow manufacturers to easily scale their 3D-printing efforts and integrate them seamlessly into the factory floor. Based on the company's Direct Metal Printing (DMP) precision metals technology, the automated DMP 8500 Factory Solution features an efficient and fully integrated workflow -- from powder in to part out -- to produce repeatable, high-quality parts with a lower total cost of operation (TCO).
Read the full article.


Chairless exoskeleton to solve long-standing problem
The Chairless Chair is a new innovation for relieving strain and fatigue from excessive standing during long work shifts. The entire construct is lightweight, easy to put on, and hardly noticeable when walking. Operating a switch on the strap turns the flexible construct into a stable seat. Two small FAULHABER DC motors activate a stop valve in the hydraulic elements of the shock absorbers, locking the support into the seated position.
Read the full article.


Fast and compact direct-drive micro-positioning stages
Precision motion and nanopositioning leader PI (Physik Instrumente) delivers a family of compact linear and rotary stages driven by ceramic direct-drive motors. The patented ultrasonic motors provide smooth motion with high resolution and a high dynamic range. The self-clamping motor principle locks the stage into place, devoid of creep, once a target position has been reached. This intrinsic brake-like behavior comes at no extra cost and provides advantages that are not available with classic electro-magnetic drive technologies. Two linear stages with 18-mm and 22-mm travel are available, as well as an XY stage providing 22 mm x 22 mm. Several encoder options are standard. Applications include medical devices, optical instrumentation, photonics alignment, and super-resolution microscopy.
View the specs, datasheet, and more.
Read tech article about ultrasonic motors.


New anti-static Super Air Knife with 34% better performance
EXAIR's new Gen4 Super Ion Air Knife eliminates static electricity 34% better at low inlet pressures, which saves compressed air and money. Production speeds, product quality, and surface cleanliness can improve dramatically. It eliminates static on plastics, webs, sheet stock, and other product surfaces where tearing, jamming, or hazardous shocks are a problem. Gen4 products have undergone independent laboratory tests to certify they meet the rigorous safety, health, and environmental standards of the USA, EU, and Canada that are required to attain the CE and UL marks. They are also RoHS compliant. New design features include a metal armored high-voltage cable to protect against abrasion and cuts, integrated ground connection, and electromagnetic shielding.
Click here to learn more.


New adhesives for bonding displays
DELO now offers two reliable adhesives that are suitable for bonding display frames as well as cover glass and can be used for joining a display panel to a housing. DELO PHOTOBOND LA4860 is a one-component, light-activated urethane polymer adhesive. Because of its unique curing mechanism, opaque components, like display frames, which often have a black mask on the edge of areas or are bonded to the housings, can be quickly and reliably joined without the need for additional heat curing. Initial strength is reached after a few minutes. DELO-PUR SJ9356 is a two-component, polyurethane hybrid adhesive. This flexible adhesive ensures stable and tension-equalizing bonds and seals, even with changing loads. It is an optimal solution for sealing large bonding gaps.
Click here to learn more.


Elastocon adds new grade to versatile 8000 series TPE line
Elastocon TPE Technologies has increased its offerings of thermoplastic elastomers with the introduction of a new grade in its general-purpose 8000 Series: 8078B grade for applications in both consumer and industrial products. The new 8078B offering can be injection molded, extruded, or blow molded, and even overmolded (onto polypropylene) for products that call for rubber-like properties (Shore A 82) and a good surface finish. Benefits include: high flow properties to enable complex part design, high impact resistance, excellent cold weather/UV stability, resists chlorine and most sanitizers (as well as most household cleaning products), does not support microbial growth, and it requires less material during processing. Heavily lubricated versions are available to eliminate post-mold lubricant application.
Click here to learn more.
---
Most popular last issue


Most Popular Stories/Products 2017 -- Part 1
Long-range sniper system is the BOSS, New turboprop delivers jet-like simplicity, Stunning military aircraft paint jobs, Curiosity rover treads rip and tear, Mercedes brings yacht style to Maybach 6 Cabriolet, WWII Engineering: Bird-brained bombers, World's darkest spray paint, more.
Read the issue.
---
Videos+: Technologies and inspiration in action
Millimeter-scale Delta robot is precise and fast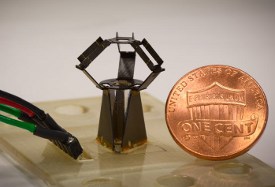 Because of their high precision and speed, Delta robots are deployed in many industrial processes, including pick-and-place assemblies, machining, welding, and food packaging. Over time, roboticists have designed smaller and smaller Delta robots for tasks in limited workspaces, yet shrinking them further to the millimeter scale with conventional manufacturing techniques and components has proven fruitless. A new design, the milliDelta robot, developed by a team at Harvard's Wyss Institute for Biologically Inspired Engineering, overcomes this miniaturization challenge. By integrating their microfabrication technique with high-performance composite materials that can incorporate flexural joints and bending actuators, the 15-mm x 15-mm x 20-mm milliDelta can operate with high speed, force, and micrometer precision, which make it compatible with a range of micromanipulation tasks in manufacturing and medicine.
View the video.
---