| | |
| --- | --- |
| January 30, 2018 | Volume 14 Issue 04 |
---



Leverage the Best 3D Printing Method for Your Project
Determining the best 3D printing method for your next project can be a challenge. Take advantage of this new white paper from Xcentric Mold & Engineering and learn more about the pros and cons of each printing technology while defining their ideal uses and constraints. Technologies covered include Stereolithography (SLA), Fused Deposition Modeling (FDM), Selective Laser Sintering (SLS), Jetting, and ColorJet Printing (CJP).
Learn to design better parts for 3D printing.
---
---


New type of corrosion protection for galvanized steel is self-healing
The standard practice to protect metal from corrosion for the last 70 years has been to apply a heavy coat of zinc. But a new product called InterCoat® ChemGuard, instead, reacts with the zinc to form a permanent, covalent bond on the surface of the metal. The product is applied over a light layer of zinc, which reacts with the zinc to dramatically improve its corrosion protection properties. The bond that is formed at the molecular level cannot be washed or worn off.
Read the full article.
---
Feature articles


New 3D-printing tech puts a spin on making high-performance composites
A team of Harvard researchers has demonstrated a novel 3D-printing method that could have broad-ranging applications because it yields unprecedented control of the arrangement of short fibers embedded in polymer matrices. They used this technique, which they call "rotational 3D printing," to program fiber orientation within epoxy composites in specified locations, enabling the creation of structural materials that are optimized for strength, stiffness, and damage tolerance.
Read the full article.


Self-programming paint booth scans and delivers
A new system called "SelfPaint" being developed by researchers in Germany and Sweden not only 3D scans an object and spray paints it accurately, but it also optimizes the amount of paint used and the application using multi-physics simulation. Finally, it double-checks the results. The system could paint hundreds of similar items or one-offs with the same relative ease and economy.
Read the full article.


NASA begins endurance testing on cruise motors for all-electric X-plane
The cruise motors that will power NASA's first fully electric X-plane, the X-57 Maxwell, to the skies have begun endurance testing on the ground. Using a test stand called Airvolt, engineers at NASA's Armstrong Flight Research Center are testing the motors and their motor controllers, collecting data to help verify that the experimental electric propulsion system is ready to be deemed flightworthy.
Read the full article.


New Siemens servo drive system simplifies motion control for machine builders
With its Sinamics S210 converter designed specifically for use with the newly developed Simotics S-1FK2 motors, Siemens provides an innovative and quickly configurable servo drive system in an initial offering from 50 W to 750 W. Typical uses for this system include packaging machines, handling applications such as pick-and-place, wood and plastics processing, as well as life sciences and digital printing.
Read the full article.


Key industrial robotic trends for 2018 include 7th-axis slide
The industrial robotics industry has come a long way in the past decade, as more and more robots are integrated into a variety of production lines. But, as LazerArc looks toward the year ahead, everyone wants to know what is on the horizon for 2018 and beyond. Here are a few key robotics trends to keep in mind before you finish planning your 2018 capital spend for improving production lines.
Read the full article.


Mike Likes: Versatile 7-segment display series
Visual Communications Company (VCC) recently launched the DSM7T Series, the latest rugged and efficient LED solution in its numeric display portfolio. Available in blue, red, and pure green LEDs, these thin numeric displays are ideal for a wide range of applications, including industrial devices, light controls, medical, and transportation equipment. The DSM7T Series really shines when two or more seven-segment displays are connected to each other (especially since decimals are valuable to communicating with operators or end users). Other key features include the side-by-side mounting capability that saves space on the PCB, and SMD technology that eliminates additional soldering and manual labor; both provide significant cost savings during assembly.
Click here to learn more.


Motion standout: Compact precision ring drive system optimized for high speed and high torque
The Compact Ring Drive (CRD) system from Nexen Group features a precision-grade bearing and drive mechanism in a sealed housing. Freely programmable, three drive configurations allow the CRD to be optimized for high speed, high torque, or both, depending on the application. The combination of Nexen's roller pinion technology with integrated bearing and motor/gearhead delivers a rigid, smooth system with zero backlash options from the motor through the driven load. The CRD is ideal for applications including cutting systems, gantry systems, medical products, robotics, aerospace, machine tool, semiconductor, and material handling.
Click here to learn more.


Mini fasteners for compact electronic assemblies
New microPEM MSOFS flaring standoffs from PennEngineering provide ideal miniature fastener solutions to attach and/or space components in compact electronic assemblies. They install permanently in thin panels of any hardness and material, including stainless steel, other metals, plastics, and printed circuit boards. A unique flaring feature adds value by allowing for installation into multiple panels. These standoffs additionally have been engineered with a minimal footprint, enabling reduced centerline-to-edge designs, especially suiting attachment applications where available space for fasteners may be limited. Their extremely small and reusable threads reliably accept mating hardware to complete final component attachment.
Click here to learn more.


Small stepper motor with high power
A new stepper motor from Nanotec boasts in excess of 30% more torque than conventional motors of the same size. The SC2818 model motor has a flange size of 28 mm and a torque of up to 0.22 Nm. The step angle of the two-phase hybrid stepper motor is 1.8 deg. Like the other SC series motors from Nanotec, the SC2818 has an integrated connector, making it easy to adapt cables for customized applications. A connection cable is included. These motors are available in three lengths, each with one or two shafts. The version with the B-shaft is optionally offered with an NOE1 encoder with up to 2,000 increments/revolution. Due to its high torque and small size, the SC2818 motor series is ideally suited for use in laboratory automation or in service robotics.
Click here to learn more.


High-temp fluorinated rubber offers excellent sealability
Freudenberg-NOK Sealing Technologies has introduced a new family of proprietary fluorinated rubber to meet static seal challenges, especially in powertrain applications such as turbocharging. The materials offer excellent sealing capabilities under very high temperatures and pressures, ease installation challenges, and are cost competitive against more expensive perfluorinated material options. The new rubber can also be custom mixed to meet specific powertrain engineering requirements. The new material has been under development for four years. Compression Stress Relaxation (CSR) testing demonstrated exceptional sealing capability. The elasticity of these materials is maintained along with their flexibility after prolonged high-temp air exposure.
Click here to learn more.


Compact robotic dress pack
Murrplastik's R-TecLiner self-contained dress pack system is specially designed to guide energy packs from three- to six-axis industrial robots. A unique spring return mechanism effectively guides the energy package with minimal wear in the smallest possible space. The completely enclosed system comes in extremely strong, aluminum housing to protect against hazards and dust ingress. An anodized aluminum slider requires little maintenance and, combined with the spring return system's reduced wear and tear, helps ensure a long service life. The dress packs fit Murrplastik's 56/70-size EWX conduits and carry a stroke length of 350 mm to 550 mm.
Click here to learn more.
---
Most popular last issue


Ford chases retro spirit with 50th anniversary Mustang Bullitt
Ford has a special-edition model due out this summer -- the all-new Mustang Bullitt, which celebrates the 50th anniversary of the movie "Bullitt" and the car in its iconic 10-minute San Francisco chase scene with Steve McQueen as the driver. While the 2019 475-hp model is cool, the story behind the original movie car and how it resurfaced is just as interesting.
Read the full article.


3D printing with instant results? LLNL can do that
Instant gratification has come to 3D printing in a very big -- and a very little -- way, thanks to new, demonstrated advances by researchers at Lawrence Livermore National Lab. Using laser-generated, hologram-like 3D images flashed into photosensitive resin, the team has discovered they can build complex 3D parts in a fraction of the time of traditional layer-by-layer printing.
Read the full article.


Lensless camera creates detailed 3D images from a single 2D image
Berkeley researchers have developed an easy-to-build camera that produces 3D images from a single 2D image without any lenses. In an initial application of the technology, the researchers plan to use the new camera, which they call DiffuserCam, to watch microscopic neuron activity in living mice without a microscope. Ultimately, it could prove useful for a wide range of applications involving 3D capture.
Read the full article.
---
Videos+: Technologies and inspiration in action
Pneumatic cobot concept works hand in hand with humans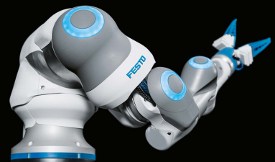 The pneumatic lightweight BionicCobot concept from Festo is based on the human arm and has great potential as a sensitive helper for human/robot collaboration in the future. There are three axes in its shoulder area, one each in the elbow and lower arm, plus two axes in the wrist. In each axis there is a rotary vane with two air chambers. These form a pair of drives, which can be infinitely adjusted like a mechanical spring by filling them with compressed air. Using pneumatics means a rotary vane pump replaces traditional motors and gearing in joints -- one of many simplified solutions in this impressive desktop helper.
View the video.
---