| | |
| --- | --- |
| February 20, 2018 | Volume 14 Issue 07 |
---



Edge Welded Bellows Flex while Sealing
Edge welded metal bellows allow for flexibility in axial, angular and parallel offset motion and provide the most stroke in the smallest amount of space of any bellows technology on the market, by reaching 90% of its free length. BellowsTech can customize size, shape, material, weight, length, and mounting connections to customer specifications.
Purchase online!
---
---


Leverage the Best 3D Printing Method for Your Project
Determining the best 3D printing method for your next project can be a challenge. Take advantage of this new white paper from Xcentric Mold & Engineering and learn more about the pros and cons of each printing technology while defining their ideal uses and constraints. Technologies covered include Stereolithography (SLA), Fused Deposition Modeling (FDM), Selective Laser Sintering (SLS), Jetting, and ColorJet Printing (CJP).
Learn to design better parts for 3D printing.
---
Feature articles


Army's 'Wingman' program developing armed robo Humvees and other vehicles
Army engineers aim to qualify an autonomous combat vehicle on a gunnery range in the coming months as part of a new program they say is the first step toward weaponized robotics. Under the "Wingman" Joint Capability Technology Demonstration program, engineers have already been able to autonomously pilot a specially configured Humvee and hit targets with its on-board 7.62-mm weapon system.
Read the full article.


How a powerful LED-based train headlight was optimized for energy savings
Researchers in Taiwan have designed a new LED-based train headlight that uses one-tenth of the energy required for headlights using conventional light sources. To create a high-efficiency train headlight, the design challenge came in the form of how to combine the small outputs of multiple high-efficiency LEDs into a larger circular output to create a beam large enough to use as a train headlight.
Read the full article.


Can shark skin help planes fly better?
A team of evolutionary biologists and engineers at Harvard University has shed light on a decades-old mystery about shark skin and, in the process, demonstrated a new, bioinspired structure that could improve the aerodynamic performance of planes, wind turbines, drones, and cars. For inspiration, they turned to the shortfin mako, the fastest shark in the world.
Read the full article.


How a NASA engineer created the modern airplane wing
Once dubbed "the man who could see air," NASA engineer Richard T. Whitcomb used a combination of visualization and intuition to revolutionize modern aviation -- by turning the shape of the airplane wing on its head. Today, nearly every commercial airplane bears the marks of Whitcomb's several innovations.
Read the full article.


Advanced Motor Tech:
Precision motion for X-ray optics
Despite their potential danger, X-rays are one of the most powerful instruments and resources utilized in medical diagnostics to help medical professionals restore health by identifying the correct prognosis. When it comes to achieving the best imaging with the lowest X-ray exposure, lenses made by Optec are almost inevitably involved. Their aperture, focus, filters, and zoom are moved by FAULHABER motors.
Read the full article.


Choosing between brush and brushless DC motors: What are the tradeoffs?
Designing a system that involves motion and performs as intended requires choosing the right motor. The most fundamental decision involves commutation type. In some cases, mechanically commutated brush motors provide the best solution for the budget. In other cases, only brushless DC (BLDC) motors will do. Allied Motion provides a comprehensive review of the technology, along with tips and tricks for choosing the right solution for a given application.
Get the guide (no registration required).


How hexapods advance production processes
Hexapods, six-legged parallel-kinematic machines, are quickly gaining ground in a broad range of industrial automation applications after "learning" how to directly communicate with PLC or CNC controllers via fieldbus interfaces. They are used in such varied processes as aligning the smallest optical components in silicon photonics to positioning entire body parts for automotive production, and the intrinsic hexapod features contribute to a wealth of new possibilities in robotics. PI (Physik Instrumente) gives a comprehensive rundown on the state-of-the-art in hexapod tech.
Read the full article.


Air gun with variable flow from the squeeze of a trigger
EXAIR's new VariBlast® Compact Safety Air Guns are a small and lightweight cast aluminum air gun capable of handling tough jobs. Because of the engineered variable flow trigger, they are able to produce light, medium, or heavy force upon a target simply by pulling the trigger. This comfortable and ergonomic air gun has two 1/4 NPT air inlets and a storage hanger for convenience. Air consumption of the VariBlast Compact air gun is only 10-17.5 SCFM, depending on the nozzle installed, which is among EXAIR's most efficient air guns. It is capable of producing up to 1 lb of force, making it a great choice for light- to medium-duty applications. Extensions up to 72 in. long available.
Click here to learn more.
Cool Tools:
FARO Design ScanArm 2.0 improves product design workflow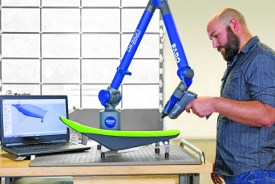 The portable, next-gen FARO Design ScanArm 2.0 was specifically designed to address the most demanding challenges and requirements faced by product design and product engineering professionals. It offers an exceptional combination of flexibility, reliability, value, and performance through best-in-class accuracy, resolution, and ergonomics. The new unit delivers up to 25% improved system accuracy compared to the previous generation. It also incorporates advanced blue laser technology and rapid scanning of up to 600,000 points per second.
Click here to learn more.


Smallest capacitive touch LED sensor display
Visual Communications Company (VCC) recently launched the CSM Series surface-mount capacitive touch LED sensor, which boasts the smallest footprint in the industry. These displays are unique because they measure only 15.0 mm x 15.0 mm x 3.2 mm and can be surface mounted or even reverse mounted to save additional space. The compact, high-output LED sensor displays can be used in a wide range of applications, including: medical devices, home automation and mobile communication devices, as well as portable instruments. Available in green, yellow, red, blue, and white, these touch sensor displays provide streamlined manufacturing and enhanced product life cycle over a mechanical on/off switch because there are no mechanical components to wear down or break.
See these touch LED sensors in action.


Wearables:
USAF selects Garmin D2 Charlie aviator watch for pilots
The United States Air Force has picked Garmin's D2 Charlie aviator watch to be used by the pilots of the Lockheed U-2 aircraft. The high-sensitivity WAAS GPS-enabled D2 Charlie aviator incorporates global navigation capability, rich and colorful moving maps, and more, providing pilots in the USAF with an exclusive, back-up navigation timepiece in the cockpit. Most of us aren't pilots, but we can imagine flying a little higher in everyday life with wrist tech like this, which also offers weather and radar; a complete feature set of sports/training, fitness, and outdoor navigation tools; and phone, text, and message screening options.
Click here to learn more.
---
Most popular last issue


Super wood is stronger than most metals
Engineers at the University of Maryland have found a way to make wood more than 10 times stronger and tougher than before, creating a natural substance that is stronger than many titanium alloys. It is as strong as steel, but six times lighter.
Read the full article.


Wheels Fun: Nissan makes one-off 370Z snowmobile
Arriving just in time to take on recent snowfall, Nissan rolled out a one-of-a-kind 370Z Roadster snowmobile at the opening of the 2018 Chicago Auto Show this week. Dubbed the 370Zki ("370-Ski"), the car proved a transformational challenge for engineers and builders alike on the extended Nissan team.
Read the full article.
---
Videos+: Technologies and inspiration in action
3D-printing process comparison: What will it look like?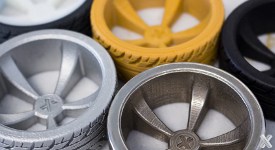 Xometry's Director of Applications Engineering, Greg Paulsen, compares the distinct differences in five 3D-printing processes. The company printed parts using the same CAD model to demonstrate each process's finish and resolution. Discover key takeaways for 3D printing practical applications, so you can select the right process for your next project.
View the video.
Winners and losers of the 2018 Detroit Auto Show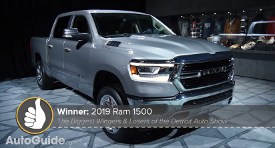 There were big reveals and small ones too at this year's North American International Auto Show in Detroit, which finished up at the end of January. The staff over at AutoGuide.com has picked their winners and losers from a list that includes Hyundai, Ford, Ram, Volkswagen, Chevrolet, Mercedes-AMG, and more -- and they've even thrown a few undecideds in for good measure.
View the video.
---