| | |
| --- | --- |
| February 27, 2018 | Volume 14 Issue 08 |
---



Watch High-Speed Ultrasonic XY Motor Align!
This mini XY linear stage with piezo-ceramic motors combines sub-micron precision with excellent dynamics -- ideal for optics, medical design and photonics applications. In addition to the high speed up to 200 mm/sec, the low inertia (direct drive, no rotating parts) allows for a rapid start-stop behavior with settling times in the milliseconds. How can you use this XY stage?
See it in action.
---
---


Leverage the Best 3D Printing Method for Your Project
Determining the best 3D printing method for your next project can be a challenge. Take advantage of this new white paper from Xcentric Mold & Engineering and learn more about the pros and cons of each printing technology while defining their ideal uses and constraints. Technologies covered include Stereolithography (SLA), Fused Deposition Modeling (FDM), Selective Laser Sintering (SLS), Jetting, and ColorJet Printing (CJP).
Learn to design better parts for 3D printing.
---

Feature articles

Plating: Where to go when you're going for the (real) gold
When top organizations are thinking about how gold can help enhance a project, they often turn to Laser Gold to solve thermal control problems and enhance performance. Whether it is NASA's desire for 99 percent infrared reflectivity or the "Academy's" wish to make the finish on the Oscars statuettes more rugged, Epner Technology's Laser Gold electro-plating process is where it's at.
Read the full article.

---


Wings: Jet-powered UAV tests flapless blown-air control system
When we think of things that fly, they usually have wings with some kind of moving parts. Even Superman had to thrust his arms forward. But engineers at BAE Systems, along with a team of researchers at the University of Manchester in the U.K., have built and flown a jet-powered UAV that is trying out a new type of aircraft control. They call it "flapless flight."
Read the full article.


Laser charges smartphone safely from across a room
Engineers at the University of Washington have developed a method to charge a smartphone wirelessly using a laser -- potentially as quickly as a standard USB cable. "Safety was our focus in designing this system," said Shyam Gollakota, an associate professor who is working on the project.
Read the full article.


Construction truck design evolves at Hitachi using modern calculation management
The engineering department at Hitachi Construction Truck Manufacturing is taking steps to improve their rigid-frame hauling truck design through improving their design analysis tools. The company has a history of using spreadsheet programs and older coding languages as a means to solve some engineering problems, but these legacy approaches can introduce redundancies and slowdowns in a variety of ways during a design process. Gradually, the department is implementing the use of Maple to maximize the value of its calculation efforts.
Read the full article.


Super car brake cooling simulation with CAD-embedded CFD
Brake cooling is a crucial area in motorsport and sports car engineering. A recent thesis project by Arne Lindgren of Halmstad University in Sweden considered different cooling solutions for the extreme conditions of super cars. The project, conducted for super car manufacturer Koenigsegg Automotive AB, had the objective to design an efficient brake cooling solution for their latest model, the Regera. Lindgren used FloEFD simulation software from Mentor Graphics.
Read the full article.


Stepper or servo motor -- Which should it be?
Bring out the full capacity of your machines through the most efficient mechatronic design. Hurley Gill, Senior Applications/Systems at Kollmorgen, outlines servo and stepper motor baseline capabilities for selection criteria like torque, speed, accuracy, and repeatability. Technical advantages and disadvantages are discussed, helping machine designers select the best motor-drive system for their application.
Click here to read: Servo or Stepper: Which Should It Be?
Kollmorgen designs and manufactures innovative motion control systems, including servo and stepper motors, drives, amplifiers, gearheads, and actuators.


Lock your gears, sprockets, pulleys, and more
Posi-Lock bushings from Miki Pulley provide system designers with a keyless option for locking into position gears, pulleys, sprockets, and other components in a mechanical system. These bushings feature socket-head cap screws that tighten quickly and easily, allowing the inner and outer hub of the Posi-Lock to move along shaft contact surfaces. Three different models are available. Applications include machine tools, pumps, molding machines, printing systems, robots, and all types of mechanical systems where hub-to-shaft connections are required.
Click here to learn more.


AC and DC motorized impellers designed for demanding environments
Orion Fans has expanded its AC motorized impeller product offering with 14 new IP55-rated models and has added a new line of 24-V and 48-V DC motorized impellers with 13 models. The AC motorized impellers provide high airflow for a wide range of harsh and demanding applications. The DC motorized impellers deliver a low-power solution with standard control and monitoring features. The new motorized impeller models are available in popular 133-mm, 175-mm, 182-mm, 220-mm, and 225-mm sizes, expanding the existing range from 133 mm to 400 mm. They feature backward curved plastic or all-metal blades, sealed dual ball bearings, and rugged die-cast aluminum frames. All AC motorized impellers ship with the required capacitor. All DC motorized impeller models include a PWM and Tachometer function.
Learn about AC motorized impellers.
Learn about DC motorized impellers.


Mini voice coil motor has high force-to-size ratio
Smaller in diameter than a quarter, the miniature linear voice coil motor (LVCM-019-016-02) from Moticont has a high force-to-size ratio. It produces 8.9 oz. (2.5 N) of continuous force and 28.0 oz. (7.8 N) of peak force in a compact 0.750-in. (19.1-mm) diameter x 0.94-in. (23.8-mm) long envelope (at mid stroke). This high-speed motor has zero cogging and features high accuracy and high repeatability when operated in a closed loop as a DC servo motor. Ideal applications include: pick-and-place; testing; laser steering; mirror positioning; scanning; oscillation; switching; and hand-held medical, dental, or industrial applications.
Click here to learn more.


Development kit for IoT applications
ON Semiconductor is helping engineers address a broader range of high-growth Internet of Things (IoT) applications through the release of a new multi-sensor shield and expansion of software support for its IoT Development Kit (IDK). The IDK gives access to a wide variety of sensing, processing, connectivity, and actuation possibilities through a range of shields/daughter cards that attach to the Arm SoC motherboard. The multi-sensor shield adds a variety of inertial and environmental sensors. These coupled with, for example, the recently announced Bluetooth low energy (BLE) connectivity shield, enable the rapid prototyping of a wide range of ultra-low power smart home, industrial IoT, and wearable solutions.
Click here to learn more.


Gain more torque -- motor has integrated cooling
The slim-design G3718V whisper torque motor from Lin Engineering incorporates a heat-sink design within the stator laminations to allow for passive cooling. When your motor operates cooler, you can increase power to gain more torque without overheating, or you can save energy and still perform at an optimal performance. At only 22.8 mm long, this motor produces 25 oz-in. of torque.
Click here to learn more.
---
Most popular last issue


Can shark skin help planes fly better?
A team of evolutionary biologists and engineers at Harvard University has shed light on a decades-old mystery about shark skin and, in the process, demonstrated a new, bioinspired structure that could improve the aerodynamic performance of planes, wind turbines, drones, and cars. For inspiration, they turned to the shortfin mako, the fastest shark in the world.
Read the full article.


How a NASA engineer created the modern airplane wing
Once dubbed "the man who could see air," NASA engineer Richard T. Whitcomb used a combination of visualization and intuition to revolutionize modern aviation -- by turning the shape of the airplane wing on its head. Today, nearly every commercial airplane bears the marks of Whitcomb's several innovations.
Read the full article.


Army's 'Wingman' program developing armed robo Humvees and other vehicles
Army engineers aim to qualify an autonomous combat vehicle on a gunnery range in the coming months as part of a new program they say is the first step toward weaponized robotics. Under the "Wingman" Joint Capability Technology Demonstration program, engineers have already been able to autonomously pilot a specially configured Humvee and hit targets with its on-board 7.62-mm weapon system.
Read the full article.
---
Videos+: Technologies and inspiration in action
Introducing the smallest wave springs on the market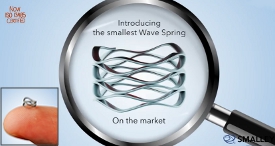 Smalley is involved in the development of medical technology and applications unique to the medical industry, and we are now ISO 13845 certified. We deliver high-quality alloys that are used for implants and medical instruments. Alloys including 316 Stainless Steel, Elgiloy, Inconel, and Titanium are readily available for fast production. With customs that can be designed with No-Tooling-Charges™ in sizes from .157" and 4 mm.
View the video.
Almost a 100% fully automated die casting machine!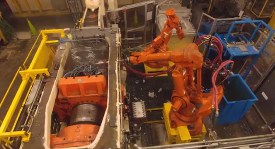 See how die casting manufacturing automation benefits you in many industries and in many ways. RCM Industries' high-quality aluminum die castings are made for parts in industries such as: appliance and outdoor cooking, automotive, furniture, green technologies, heavy-duty and commercial vehicle, industrial, lawn and garden, power equipment, recreational vehicle, and utilities.
View the video.
---