| | |
| --- | --- |
| March 06, 2018 | Volume 14 Issue 09 |
---



New Innovative Way to Take Up Tolerances!
Smalley Linear Springs are a continuous wave formed wire length produced from spring tempered materials. They act as a load-bearing device having approximately the same load/deflection characteristics as a wave spring. Linear Springs are now available as a standard part in carbon and stainless steel, with over 200 sizes.
Click here to learn more.
---
---


World's Smallest Stepper Motor is a Big Win
MICROMO presents the FAULHABER FDM 0620 series stepper motor. Measuring just 6 mm in diameter and 9.7 mm in length, including all components and connections, and with a 0.25 mNm holding torque rating, the FDM 0620 stepper motor series is small enough to fit in the most compact spaces for limitless applications. This micro stepper motor is also now available for purchase online with and without leadscrew options.
Click here to learn more.


Become a robot programmer in only 87 minutes!
Learning how to set up and program a collaborative robot -- or cobot -- no longer depends on real-life access to a robot or a training class. Now everybody with a desire to learn the concepts of cobots can log in to the Universal Robots Academy and get the introduction necessary to master basic programming skills. Become a master of the cobots! (That's a pretty sweet title.)
Click here to learn more.


Hot stuff: New system draws power from daily temperature swings
Thermoelectric devices, which can generate power when one side of the device is a different temperature from the other, have been the subject of much research in recent years. Now, a team at MIT has come up with a novel way to convert temperature fluctuations into electrical power. Instead of requiring two different temperature inputs at the same time, the new system takes advantage of the swings in ambient temperature that occur during the day-night cycle.
Read the full article.


Titanium Springs from Atlantic Spring
Titanium springs from Atlantic Spring offer improved resistance to corrosion, lower torsion modulus, shorter free length, greater strength, and significant weight reduction over steel springs. These attributes make titanium springs ideal for various aircraft, space, military, and defense applications. Atlantic Spring offers rapid prototyping services. Prototypes can be available within 3 to 5 days dependent upon design complexity and material availability. ISO9100C certified and ITAR registered.
Download capabilities flyer.


Army hydrogen fuel-cell Chevy pickup takes on training in Hawaii
Soldiers from the 25th Infantry Division put the Army's ZH2 fuel-cell electric vehicle through the rigors of operating in jungle terrain during a training exercise at Schofield Barracks in Hawaii in late January. The aim was to evaluate the Chevrolet Colorado ZH2's operational effectiveness during multiple reconnaissance missions, putting General Motors' fuel-cell and off-road vehicle technology investments and commercial off-the-shelf products to the test.
Read the full article.


Engineering mystery: What's that white crack in my bearing?
Metal bearing failure due to rolling contact fatigue is generally a rare occurrence, but it does happen. A characteristic feature of many premature failures is the extensive subsurface crack networks that have a "white etching appearance," referred to commonly as white etching cracks. Bearing specialists at SKF take a deep look into this phenomenon in an attempt to determine if the white cracking causes failures or is simply a symptom of a bigger problem.
Read the full article.


Tests show strength of Tri-Mack's overmolded thermoplastic composite hybrid bond
Tri-Mack Plastics Manufacturing is sharing the results of a recently completed test that demonstrates the bond strength of a hybrid panel that combines injection overmolding for design flexibility with unidirectional thermoplastic composites for strength and stiffness. The data helps validate the performance of hybrid composites, which are of particular interest in aerospace and other industries where the goals of lighter weight and lower cost are driving material innovation.
Read the full article.


Stepper or servo motor -- Which should it be?
Bring out the full capacity of your machines through the most efficient mechatronic design. Hurley Gill, Senior Applications/Systems at Kollmorgen, outlines servo and stepper motor baseline capabilities for selection criteria like torque, speed, accuracy, and repeatability. Technical advantages and disadvantages are discussed, helping machine designers select the best motor-drive system for their application.
Click here to read: Servo or Stepper: Which Should It Be?
Kollmorgen designs and manufactures innovative motion control systems, including servo and stepper motors, drives, amplifiers, gearheads, and actuators.


It's all about precision: Photo etching specialty stainless steels and more
Tech-Etch uses the photo etching process to produce component parts for industrial, aerospace, and medical applications. Precision thin metal parts can be made from specialty stainless steel alloys like MP35N used in implanted medical devices, Elgiloy used in replacement heart valves, and 716 and 420 alloys used for surgical blades. Other etched materials include Inconel, Hastelloy, titanium, niobium, nitinol, and magnesium, which is gaining interest as a bioresorbable surgical implant material. Parts range in thickness from .0005 in. and up. While providing quick turnaround and low tooling costs, photo etching produces burr-free parts with intricate and complex shapes. Designs can be proved in preproduction quantities without having to commit to expensive tooling. Forming, heat treating, plating, laminating, and assembly are available in house.
Learn more. Precision Engineered Parts Capabilities Brochure available too.


Sealing tapes and die-cut gaskets approved for F-16
GORE SKYFLEX Aerospace Materials products have been approved for use on F-16 wing access panels. These materials effectively seal panels and protect against mechanical forces and harsh environments that can damage aircraft structures, such as vibration, corrosion, high temperatures, aggressive fluids, UV radiation, and other environmental hazards that tend to break down and weaken traditional materials. Unlike traditional two-component sealants, the materials are lightweight and non-curing, and they simplify the process by reducing installation steps. They are available in a variety of form-in-place (FIP) tapes and die-cut gaskets in various sizes.
Click here to learn more.


Eaton's hydraulic tech powers Valor first flight
As members of Team Valor, power management company Eaton and Bell Helicopter closed 2017 on an uplifting note with the successful first flight of the Bell V-280 Valor. Created and led by Bell Helicopter, Team Valor is a group of leading aerospace companies working together to develop the next generation of vertical lift aircraft for the U.S. Army. Eaton provided components for the V-280's hydraulic power generation system along with system design and analysis support, component modification and qualification, and flight-test support.
Click here to learn more.


Centralized control supports dynamic machine functionality with maximum efficiency
The AMKASYN centralized control and drive portfolio from AMK Automation includes KE/KW servo converters, KE/KW controller cards, the A Series motion controller, and AMKAMAC I/O. The portfolio supports dynamic machine functions with maximum efficiency. The AMKASYN KE/KW servo motors combine an extremely compact design with a cost-effective modular structure that provides several flexible combination options for machine builders. With a choice of cooling systems, single- and multi-axis solutions, and choice of controller cards, this system is ideal for highly dynamic positioning tasks requiring maximum energy efficiency.
Click here to learn more.


New series of tall board-to-board stacker connectors
AVX Corporation has released a new series of tall board-to-board stacker connectors. The new 00-9148 Series tall stacker connectors are cost-effective, reliable, and robust; exhibit excellent resistance to shock and vibration; and help reduce tolerance accumulation in a variety of demanding applications across the automotive, consumer, medical, and industrial markets. The single-piece connectors also reduce assembly time and shorten BOM lists, and feature a double-row design with an 8-mm (+/- 0.2-mm) board-stacking height, a 1-mm pitch, and eight positions, each rated for 1A continuous current. Rated for 125 V, 50 cycles, and temperatures spanning -40 C to 125 C.
Click here to learn more.


Desktop fun: LEGO 1968 Mustang fastback
Ford's Design and Licensing teams have worked closely with LEGO to create a 1968 Mustang fastback race car set that speaks to the passion, creativity, and personalization pony car fans will appreciate. The $14.99, 183-piece 1968 Ford Mustang joins a Porsche 919 Hybrid, Scuderia Ferrari SF16-H, Mercedes-AMG GT3, and more as part of the LEGO Speed Champions collection. The kit features green bodywork with gold dual stripes and wheels, race graphic stickers, removable windscreen, and a mini-figure driver wearing a classic racing suit.
Available at Toys "R" Us.
---
Most popular last issue


Jet-powered UAV tests flapless blown-air control system
When we think of things that fly, they usually have wings with some kind of moving parts. Even Superman had to thrust his arms forward. But engineers at BAE Systems, along with a team of researchers at the University of Manchester in the U.K., have built and flown a jet-powered UAV that is trying out a new type of aircraft control. They call it "flapless flight."
Read the full article.


Laser charges smartphone safely from across a room
Engineers at the University of Washington have developed a method to charge a smartphone wirelessly using a laser -- potentially as quickly as a standard USB cable. "Safety was our focus in designing this system," said Shyam Gollakota, an associate professor who is working on the project.
Read the full article.


Electric current flow steered with spinning light
Light can generate an electrical current in semiconductor materials. This is how solar cells generate electricity from sunlight and how smart phone cameras can take photographs. To collect the generated electrical current, called photocurrent, an electric voltage is needed to force the current to flow in only one direction. In new research, scientists at the University of Minnesota used a first-of-its-kind device to demonstrate a way to control the direction of the photocurrent without deploying an electric voltage.
Read the full article.
---
Videos+: Technologies and inspiration in action
FUTEK ultra-mini in-line load cell
Introducing FUTEK's brand new in-line load cell: the LCM100 model. It's an ultra-miniature threaded load cell that has a capacity range of 1,000 g to 25 lb. RoHS complaint, the load sensor is great for both tension and compression applications. The most impressive feature of the LCM100 is its very low deflection, which allows it to provide high response rates and superior settling times.
See what makes the LCM100 a standout.
Get the specs and more.
Conveyor modules for Industry 4.0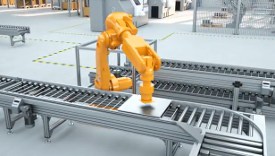 The latest generation of Rexroth TS 5 Conveyors now offers even more transfer modules and built-in capabilities for wider applications and Industry 4.0 solutions. Thanks to the clever modular design, the conveyor can be quickly integrated into production lines for industries like automotive, electronics and home appliance manufacturing, and battery production, easily transporting payloads up to 400 kg. With the newly added modules, customers can easily integrate a three-way diverter, rotator unit, front-end drive, and a compact stop gate into the final system design. For larger components, the tandem transport capability allows for the transfer of excessively long products.
View the video.
---