| | |
| --- | --- |
| March 20, 2018 | Volume 14 Issue 11 |
---



Air Operated Conveyors
EXAIR's Line Vac connects to standard hose or tube to create a powerful conveyor. The design features large throat diameters for maximum throughput capability. A small amount of compressed air is injected through directed nozzles to produce a vacuum on one end and high output flows on the other.
Learn more about air operated conveyors.
---
---
---
Feature articles


World's largest jet engine takes maiden flight
The world's largest jet engine took its first flight over the Mojave Desert on March 13. The GE9X is a showstopper. At 134 in., its fan diameter is so tall and wide that Shaquille O'Neil would fit inside the engine's cover with Kobe Bryant sitting on his shoulders. The whole engine is as wide as the body of an entire Boeing 737. By Tomas Kellner, GE Reports.
Read the full article.


It's HAMMER time: Scientists design conceptual asteroid deflector
Lawrence Livermore National Lab scientists are part of a national planetary defense team that has designed a conceptual 9-m-tall, 8.8-ton spacecraft dubbed HAMMER to deflect Earth-bound asteroids. They have evaluated whether it would be able to nudge a massive asteroid -- which has a remote chance of hitting Earth in 2135 -- off course. The spacecraft could serve as either a kinetic impactor, essentially a battering ram, or as a transport vehicle for a nuclear device.
Read the full article.


Wheels:
Continental makes ABS repairs easier
For the first time, brand-independent workshops in the independent automotive aftermarket are able to access an original part for repairing antilock braking systems. The technology company Continental has included the Hydraulic Control Unit (HCU), a major component of the ATE MK60 ABS controller, in its aftermarket portfolio. This makes ABS repair work easier and quicker.
Read the full article.


Mike Likes: Designing with wave springs
Smalley can manufacture custom Wave Springs quickly and economically to meet your specific application requirements. Smalley Wave Springs reduce spring heights by 50%. Because force and deflection requirements are application-specific, custom springs are often needed. With Smalley's No-Tooling-Cost™ manufacturing process, customs can be produced from .157" to 120", 4 mm to 3000 mm diameters in carbon steel, stainless steel, or other readily available exotic alloys. Prototypes can be available with fast turnaround time for testing.
Click here to learn more.


Engineer's Toolbox: 7 ways to improve sheet metal parts
When designing sheet metal components, there's a lot to consider: bends, reliefs, offsets, hems, holes, slots, tabs, and inserts -- not to mention material and finishing options. The engineers at Proto Labs take a quick look at the different ways to improve sheet metal part design while creating cost-efficient components. Learn some great tips.
Read the full article.


High-traction robot goes underground
Recent developments in motion control and engineering make it possible to inspect and perform maintenance in compact sewers from the inside. The underground sewer robot is equipped with a swiveling camera and an air-powered milling machine driven by FAULHABER miniature DC motors from MICROMO.
Read the full article.


New zero-backlash, spring-engaged brake family
The pneumatically released ZSE family of spring-engaged brakes from Nexen Group offers high torque, high speed, and zero backlash ideal for holding applications. Unlike brakes using leaf springs to transmit torque, the ZSE is zero-backlash -- up to 100% of its rated holding torque. Highlights include speeds up to 5,000 RPM and holding torque up to 300 Nm. Nexen has released four different sizes (450, 600, 800, 1,000) for a wide variety of applications. The bore sizes are available in three standard sizes and can be easily customized. The ZSES brakes are available with internal sensors to provide feedback and data to maximize machine safety and efficiency, making them ideal for Industry 4.0 compatibility.
Click here to learn more.


Bosch chooses Ultimaker 3 Extended printers
Robert Bosch GmbH is investing on a global scale in Ultimaker 3 Extended printers. After comparing several desktop 3D printers, the Additive Manufacturing department of Bosch selected Ultimaker as the most reliable, easy-to-use, and professional machine. The printers will now be used in different locations across Germany, Hungary, China, India, the United States, and Mexico for printing prototypes, tooling, jigs, and fixtures -- all in a bid to boost innovation while cutting manufacturing and design costs. Materials include nylon, ABS, CPE, PC, and TPU, along with both a PVA water-soluble support material and a dry breakaway support material.
See what makes Ultimaker dual-extrusion printers a standout.


Top-of-the-range high-resolution encoder
Requirements on encoders are becoming more and more demanding, particularly for positioning applications with precision constant-speed control, where increasingly compact housings need to accommodate an ever-greater number of electrical contacts. maxon motor solves this problem with its new ENX 16 RIO (Reflective, Interpolated, Optical) encoder. It is a mere 16 mm in size and offers a resolution up to 65,536 counts per turn, making it ideal for the precise position and velocity control of DC motors. With a 16-mm outer diameter and a 7-mm overall length, the housing is mechanically robust and protected from dust due to its injection-molded construction. The operating temperature range is -40 C to 100 C. It fits the new brushless EC-i 30 motors and the brushed DCX motors. The encoder can be combined and configured with matching drives online.
Click here to learn more.


Self-clinching captive panel screws -- easy access to stainless steel enclosures
PEM PFC4 self-clinching captive panel screws from PennEngineering install permanently into stainless steel enclosures to enable easy access whenever necessary and eliminate risks associated with loose screws. The captivated screw remains reliably in place where designed in a door or panel and will not loosen, fall out, or damage internal components. Expanding their application potential, these spring-loaded fastener assemblies comply with UL 60950 equipment access standards. PFC4 captive panel screws will install successfully in stainless sheets as thin as .060 in./1.53 mm with hardness up to HRB 88. A shoulder provides a positive stop during installation, and the fastener ultimately will be flush on the opposite side of the sheet for a clean and unmarred appearance. A fully recessed head in the fastened position allows for tool-only access.
Click here to learn more.


Epoxy adhesives approved for military use
Master Bond has six epoxy compounds -- EP17HTDA-1, EP21TDCHT, EP33, EP46HT-1AO, Supreme 11AOHT, and Supreme 12AOHT-LO -- that have passed MIL-STD-883J section 3.5.2., the subsection of the U.S. Military Standards set by the U.S. DoD that refers to the thermal stability of a material. This test indicates a consistent product performance for temperatures up to 200 C. MIL-STD-883 section 3.8.5 defines that thermal stability testing should be done by performing a thermogravitmetric analysis (TGA) according to ASTM D3850. TGA is the study of a material's weight change as a function of temperature and time under a controlled atmosphere. It can be used to determine the thermal stability of a material.
Learn more about military-grade epoxies.


Faster, cooler-running new Raspberry Pi unit -- still $35!
After a two-year wait since its last upgrade, Raspberry Pi released a new and improved version of its wildly popular single-board computer on March 14 -- Pi Day, of course. The Raspberry Pi 3 Model B+ boasts a 200-MHz increase in peak CPU clock frequency, roughly three times the wired and wireless network throughput, and the ability to sustain high performance for much longer periods. Features include: a 1.4-GHz 64-bit quad-core ARM Cortex-A53 CPU, dual-band 802.11ac wireless LAN and Bluetooth 4.2, faster Ethernet (Gigabit Ethernet over USB 2.0), Power-over-Ethernet support (with separate PoE HAT), improved PXE network and USB mass-storage booting, and improved thermal management.
Learn all about the new Raspberry Pi 3 Model B+.
---
Most popular last issue


0.38 sec: Fastest Rubik's Cube-solving robot uses 6 Kollmorgen ServoDisc motors
A pair of enterprising engineering students has posted a video online that shows a machine they built solving a Rubik's Cube puzzle in 0.38 sec -- the fastest in the world by far if they can get it made official (current world record is 0.637 sec). The machine was created by MIT Biometrics Lab Master's student Ben Katz and software developer Jared Di Carlo, and each has posted an in-depth blog about their creation and methods. "We noticed that all of the fast Rubik's Cube solvers were using stepper motors and thought that we could do better if we used better motors," said Di Carlo. Katz said the device uses six Kollmorgen ServoDisc U9-series motors.
Read Katz's blog, which contains videos and a link to his partner's page.


Better than a hologram? New system produces 3D images that float in 'thin air'
In the original "Star Wars" film, R2D2 projects an image of Princess Leia in distress. BYU electrical and computer engineering professor and holography expert Daniel Smalley has long had a goal to create the same type of 3D image projection. In a paper published at the end of January in Nature, Smalley details the method he has developed to do so. "This display is like a 3D printer for light," he said.
Read the full article.
---
Videos+: Technologies and inspiration in action
CFD for Design Engineers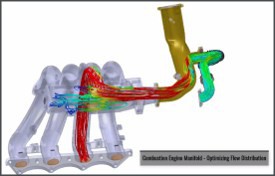 Frontload CFD and use simulation to optimize your designs during the early stages of the engineering process with the award-winning FloEFD computational fluid dynamics analysis tool from Mentor:
Reduces overall simulation time by as much as 65 to 75 percent so you can get answers quickly;
Unique technology such as SmartCells ensures you don't sacrifice accuracy for speed;
Field-tested over 20+ years and proven successful as a complementary design tool for a wide range of industrial applications.
Learn more in this quick, yet very informative, video.
---