| | |
| --- | --- |
| April 03, 2018 | Volume 14 Issue 13 |
---



Introducing the Smallest Wave Springs on the Market
Smalley has expanded the Crest-to-Crest® Wave Spring Series. Smalley's popular C (imperial) and CM (metric) Series have been expanded; standard sizes are now available from stock down to .188 in. and 5 mm in diameter. Smalley Wave Springs can replace conventional coil springs while occupying only half the space and providing the same force and deflection.
Request complimentary samples today!
---
---


32mm Brushless Motor Packs Massive Torque
The FAULHABER 3274 BP4 series packs a punch, yet weights half as much as competitors' motors -- and in a significantly smaller size, too. The 3274 BP4 is overload?resistant, offers longer operational lifetime than conventional DC motors, and withstands harsh ambient conditions and temperatures from -40°C to +125°C.
Learn more.


Designing with threaded metal inserts for plastics
When deciding how best to attach plastic materials or components in an assembly, designers can choose several options, including adhesives or rivets. But what if disassembly and reassembly will be necessary for the unit down the road? The practical solution: threaded metal inserts. Bob Gallagher from PennEngineering runs through your insert fastening options, processes, materials, and sizes.
Read the full article.


Lightweight metal foam withstands high explosive round
New research from North Carolina State University and the U.S. Army's Aviation Applied Technology Directorate shows that stainless steel composite metal foam (CMF) can block blast pressure and fragmentation at 5,000 ft/sec from high-explosive incendiary (HEI) rounds that detonate only 18 in. away -- much more protection than all other existing vehicle armor materials while lowering the weight remarkably.
Read the full article.


All-electric Genesis design concept wows NY Auto Show
If your interest is piqued by the cool factor when it comes to auto design, Genesis, the luxury division of Hyundai, rolled out a winner for you at the New York International Auto Show. The company's first all-electric, high-performance concept (called Essentia) aims to redefine "athletic elegance" while providing a vision of future Genesis technology, performance, and style cues.
Read the full article.


Be a company hero. Score a cobot on the house.
Have a manual production task that could benefit from automation? Tell us about it and win a Universal Robot! Perhaps a monotonous task that your employees would happily swap for one that requires problem-solving skills or a task that needs to be carried out faster to stay competitive?
Enter now:


Engineer's Toolbox:
Scanning vs. CMM -- A brief comparison of technologies
For over 50 years, the benchmark for accuracy in measuring solid objects, whether machined, molded, die cast, welded, or forged, was the coordinate measuring machine (CMM). During the last two decades, however, a new kid in town arrived, with the power, size, point capability, and price value that leaves CMM technology in the dust.
Read the full article.


Benefits of hybrid bearings
Hybrid bearings have shown good performance in poor lubrication and contaminated conditions, but the understanding of the contributing mechanisms and their effect on performance is still lacking. SKF has developed more insight into the tribology of hybrid bearings through both dedicated experiments and modeling.
Read about it here.


New option for flexible heater applications
Rogers Corp. has introduced ARLON raPId polyimide substrates, a new, innovative solution for streamlining manufacturing and improving performance of flexible heater applications. These substrates incorporate the benefits of polyimide heater dielectrics with the flexibility and usability of a silicone adhesive system. This makes a big difference during manufacturing, because the innovative thermosetting silicone adhesive system locks the foil-etched circuit in place, minimizing circuit "swimming" during capping, while minimizing delamination and voids. This solution is ideal for high-reliability applications as a replacement for acrylic or FEP adhesives in polyimide flexible heaters.
Learn more.


Get up to date on 3D printing tech in under 30 minutes
Donovan Weber, COO at FORECAST 3D, discusses a variety of 3D printing technologies so viewers can learn how speed and cost differ per process. An overview of material properties and how each can be measured in comparison to injection molded parts is also discussed. This useful webinar is the first in a new series sponsored by Xcentric Mold & Engineering. It covers benefits of, and materials for, SLA, FDM, SLS, and PolyJet.
View the on-demand presentation here.
You can always bookmark it and watch it later.


Fast-curing thermally conductive epoxy
A new Aluminum Filled Epoxy Adhesive (70-3814) developed by Epoxies, Etc. has 1,000 psi of strength in just four hours! After 24 hours, the Lap Shear Strength is 2,900 psi. The use of aluminum filler provides lower shrinkage than is commonly found in fast-curing epoxy adhesives. The product bonds well to metals, especially aluminum and steel, as well as ceramics and many plastics. It is used in many industrial, OEM, aerospace, and chemical-processing applications, including aluminum heat sink bonding, filling metal joints, repairing metal surfaces, patching aluminum castings, and assorted metal bonding applications.
Click here to learn more.


Microcontroller for automotive and industrial radar systems
Mouser Electronics is now stocking the S32R274 radar microcontroller from NXP Semiconductors. Engineered to meet the high-performance computation demands required by modern beam-forming and fast chirp-modulation radar systems, the S32R274 combines signal-processing acceleration with a multicore architecture to provide up to four times the power performance in industrial and automotive applications, compared to previous generations of products. This device offers a multifaceted solution for general software tasks and car bus interfacing. Combined with radio frequency (RF) front-end technologies (RFCMOS or BiCMOS), the S32R274 provides designers a scalable solution that addresses ultra-short-range, short-range, mid-range, and long-range radar systems.
Click here to learn more.


Wohlers Report 2018 shows rise in metal additive manufacturing -- overall industry growth of 21%
Wohlers Associates, Inc. has released the Wohlers Report 2018, the global report on the state of the additive manufacturing (AM) and 3D-printing industry, terms used interchangeably. Wohlers Associates has published its series of annual reports on AM for 23 consecutive years. Wohlers Report 2018 is filled with insightful data and perspective to inform the reader of the most critical developments. According to the new report, an estimated 1,768 metal AM systems were sold in 2017, compared to 983 systems in 2016, an increase of nearly 80%. This dramatic rise in metal AM system installations accompanies improved process monitoring and quality assurance measures in metal AM, although more work is ahead.
Click here to learn more.


Programmable electric moving coil servo actuator
Introducing the 35-mm diameter CBL35C electric cylinder from SMAC. With its built-in controller, the CBL35C controls force, position, and velocity and features simple installation. Ideal for applications with limited space but requiring accurate control, the CBL35C provides significantly longer life, programmability, high speed, accuracy, and energy efficiency while remaining price-competitive. It also enables the direct replacement of existing pneumatic cylinders and retrofits without any machine modifications required.
Click here to learn more.
---
Videos+: Technologies and inspiration in action
Festo creates rolling spider-like bot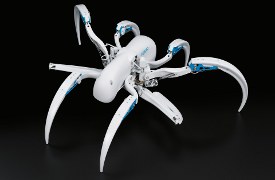 The pneumatics wizards at Festo, famous for creating nature-inspired bionic creature concepts that also often include electromechanical drives, motors and controllers, and grippers, have unveiled the cartwheeling BionicWheelBot at Hannover Messe 2018. Like its biological model, the flic-flac spider discovered at the edge of the Sahara, the BionicWheelBot can both walk and roll. This machine rolls along the ground by forming a wheel with three legs on each side of its body. Two more legs, which are retracted during running, are then extended. When the spider is rolled up like a ball, these legs push it off the ground and propel it forward in a continuous rolling motion.
View the video.
---