| | |
| --- | --- |
| April 17, 2018 | Volume 14 Issue 15 |
---
---


Download 52-Page EMI/RFI Shielding Catalog
Tech-Etch Shielding Catalog PDF features to-scale technical drawings, compression values and metal thickness for over 100 BeCu and stainless steel Finger Stock shielding profiles. Interactive sales drawings for all shielding profiles as well as Metalized Gaskets, Fan Vents and Board Level Shields can be downloaded. Catalog includes contact rings, "D" connector gaskets, conductive foam gaskets, knitted mesh shielding, elastomer gaskets, air filters, and honeycomb vents. A valuable reference for the design engineer.
Download (no registration required).
---

Feature articles

BIG STORY:
High-speed 3D printing challenges injection molding
A new 3D-printing system from Stratasys spinoff Evolve Additive Solutions cranks out production-grade thermoplastic parts 50x faster than existing additive manufacturing solutions and aims to go head-to-head with injection molding. The machine uses an incredibly clever combo of 2D laser-printing tech and next-gen 3D printing to get the job done.
Read the full article.

---


Design Tips:
6 plastic product design principles
The rapid development of modern 3D CAD systems has facilitated a move to more organic forms and ever-increasing geometry complexity. Just think about the change in design from the conventional box-shaped vacuum cleaner to the modern Dyson. This article focuses on design fundamentals like wall thickness, rib designs, and draft angles and the impact they have when it comes to complexity vs. manufacturability.
Read the full article.


Why should you use a wave spring?
Reducing the size and weight of an application is a challenge often faced by today's design engineers. Smalley has a solution that can solve both problems, with one simple spring. Wave Springs operate in the same spring cavity as a traditional coil spring, yet are only half the height. That's right, they reduce spring heights by up to 50%, resulting in a smaller spring cavity. A smaller spring cavity provides the added benefit of weight savings and ultimately can lead to cost savings as well. While there's thousands of standards available, Smalley specializes in producing custom springs, designed to your application requirements and operating conditions.
Check out Smalley's Blog on "Why you should use a Wave Spring."


Compact angle sensor for robotics and other applications
See the robotics video demonstrating ease of programming and robotics application of certain angle sensors from Novotechnik. Novotechnik's Vert-X 1600 Series of angle sensors (shown here) features easy mounting in tight spaces with a 16 mm diameter body. The sensors measure 0 to 360° with linearity ? ±0.3%, 14-bit resolution and repeatability to 0.1°. A variety of analog and digital output options are available.
View the video.


Stepper or servo motor -- Which should it be?
Bring out the full capacity of your machines through the most efficient mechatronic design. Hurley Gill, Senior Applications/Systems at Kollmorgen, outlines servo and stepper motor baseline capabilities for selection criteria like torque, speed, accuracy, and repeatability. Technical advantages and disadvantages are discussed, helping machine designers select the best motor-drive system for their application.
Click here to read: Servo or Stepper; Which Should It Be?
Kollmorgen designs and manufactures innovative motion control systems, including servo and stepper motors, drives, amplifiers, gearheads, and actuators.


Zero-backlash servo rotary indexing table
The Sankyo Automation RollerDrive Reducer is a precision gear reducer that uses a zero-backlash roller gear mechanism. The unit is constructed from an input shaft and a turret (output shaft) that is assembled with roller followers. The roller followers are preloaded against a screw-like input shaft to eliminate backlash. Sankyo servo indexing tables offer a constant lead cam with a servo motor drive for programmable motion and provide fast, highly accurate motion, with the added capability to move medium to heavy loads. The RU Series servo indexing table is available in 11 different sizes and varying ratios.
Click here to learn more.


Heavy-duty mini transmitter offers maximum customizability for OEMs
Designed for heavy-duty use, Scanreco's Mini Transmitter is compact and easily customized to meet OEM and system integrator requirements. It communicates with the corresponding receiver using a Scanreco protocol and a unique identity code, which guarantees that no other transmitter can activate the machine unintentionally. The Mini Transmitter can accommodate one to six linear levers or one to three joysticks, as well as several push buttons and switches. Operator feedback is available via high-performance color display, monochrome display, or LEDs. The stop function conforms to performance level "d" (PL d) as specified in the EN ISO 13849-1 standard for safety-critical components of control systems.
Click here to learn more.


Plug-in motor controller for fast integration
Nanotec has introduced a new controller specifically for integration into devices: the NP5 plug-in motor controller, which is suitable for both brushless DC motors and stepper motors. A PCI Express connector allows for fast and easy integration into a customer-specific board, offering a compact and affordable solution that reduces wiring effort, particularly for multi-axis applications. The NP5 controller can control motors with a rated current up to 6 A via FOC, Hall sensors, or sensorless control. In addition to position, speed, and torque control, operating modes with cyclical set value specification are also available for interpolated multi-axis operation. Nanotec offers the free Plug & Drive Studio software for parameterization and programming.
Click here to learn more.
---
Most popular last issue


New world-record magnet fulfills superconducting promise
Long in the habit of smashing records, the National MagLab in Tallahassee, FL, just chalked up a new one. On Dec. 8, 2017, a ground-breaking superconducting magnet designed and built at the lab reached a magnetic field of 32 teslas, a third stronger than the previous record. This single leap is bigger than all the improvements made over the past 40 years combined.
Read the full article.


New paper-thin LCD is tough, flexible, and cheap
Optoelectronic engineers in China and Hong Kong have manufactured a special type of liquid crystal display (LCD) that is paper thin, flexible, light, and tough. With this product, a daily newspaper could be uploaded onto a flexible, paper-like display that could be updated as fast as the news cycles.
Read the full article.
---
Videos+: Technologies and inspiration in action
Project Management: Learn about SOLIDWORKS Manage 2018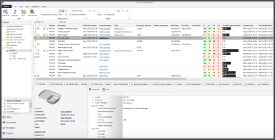 With SOLIDWORKS Manage, users have complete visibility into all projects, enabling organizations to plan, manage resources, connect project deliverables, and monitor status right down to the task. Resources can be allocated to each stage of a project and tasks can be defined and assigned to project stakeholders. See what you may be missing when it comes to product data management.
View the video.
Be a company hero. Score a cobot on the house.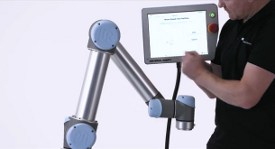 Have a manual production task that could benefit from automation? Tell us about it and win a Universal Robot! Maybe you have a monotonous task that your employees would happily swap for one that requires robo problem-solving skills, or a task that needs to be carried out faster to stay competitive. Need some more convincing? See how easy it is to install and operate a cobot.
Enter now:
---