| | |
| --- | --- |
| April 24, 2018 | Volume 14 Issue 16 |
---



17,200 Stock Metric Gears
KHK USA Inc offers the largest selection of stock metric gears in North America. With over 180 types, in more than 17,200 configurations, KHK USA offers the broadest selection of metric spur gears, helical gears, internal ring gears, gear racks, bevel gears, worms and wormwheels, and other gear types.
See what KHK USA has in stock for you today.
---
---


Looking for a one-stop injection molding shop?
Xcentric Mold & Engineering is your One-Stop-Shop for Injection Molding. Why?

We take your customized design from concept all the way through to the marketplace.
With 20+ years of experience, we currently serve 50+ industries.
Quotes are provided in less than 24 hours.
ISO 9001:2015/ITAR/UL.
Molds have a Lifetime Mold Guarantee.
Parts in as fast as 1 to 5 days.

Click here to learn more.


Get exactly what you want: Custom epoxy formulations
In addition to their extensive line of products, Epoxies, Etc. offers custom epoxy, silicone, and urethane formulations to meet your specific requirements. Their experienced team of chemists and application engineers can develop a special viscosity, color, durometer, or other unique property for your application. Because the perfect product for your application may not exist, Epoxies, Etc. is able to quickly develop a solution without a minimum order requirement.
Click here to learn more.


Engineer's Toolbox:
How to choose the right relay
Relays come in a variety of form factors, styles, and technologies. Depending on your application, only one relay type may be suitable. In other cases, multiple relay types may be appropriate. By understanding the strengths and weaknesses of the different relays, you should be able to pick the one that is best suited for the job at hand. National Instruments lays out the options.
Read the full article.


Heavy-duty mini transmitter offers maximum customizability for OEMs
Designed for heavy-duty use, Scanreco's Mini Transmitter is compact and easily customized to meet OEM and system integrator requirements. It communicates with the corresponding receiver using a Scanreco protocol and a unique identity code, which guarantees that no other transmitter can activate the machine unintentionally. The Mini Transmitter can accommodate one to six linear levers or one to three joysticks, as well as several push buttons and switches. Operator feedback is available via high-performance color display, monochrome display, or LEDs. The stop function conforms to performance level "d" (PL d) as specified in the EN ISO 13849-1 standard for safety-critical components of control systems.
Click here to learn more.


Stepper or servo motor -- Which should it be?
Bring out the full capacity of your machines through the most efficient mechatronic design. Hurley Gill, Senior Applications/Systems at Kollmorgen, outlines servo and stepper motor baseline capabilities for selection criteria like torque, speed, accuracy, and repeatability. Technical advantages and disadvantages are discussed, helping machine designers select the best motor-drive system for their application.
Click here to read: Servo or Stepper; Which Should It Be?
Kollmorgen designs and manufactures innovative motion control systems, including servo and stepper motors, drives, amplifiers, gearheads, and actuators.


Flexible Printed Circuits Design Guide
Tech-Etch manufactures high-reliability flexible printed circuits on polyimide substrates using advanced manufacturing processes to create circuits for today's sophisticated electronic applications. Special processes include the ability to selectively plate a single circuit with two different finishes, contoured circuits with variable metal thickness, semi-additive and subtractive techniques to manufacture trace patterns, BGA pad arrays, and open window or cantilevered contact leads. Surface mount technology (SMT) for component assembly is employed for both prototypes and full production runs. Tech-Etch specializes in flexible circuits for medical device, medical implant, diagnostic ultrasound, telecommunications and patient monitoring applications, in addition to telecommunications, aerospace, semiconductor, industrial, and other high-reliability electronic applications.
Learn more and download the guide (no registration required).


World's smallest stepper motor is a big win
MICROMO presents the FAULHABER FDM 0620 series stepper motor. Measuring just 6 mm in diameter and 9.7 mm in length, including all components and connections, and with a 0.25-mNm holding torque rating, the FDM 0620 stepper motor series is small enough to fit in the most compact spaces for limitless applications. This micro stepper motor is also now available for purchase online with and without leadscrew options.
Click here to learn more.


Composites used as bearings and wear parts
Did you know that composites can make excellent bearings and wear parts? These materials feature low friction and low wear and are self-lubricated, shock resistant, and electrically insulating. Starting with tough, chemically resistant, and proven resin systems, Norplex-Micarta's materials are specifically engineered to the requirements of a particular application. The ability to combine multiple materials allows for a wide range of performance demands to be met economically. Heat can be removed by adding metal wire, PTFE surface layers can promote improved break-in, aramid fibers can provide both excellent strength and low wear, and reinforcements can be chosen to minimize moisture absorption.
Click here to learn more.


Faster, cooler-running new Raspberry Pi unit -- still $35!
After a two-year wait since its last upgrade, Raspberry Pi released a new and improved version of its wildly popular single-board computer on March 14 -- Pi Day, of course. The Raspberry Pi 3 Model B+ boasts a 200-MHz increase in peak CPU clock frequency, roughly three times the wired and wireless network throughput, and the ability to sustain high performance for much longer periods. Features include: a 1.4-GHz 64-bit quad-core ARM Cortex-A53 CPU, dual-band 802.11ac wireless LAN and Bluetooth 4.2, faster Ethernet (Gigabit Ethernet over USB 2.0), Power-over-Ethernet support (with separate PoE HAT), improved PXE network and USB mass-storage booting, and improved thermal management.
Learn all about the new Raspberry Pi 3 Model B+.


3M releases new composite spray adhesive
To meet the demands of the growing infusion molding industry, 3M has introduced a new spray adhesive formulated to make the dry-layup process more effective. 3M Hi Tack Composite Spray Adhesive 71 is highly compatible with resins and yields stronger composites as a result. This new adhesive will benefit manufacturers across several industries, including industrial, marine, transportation and composite. Featuring fast tack and high strength with excellent shear holding power, it will bond fiber, fabric, wood, and much more. Available in clear or in green for better visual control, this adhesive meets CARB and OTC VOC requirements.
Click here to learn more.
---
Most popular last issue


High-speed 3D printing challenges injection molding
A new 3D-printing system from Stratasys spinoff Evolve Additive Solutions cranks out production-grade thermoplastic parts 50x faster than existing additive manufacturing solutions and aims to go head-to-head with injection molding. The machine uses an incredibly clever combo of 2D laser-printing tech and next-gen 3D printing to get the job done.
Read the full article.
---
Videos+: Technologies and inspiration in action
What is Electron Beam Additive Manufacturing? 19-ft-long parts!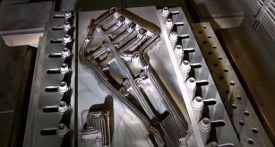 Sciaky launched its groundbreaking Electron Beam Additive Manufacturing technology in 2009 with the objective to save manufacturers time and money on the production of large-scale, high-value metal parts and prototypes. Today, Sciaky's EBAM technology remains the largest, fully programmable means of achieving near-net shape parts made of weldable metals that are available in wire feedstock. These materials include: Titanium and Titanium alloys; Inconel 718, 625; Tantalum; Tungsten; Niobium; Stainless Steels (300 series); 2319, 4043 Aluminum; 4340 Steel; Zircalloy; 70-30 Copper Nickel; and 70-30 Nickel Copper. Make metal parts up to 19 ft x 4 ft x 4 ft!
Learn all about it.
---