| | |
| --- | --- |
| May 08, 2018 | Volume 14 Issue 17 |
---



Wavo® Springs -- Round Wire Wave Springs
Wavo Springs are produced from round-section wire to provide higher loads while maintaining the accurate loading found in wave springs. As an alternative to Belleville Springs, the Wavo provides similar loads but with an accurate, predictable spring rate. Available from stock in 1/2" to 6" diameters. Free samples available.
Learn more.
---
---
---
Feature articles


Aerodynamics of supersonic free fall turn logic on its head
Five years ago, the Austrian daredevil Felix Baumgartner broke the sound barrier during his free fall from an altitude of almost 39 km. Now researchers at the Technical University of Munich have analyzed the fluid dynamics of his descent. The surprising result: Baumgartner, with his irregularly shaped equipment, fell faster than a smooth, symmetrical body would have.
Read the full article.


New technique joins thicker aluminum alloys to steel
Researchers at Pacific Northwest National Laboratory have developed and successfully tested a novel process called Friction Stir Dovetailing that joins thick plates of aluminum to steel. The new process produces joints of superior strength and ductility compared to those created by other friction stir methods and will be used to make lighter-weight military vehicles that are more agile and fuel efficient.
Read the full article.


'Everything-repellent' coating could kid-proof phones, homes
In an advance that could grime-proof phone screens, countertops, camera lenses, and countless other everyday items, a materials science researcher at the University of Michigan has demonstrated a smooth, durable, and easily applied clear coating that swiftly sheds water, oils, alcohols, and -- yes -- peanut butter.
Read the full article.


Machining Without Coolant
Replace messy mist systems and improve dry machining with clean, cold air! EXAIR's Cold Gun Aircoolant System improves tolerances, tool life and production rates by cooling with 20°F air. The Cold Gun is ideal for tool sharpening, drill and cutter grinding, milling, band sawing, more.
Website offers detailed information.


Wheels:
New designs for Chevy Camaro lineup
Chevrolet has introduced a reinvigorated and restyled 2019 Camaro lineup with distinctive designs, new available technologies, and the first-ever Turbo 1LE. The Turbo 1LE comes exclusively with a six-speed manual transmission and a tailored chassis package derived from the V6 1LE to offer track-capable performance.
Read the full article.


Overcoming motor inertia:
5 things you need to know
Most engineers recognize that gearheads can be used to create a better inertia match between the object that is being moved and the motor being driven. Put simply, it is dictated by the gearhead ratio where the object reflected inertia to the motor is reduced by 1/ratio2. So, what should the correct inertia be? Jeff Nazzaro, gearhead and motor product manager, Electromechanical and Drives Division, Parker Hannifin, runs through what you need to know about gearhead and servo motors.
Read this informative Parker Hannifin blog post.


LED panel-mount indicators are all about flexibility
Visual Communications Company's (VCC) 90 Series panel-mount indicators are designed for an extended life and quick installation, and they are unique because they deliver enhanced design flexibility through three termination styles: cartridge, bi-pin, and wire leads. They save time during installation and maintenance and require less-frequent replacement. The P80 Series LED panel mount indicator is designed to streamline installation with a snap-in mounting design that requires no additional hardware. It is offered in six single LED colors (red, orange, amber, green, blue, and clear). Five lens colors are also available: red, amber, green, blue, and clear.
Click here to learn more.


Select gas springs instantly: ACE online sizing tool
ACE Controls has launched a new, user-friendly online calculator that enables customers to size ACE gas springs for hoods, flaps, and machine enclosures. The tool also dramatically shortens the time between design and delivery. Available on the "Calculations" tab of the ACE homepage, the tool requires customers to input the details of the flap, including the length, width, and opening angle. It then generates interactive 2D and 3D simulations, which users can rotate, tilt, and zoom. It also calculates pressure and provides customers with the model number and desired mounting accessories. Users can download a mounting sketch with the specifications, or they can submit the online contact form to initiate the order process.
Learn more.


Solvay specialty filaments up the game for 3D printing
Solvay aims to take additive manufacturing (AM) to the next level with the launch of three specialty polymer filaments that promise to introduce game-changing performance for 3D-printed parts. Two of the three filaments leverage Solvay's high-performance KetaSpire® polyetheretherketone (PEEK) polymer: a neat PEEK product and a 10-percent carbon fiber-reinforced grade. Both PEEK filaments are designed to allow excellent fusion of printed layers, enable high part density, and deliver exceptional part strength -- including in the z-axis. The third new filament is based on Solvay's Radel® polyphenylsulfone (PPSU). Also formulated to allow excellent fusion of layers, this high-performance PPSU material offers high transparency, excellent elongation, and superior toughness for 3D-printed parts.
Click here to learn more.


Mouser Electronics New Product Insider
Mouser Electronics specializes in the rapid introduction of new products and technologies. As the industry leader in New Product Introductions (NPIs), Mouser makes it a priority to stock the newest products and technologies from their 700+ manufacturer partners, giving customers an edge and helping speed time to market. In 2017, Mouser launched a total of 2,326 new products. Last month, Mouser launched more than 270 new products ready for same-day shipment. Latest products include: Linear Technology/Analog Devices DC1962C-KIT Starter Kit step-down DC/DC controller; TE Connectivity AmbiMate Sensor Module MS4 Series that provides motion, light, temperature, and humidity sensors plus optional sound; andON Semiconductor RSL10 Multi-Protocol Bluetooth 5 System-on-Chip.
See the latest from Mouser Electronics.


How colorants affect plastic characteristics
If you're starting a custom plastic injection molding project, you'll want to select a material with the properties most suitable for the function of your parts. One aspect of polymer characteristics that doesn't always get the consideration it deserves is the addition of colorant. Believe it or not, there is a whole scientific body of knowledge about the ways in which adding color to plastic can affect the behavioral properties of the plastic. This short article by Denny Scher of ICO Mold takes a high-level look at some of the different, and surprising, ways colorants can have an effect on plastics.
Read the full article.


New ultra high-brightness LCDs for outdoor viewing
The Tianma Group has introduced two new LCDs: a 10.1-in. WXGA and 15.6-in. WXGA, both with ultra-high luminance. These modules are ideal for industrial applications needing superior viewing in outdoor or other high ambient light environments such as ATMs and payment terminals. The 10.1-in.-wide model has a luminance of 1000 cd/m2, and the 15.6-in.-wide model has a luminance of 1250 cd/m2. The ultra-high luminance of these models results in displays with vivid colors and excellent visibility, even in direct sunlight, and further expand Tianma's extensive offering of industrial products.
Click here to learn more.


Be a company hero. Score a cobot on the house.
Have a manual production task that could benefit from automation? Tell us about it and win a Universal Robot! Maybe you have a monotonous task that your employees would happily swap for one that requires robo problem-solving skills, or a task that needs to be carried out faster to stay competitive. Need some more convincing? See how easy it is to install and operate a cobot.
Enter now:
---
Videos+: Technologies and inspiration in action
Take a tour of the moon in 4K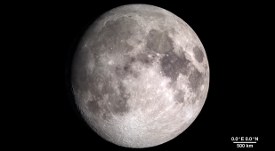 Think you've seen the moon up close before? Think again. Take a virtual tour of the moon in all-new 4K resolution, thanks to data provided by NASA's Lunar Reconnaissance Orbiter spacecraft. As the visualization moves around the near side, far side, north, and south poles, NASA Goddard highlights interesting features, sites, and information gathered on the lunar terrain. We'll be surprised if you don't learn something new.
View the video.
Be a company hero. Score a cobot on the house.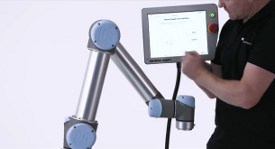 Have a manual production task that could benefit from automation? Tell us about it and win a Universal Robot! Maybe you have a monotonous task that your employees would happily swap for one that requires robo problem-solving skills, or a task that needs to be carried out faster to stay competitive. Need some more convincing? See how easy it is to install and operate a cobot.
Enter now:
---