| | |
| --- | --- |
| May 15, 2018 | Volume 14 Issue 18 |
---



How Google Makes a Better Pixel2 Camera
Google engineers know we all have a natural vibration that makes taking a clear picture challenging. Rather than fix the human race, they designed the shake out of the Pixel2 camera with the use of a multi-axis system that simulates motion in 6 degrees of freedom.

See it in action
---
---


Corrosion: Air Force sensor system evaluates coatings
A new corrosion and coating evaluation system developed by the U.S. Air Force measures the ability of coatings to protect aircraft structures by using sensor panels that perform electrochemical measurements during corrosion testing, enabling researchers to know not only if a coating fails, but exactly when this occurs.
Read the full article.


Curious nanodiamond reaction creates dry super lubricant
Researchers at Argonne National Laboratory have created a very-low-friction dry lubricant that lasts so long it could almost be confused with forever. The friction in this new material is 10 times lower than that of some nonstick coatings, including fluoropolymers, and could have hundreds of industrial applications.
Read the full article.


The 'Rolls-Royce of SUVs' is, well, a Rolls-Royce
If you want to roll up and ask for some Grey Poupon looking effortless and super-luxe, the new Rolls-Royce Cullinan SUV will fit your town-and-country, top-shelf lifestyle. The 6.75-liter twin-turbo V12 has plenty of power to handle whatever you throw at it -- just throw it with some class, please, this is a Rolls after all.
Read the full article.


Software: It's pedal to the metal for automated data translation in automotive seating
How do Tier One suppliers reconcile the geometric differences, manufacturing instructions, and Bill-of-Materials (BOM) associated with the different OEM and partner CAD systems? For Johnson Controls' spinoff Adient, a global leader in automotive seating with 5,600 employees in 12 core development centers, connected to more than 230 manufacturing and assembly plants across 32 countries, they use Elysium in-house to translate and package all the data for their different OEMs and suppliers.
Read the full article.


Revolutionary new high-pressure electric pump system
High Pressure Equipment Co. (HiP), a subsidiary of Graco, introduces the eTensifer pump, the first-of-its-kind high-pressure electric pump system. The plug-and-play pump simply plugs into a wall outlet -- no need for an air compressor like other high-pressure pumps on the market. The portable, lightweight (only 46 lb) eTensifier will deliver hydraulic/liquid pressures to 36,500 psi with a smoother flow rate from zero to full pressure and a quiet electric motor. SmartControl™ technology allows for two operational modes: a traditional pressure knob for standard jobs and an industry-first pressure test mode. Another first is the ProConnect™ quick-connect system that allows users to switch out the Sprague pump lower.
Learn more.


New rodless pneumatic cylinder supports compact machine design
Aventics now offers a new product for applications where the basic variants just won't do the trick, but high-performance cylinders are too powerful. The new RTC-SB slide bearing version rounds off the pneumatics specialist's RTC range of rodless cylinders. At the heart of the RTC-SB (slide bearing) is its oval piston shape. In relation to its size, it offers a very high load capacity. As a result, engineers can draft even more compact machine designs. Equipped with a lubrication-free slide bearing, the cylinder is maintenance-free and resistant to water, chemicals, and dirt. The slide play is optimally adjusted at the factory. Max speed is 6.5 m/sec (21.3 ft/sec). Maximum stroke is around 6,000 mm (21.6 ft).
Learn more.


Complete guided motion solutions from A to X-Y-Z
Bishop-Wisecarver invented and patented DualVee Motion Technology® more than 40 years ago to provide a solution for harsh environment applications where existing technologies were ineffective. DualVee® also proved excellent for long length, smooth motion, and low noise requirements. Today, Bishop-Wisecarver remains the recognized expert and the most trusted name in guide wheel technology, with the widest range of guide wheel-based linear motion products in the world.
Discover the benefits of Bishop-Wisecarver Guide Wheel Technology.


Mix-and-match cup mount offers flexibility
Piab has introduced a flexible mounting system for suction cups that enables users to easily install and configure vacuum technology-based tools and fixtures perfectly tailored for handling such items as automotive body parts or plastic details. The company's Flexible Suction Cup Mount comprises a broad range of interchangeable parts. Several different mounting options for industry-standard end-of-arm tooling connections are available, including Universal joint (C-C 4 4mm), Profile mount (2 x 8/10.5 mm), Lock-pin (19 mm), and Ball-joint. Rods are available in two sizes and are held in place by a clever and user-friendly ball-joint fastening mechanism.
Learn more.


New light and tough structural compounds
RTP Company has developed new light and tough (LT) Compounds, a series of thermoplastic compounds that weigh 5 to 10 percent less than typical filled compounds, but with equivalent mechanical properties and similar shrinkage values. LT Compounds are a fast and easy way to accomplish weight reductions in parts molded with glass fiber reinforcement without compromising performance or requiring modifications to existing tools. They are best used as lightweight alternatives when the goal is to minimize energy consumption or the amount of human effort required to use the part.
Click here to learn more.


Be a company hero. Score a cobot on the house.
Have a manual production task that could benefit from automation? Tell us about it and win a Universal Robot! Perhaps a monotonous task that your employees would happily swap for one that requires problem-solving skills or a task that needs to be carried out faster to stay competitive?
Enter now:


Build a mini synchronous drive system
With the Miniature Synchronous Drive System from Stock Drive Products (SDP), you can put your own 1-, 2-, or 3-mm design together in a snap. The tiny timing belts and pulleys are engineered and manufactured to give high accuracy and smooth, dependable operation in 3D printers, moving security cameras, med devices, robotic surgical equipment, self-service machines, and more. Advantages include no-slip synchronization, accurate positioning, high torque transmission with low backlash, quiet operation, and long belt life.
Click here to learn more.
---
Most popular last issue


Wheels:
New designs for Chevy Camaro lineup
Chevrolet has introduced a reinvigorated and restyled 2019 Camaro lineup with distinctive designs, new available technologies, and the first-ever Turbo 1LE. The Turbo 1LE comes exclusively with a six-speed manual transmission and a tailored chassis package derived from the V6 1LE to offer track-capable performance.
Read the full article.


Aerodynamics of supersonic free fall turn logic on its head
Five years ago, the Austrian daredevil Felix Baumgartner broke the sound barrier during his free fall from an altitude of almost 39 km. Now researchers at the Technical University of Munich have analyzed the fluid dynamics of his descent. The surprising result: Baumgartner, with his irregularly shaped equipment, fell faster than a smooth, symmetrical body would have.
Read the full article.


'Everything-repellent' coating could kid-proof phones, homes
In an advance that could grime-proof phone screens, countertops, camera lenses, and countless other everyday items, a materials science researcher at the University of Michigan has demonstrated a smooth, durable, and easily applied clear coating that swiftly sheds water, oils, alcohols, and -- yes -- peanut butter.
Read the full article.
---
Videos+: Technologies and inspiration in action
What is a multi-start flexure?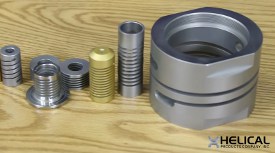 A single-start spring is a single continuous-coil element that starts at one end and terminates at the other. This configuration is common to most springs. A "double start" spring has two intertwined continuous-coil elements phased 180 degrees apart. In effect, this puts two independent helixes in the same cylindrical plane. Multiple-start flexures, such as triple-start, are similar extensions of the concept. Helical Products spells out why you should consider single-, double-, or triple-start flexures when designing or choosing your next coupling or spring.
View the video.
Gear motor basics: Introduction to gear motors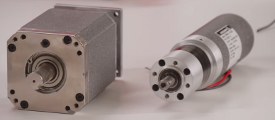 Groschopp USA gives a quick overview of motors and explains the rationale for using gear motors -- why using a reducer (gearbox) with a motor enables the use of a smaller motor and increased torque and/or speed. Other videos in this series address common reducer types and advantages and disadvantages.
View the video.
---