| | |
| --- | --- |
| May 29, 2018 | Volume 14 Issue 20 |
---



Leverage the Best 3D Printing Method for Your Project
Determining the best 3D printing method for your next project can be a challenge. Take advantage of this new white paper from Xcentric Mold & Engineering and learn more about the pros and cons of each printing technology while defining their ideal uses and constraints. Technologies covered include Stereolithography (SLA), Fused Deposition Modeling (FDM), Selective Laser Sintering (SLS), Jetting, and ColorJet Printing (CJP).
Learn to design better parts for 3D printing.
---
---


Great Resources: Sheet metal design guide
If you're looking for a basic guide to sheet metal design, this one from Xometry will serve your needs well. Be sure to follow the design requirements and tolerances in this guide to ensure parts fall closer to design intent. This is the type of information you'll sock away and then refer to again and again.
Read the full article.


Magnetic diode could increase battery life of electronic devices 100x
Among the chief complaints for smartphone, laptop, and other battery-operated electronics users is that the battery life is too short and, in some cases, that the devices generate heat. Now, a group of physicists led by Deepak K. Singh, associate professor of physics and astronomy at the University of Missouri, has developed a device material that can address both issues.
Read the full article.


Wheels:
The man behind the MINI -- exterior design
Christopher Weil is a passionate designer. Since 2013, he has been Head of Exterior Design at MINI, responsible for shaping the exterior of both current and future MINI models and concept cars. In this 10-questions interview, Weil explains why good design is something you experience as well as see, and he predicts exciting things in store for the MINI brand. We also check out the surprisingly aggressive MINI John Cooper Works GP Concept. Very cool!
Read the full article.


Mike Likes: Alternative to traditional drive systems
Nexen Group has introduced a stainless steel version of its patented precision roller pinion system (RPS). The Nexen RPS engages two teeth simultaneously to achieve superior accuracy with zero backlash at any length. The system is also extremely quiet and 99% efficient. Stainless steel makes the system corrosion resistant, with a long life of up to 36 million meters. Nexen's RPS provides a low-maintenance, durable alternative to rack and pinion, ball screw, and belt drive technology. The RPS is used for a wide range of applications including laser cutting, plasma cutting, and gantry applications.
Learn more.
Air spray: The comeback of stunning military aircraft paint jobs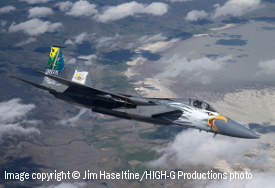 Eight Oregon Air National Guard members received a call to arms. Their wing commander handed them an assignment, stressing high priority. They worked 33 consecutive days, some pulling night shifts. Their orders: Paint a Boeing-built F-15 Eagle jet fighter in a manner that would elevate base morale at Kingsley Field in Klamath Falls, OR, and commemorate the Air National Guard's 75th anniversary across the state. By Dan Raley. [Editor's Note: We liked this story so much for Memorial Day last year, we thought we'd share it again.]
Read the full article.


Choosing between brush and brushless DC motors: What are the tradeoffs?
Designing a system that involves motion and performs as intended requires choosing the right motor. The most fundamental decision involves commutation type. In some cases, mechanically commutated brush motors provide the best solution for the budget. In other cases, only brushless DC (BLDC) motors will do. Allied Motion provides a comprehensive review of the technology, along with tips and tricks for choosing the right solution for a given application.
Get the guide (no registration required).


Entry-level industrial-grade 3D printer
The FabPro 1000 from 3D Systems is a new entry-level system that packs 30 years of industrial 3D-printing know-how into its design to deliver superior quality at up to 3X faster high-throughput print speeds than competing printers. Digital Light Printing (DLP) Stereolithography uses a projector to image each layer within a UV-curable, liquid plastic material. This easy-to-use system, with a build size of 125 x 70 x 120 mm (4.92 x 2.76 x 4.72 in.), has 3D Sprint file preparation and print software included -- all at a price of $4,995.
Learn more about it.


Linear miniature torque splines and nuts
Helix Miniature Torque Splines provide a convenient and efficient device that allows low-friction linear motion while transmitting torque. In a Helix PT Spline assembly, the high-strength composite polymer bushing carries the load between the rotating member (inner race) and the rotating/translating member (bushing). Helix PT Splines are coated with Helix H10X PTFE coating for long life and anti-friction. Available in three bushing styles: Cylinder Mount, Thread Mount, and Anti-Backlash.
Click here to learn more.


Smith Metal Products adds Titanium Metal Injection Molding capabilities
Smith Metal Products has added Titanium Metal Injection Molding (TiMIM) capabilities to its MIM portfolio of materials that include stainless steels, alloys, and ceramics. TiMIM involves mixing powdered Titanium metal with a binder material to compose a feedstock capable of being handled by injection molding equipment. Metal injection molding allows complex Titanium parts to be shaped with precision in a single operation and in high volume as compared to traditional Titanium machined metal components.
Learn more.


High-performance, high-load linear stages for industrial use
The new reference-class linear stages from precision nanopositioning global leader PI (Physik Instrumente) are available in ballscrew (L-417) and linear motor (V-417) configurations. Both cost-effective designs offer high resolution with improved tracking performance, smaller tracking error, and improved settling time. Applications include laser cutting, scanning, digital printing, electronics assembly and inspection, and more. The L-417 precision heavy-duty ball screw model easily accommodates a load capacity of 450 N on its 166-m width frame with a travel up to 813 mm. Powered by an ironless linear motor, the V-417 has a similar load capacity, width, and travel range.
Learn more about the L-417 ball screw model.
Learn more about the V-417 ironless linear motor model.
---
Videos+: Technologies and inspiration in action
Pushing the limits of motorcycle design and manufacturing
Matt Chambers, founder and CEO of Confederate Motors, talks about the impact that 3D Systems' Quickparts rapid parts and prototypes service has on his design-and-build business. With the exception of some engine components, wiring, wheels, tires, and lighting, 3D Systems makes every part of the super-boss P51 Combat Fighter motorcycle, saving a tremendous amount of time and hassle for Confederate Motors by being able to consolidate part production with one primary vendor. Quickparts is now part of 3D Systems On Demand Manufacturing.
View the video.


CFD for Design Engineers
With frontloaded CFD, you can use simulation to optimize your designs during the early stages of the engineering process. Using the award-winning FloEFD software from Mentor:

Reduces overall simulation time by as much as 65 to 75 percent so you can get answers quickly;
Provides unique technology such as SmartCells to ensure you don't sacrifice accuracy for speed;
Gives you piece of mind -- field-tested over 20+ years and proven successful as a complementary design tool for a wide range of industrial applications.

Learn more in this quick video.


---