| | |
| --- | --- |
| June 12, 2018 | Volume 14 Issue 22 |
---
In this issue of Designfax

50 years ago: Armstrong survives training crash
300 more meters: Marines get new sniper rifle
'Super window' could save $10 billion annually
Wheels: Teen electrifies 1980 Celica
Mike Likes: New 22-mm brushless servo motor
Engineer's Toolbox: Stainless steel pressure sensors
Great Resources: Selective Laser Sintering Design Guide
Mobile equip: Benefits of formed thermoplastic hoses
Get 'Digital Manufacturing for Dummies'
Sony releasing 0.5-type OLED microdisplay
New telescopic pillars support heavier loads
Inch-size mounting clamps with swivel ball joint
Precision ceramic and glass microcomponents
Videos+: Technologies and inspiration in action

Intro to different types of piezo actuators/motors
World's first 3D-printed housing project

Most Popular Last Issue

2019 Silverado boasts new cylinder deactivation
Helium as life support: New Navy diver rebreather
Sintering metals on International Space Station

New Products

Electrical, Mechanical, Motion

Cover Image: Teen Adam Lansing electrifies 1980 Toyota Celica

News

200,000 trillion calculations per second: America's new top science supercomputer

Novel transmitter protects wireless devices from hackers

First engine assembled for DARPA and Boeing reusable experimental spaceplane
---


Download Flexible Circuit Design Guide
Tech-Etch uses advanced techniques to manufacture flex and rigid-flex circuits to exacting customer specifications. Special processes include selective plating a single circuit with two different finishes, contoured circuits with variable metal thickness, semi-additive and subtractive techniques, open window or cantilevered contact leads, plus SMT for component assembly. Tech-Etch specializes in flexible circuits for medical device, medical implant, diagnostic ultrasound, telecommunications and patient monitoring applications, in addition to telecommunications, aerospace, semiconductor and other high-reliability electronic applications.
Learn about flex circuits and download the guide (no registration required).
---

Feature articles

50 years ago: Armstrong survives training crash
On May 6, 1968, astronaut Neil A. Armstrong, then assigned as back-up commander for the Apollo 9 mission, took off on a simulated lunar landing mission in Lunar Landing Research Vehicle #1 at Ellington Air Force in Houston. He had been airborne about 5 minutes when he suddenly lost control of the first pure fly-by-wire aircraft.
Read the full article.

---


300 more meters: Marines get new sniper rifle
The Marine Corps is adopting a new precision sniper rifle to increase the lethality and combat effectiveness of scout snipers on the battlefield. The Mk13 Mod 7 Sniper Rifle is a bolt-action rifle that offers an increased range of fire and accuracy when compared to current and legacy systems. It includes a host of new features.
Read the full article.


'Super window' could save $10 billion annually in energy costs
About $20 billion worth of energy leaks out of windows in the United States each winter -- and that's with double-paned insulating windows installed on a majority of buildings. Berkeley Lab is now working with manufacturers to bring to market a "super window" that is at least twice as insulating as 99 percent of the windows for sale today and will be ready to achieve mass-market status.
Read the full article.


Wheels:
After years of trying, teen electrifies 1980 Celica
Adam Lansing got the idea to convert a gas car to electric after watching his older brother ask his parents for gas money. It took him a total of six years of frustration and some huge triumphs, but now he's turned an old, engine-less Toyota into something unique: A 130-mile range electric vehicle powered by 94 lithium iron phosphate batteries.
Read the full article.


Mike Likes:
New 22-mm brushless servo motor packs a punch
MICROMO has launched the brand new FAULHABER 2264 BP4 series brushless dc servo motor, which is ideally suited for handheld tools and devices such as motorized surgical instruments, grippers and robotics, advanced prosthetics, aerospace applications, and even for electric pruning shears and motorized screwdrivers. At 22 mm in diameter, 64 mm in length, and weighing only 140 grams, the 2264 BP4 series delivers 59 mNm of continuous torque and reaches speeds up to 34,500 rpm. These impressive power and performance characteristics are possible due to a new segmented winding of the coil, which also improves the overall efficiency of the motor.
Click here to learn more.


Great Resources:
Selective Laser Sintering (SLS) Design Guide
Xometry is full of great resources for designers -- and great manufacturing services. Selective Laser Sintering (SLS) is an additive manufacturing process that can efficiently produce durable nylon end-use parts and prototypes. Using SLS has a number of benefits, including the ability to manufacture high-precision and complex parts without the need for tooling or molds. It also enables the production of parts that would be difficult or impossible to create any other way. Learn how to design your products to achieve the best SLS results.
Get the Xometry guide to SLS.


How mobile equipment manufacturers benefit from using formed thermoplastic hoses
The proper assembly, installation, and specifying of the right hoses and tubing for the application are critical to the trouble-free operation of mobile equipment employed in construction, forestry, mining, and similar industries. This latest blog from Parker examines how formed thermoplastic hoses address these challenges and details how a skid-steer manufacturer reduced labor time and realized significant cost savings.
Read the full article.


Get 'Digital Manufacturing for Dummies' book gratis
Proto Labs has put together a comprehensive guide to the major 3D-printing, CNC machining, and injection-molding technologies that are frequently used in digital manufacturing. The book helps readers to compare processes, explore material options, and see how digital manufacturing can fit into every stage of the product life cycle.
Get your copy on the house.


Sony releasing 0.5-type OLED microdisplay with top-of-class UXGA resolution
Sony Corporation recently announced the upcoming release of the ECX339A OLED Microdisplay featuring UXGA (1,600 x 1,200 resolution), the highest in class for a 0.5-type. This product achieves the world's smallest pixel pitch of 6.3?m by leveraging Sony's OLED display technology and miniaturization technology, enabling a resolution 1.6x higher than the previous model. By employing a new drive circuit design that operates on half the voltage of the previous model, the new product achieves the same level of low-power operation as its predecessor but with much higher resolution.
Learn more.


New telescopic pillars for medical equipment support heavier loads
SKF CPMT telescopic pillars from SKF Motion Technologies for integration into surgical tables, procedure chairs, and similar medical equipment are complete plug-and-play systems that provide OEM designers with ideal technologies to equip healthcare facilities with reliable, safe, and virtually maintenance-free vertical motion solutions. CPMT telescopic pillars combine a low retracted height (320 mm or 12.6 in.) with a high stroke range (up to 600 mm or 23.6 in.) to improve accessibility for patients without compromising the extended height necessary for procedures. Other capabilities include a high load-carrying capacity (up to 6,000 N or 1,350 lb), as well as fast positioning speeds and the ability to access pre-set positions for overall clinical efficiencies.
Click here to learn more.


Inch-size mounting clamps with swivel ball joint
GN 784 mounting clamps with swivel ball joint from JW Winco allow precise and variable adjustment of the ball pivot within the rotation range. This is a particular advantage when adjusting scanners, cameras, lighting, monitors, etc. Thanks to the efficient clamping mechanism, only small amounts of torque on the clamping screw result in comparatively strong clamping pressure on the ball. This force is easily applied by the clamping lever.
Learn more.


Precision ceramic and glass microcomponents
Goodfellow, a favorite materials provider for Designfax readers, also supplies a wide variety of ceramic and glass microcomponents, both standard items and items precision-machined to customer specifications. Examples include: ultra-thin glass microsheet for use as transparent substrates and electrical insulators; precision spheres for use as precision spacers and optical components; micro optics such as prisms, lenses, and windows; injection-molded ceramic microcomponents for surgical equipment and fiber-optic applications; polished sapphire bearings and sub-mm bore nozzles; and single- and multi-bore capillary tubing. Other items are available upon request.
Learn more.
---
Most popular last issue


2019 Silverado boasts new cylinder deactivation tech
Change can be hard, but it's a constant and easy task for the engine on the all-new 2019 Chevrolet Silverado 1500. The most advanced gasoline V8s in the brand's history feature Dynamic Fuel Management, an industry-first cylinder deactivation technology that enables the engines to operate in 17 different cylinder patterns to optimize power delivery and efficiency.
Read the full article.
---
Videos+: Technologies and inspiration in action
Intro to different types of piezo actuators/motors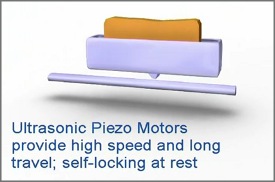 The term "piezo" is derived from the Greek word for pressure. In 1880, Jacques and Pierre Curie discovered that an electric potential could be generated by applying pressure to quartz crystals; they named this phenomenon the "piezo effect." Later, they ascertained that when exposed to an electric potential, piezoelectric materials change shape. This they named the "inverse piezo effect." But what can you do with it? Physik Instrumente (PI) runs through the basics when applying the effect to motion drives, including stack actuators, flexure guided actuators, bimorph bender actuators, piezo motors, and more.
View the video.
World's first commercial 3D-printed concrete housing project taking shape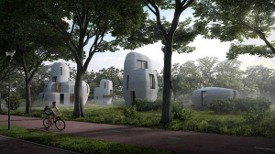 Eindhoven, a city in the south of the Netherlands, is the site of a unique 3D-printed housing project called Project Milestone. The first of five planned 3D-printed concrete homes will begin construction this year. After each house is completed, it will be rented out by a leasing company and occupied. The houses feature non-traditional, boulder-like structures and weird shapes, which are perfect for highlighting the advantages and capabilities of this materials-saving new process.
View the video.
---