| | |
| --- | --- |
| June 19, 2018 | Volume 14 Issue 23 |
---



Get up to date on 3D printing tech in under 30 minutes
Donovan Weber, COO at FORECAST 3D, discusses a variety of 3D printing technologies so viewers can learn how speed and cost differ per process. An overview of material properties and how each can be measured in comparison to injection molded parts is also discussed. This useful webinar is the first in a new series sponsored by Xcentric Mold & Engineering. It covers benefits of, and materials for, SLA, FDM, SLS, and PolyJet.
View the on-demand presentation here.
You can always bookmark it and watch it later.
---
---


Air Force looking to additive manufacturing to expand hypersonic flight
The Air Force is testing materials produced through ceramic additive manufacturing to advance their potential future use in hypersonic flight vehicles. Hypersonic fight (speeds exceeding Mach 5) would allow for much faster military response times, more advanced weapons, and drastically decreased travel times for the military and commercial sectors with speeds over 4,000 mph.
Read the full article.


Wheels:
First look at new Ford Mustang Shelby GT350
Building on a road-course racing and track-focused legacy born in 1965, Ford Performance engineers and designers incorporated the latest advances in tire, aerodynamics, and chassis technology into the 526-hp 2019 Mustang Shelby GT350. "Somewhere, Carroll [Shelby] is smiling," said Hermann Salenbauch, global director for Ford Performance vehicle programs.
Read the full article.


Mike Likes: Custom-made wave springs
Smalley can manufacture custom Wave Springs quickly and economically to meet your specific application requirements. Because force and deflection requirements are application-specific, custom springs are often needed. With Smalley's No-Tooling-Cost™ manufacturing process, customs can be produced from .157" to 120" diameters in carbon steel, stainless steel, or other readily available exotic alloys. Free samples are available of standard parts for testing. All Springs Are Not Equal®!
Learn more.


Micro Solutions: Getting a grip on precision
A gripping system for small parts that is both quick and powerful -- until now was often only possible with pneumatics. However recently, a leading expert for gripper systems developed a mechatronics-based EGP 40 gripper that easily achieves the same performance of its pneumatic counterparts. FAULHABER brushless DC servo motors with integrated motion control are what make this impressive performance possible.
Read the full article.


Stainless steel air jets resist corrosion and heat
EXAIR's new 303SS Air Jets provide reliable and efficient blowoff and cleaning within corrosive, high-temperature, or washdown environments. These 1/8 NPT Stainless Steel Air Jets replace open tubes and pipe nipples on parts cleaning, drying, and cooling operations. With temperature rated up to 400 F, they will produce up to 1.25 lb of force upon your target. EXAIR Air Jets utilize the Coanda effect to pull in the surrounding ambient air and increase the total volume of air impacting your target area. Both the outlet and inlet can be ducted for remote positioning. Air Jets require a small amount of compressed air, which can be less than half that of open air lines in your plant. Available in two styles.
Learn more.


New touchless angle sensors with CANBus interface
Novotechnik, U.S. introduces the RFC4800 Series of touchless angle sensors measuring angular position up to 360°, revolution counter, and speed -- with J1939 CANBus interface in addition to CANopen. Features include programmable zero-point offset, measurement averaging, and sign of rotational direction. RFC4800 Series has a resolution of 14-bits across 360°, repeatability of 0.36°, and independent linearity of +/-0.5% of full scale. J1939 CANBus provides a different feature set than CANopen. It has peer-to-peer or broadcast signaling and fixed messages rather than configurable. There are other differences too.
Learn more.


Inline Code Matcher makes for reliable packaging
The Inline Code Matcher is a stand-alone quality-control system featuring SICK Lector 6xx image-based code readers that reliably read 1D and 2D codes on packages to match packaging with the correct products. The Inline Code Matcher system software uses a 7-in. touch screen with an intuitive user interface for operation and to visualize data. The Inline Code Matcher's modular design and auto set-up feature allow for easy integration into existing plants. Products can be changed over during a live operation on the basis of an example product or manually with a hand-held scanner.
Click here to learn more.


Linear motion catalog and design guide 2018
Haydon Kerk Motion Solutions, a business unit of AMETEK Advanced Motion Solutions, announces the release of its new Catalog and Design Guide, revised for 2018 to illustrate a wide range of products engineered for use as building blocks in sophisticated linear motion assemblies. It is divided into three major sections: 1) Precision lead screw and nut assemblies; 2) Linear actuators and stepper motor drives; and 3) Motorized and non-motorized linear rail systems. In addition to basic product information, each section includes a brief overview of the technology behind the products, part number construction, sizing charts, and product comparison charts. Applications include industrial automation and robotics.
Get your catalog (no registration required).


Integrated motors for high-throughput applications
Applied Motion Products introduces three models of StepSERVO Integrated Motors that provide cost-effective and high-speed motion control for high-throughput applications such as packaging and labeling, automated test and measurement, and automated assembly. With encoder feedback and advanced control loops that incorporate servo control, StepSERVO Integrated Motors provide a motion control system that operates faster, cooler, and quieter than competitive technology. The three model series (TSM, SSM, and TXM) support different options for step and direction, streaming commands, fieldbus communications, and stored Q programming for standalone operations.
Learn more.


Minimizing noise in electric linear motion systems
Under most circumstances, electric linear motion systems are quiet. They certainly don't create the hissing and bang-bang noises associated with pneumatic systems. However, there's another type of noise that comes with electric systems of all types: electrical noise or interference. The results can be anything from erratic movements to complete system failure. Patrick Hobart from Tolomatic runs through best practices for minimizing noise in these automation systems.
Read this insightful blog.
---
Most popular last issue


300 more meters: Marines get new sniper rifle
The Marine Corps is adopting a new precision sniper rifle to increase the lethality and combat effectiveness of scout snipers on the battlefield. The Mk13 Mod 7 Sniper Rifle is a bolt-action rifle that offers an increased range of fire and accuracy when compared to current and legacy systems. It includes a host of new features.
Read the full article.


Wheels: After years of trying, teen electrifies 1980 Celica
Adam Lansing got the idea to convert a gas car to electric after watching his older brother ask his parents for gas money. It took him a total of six years of frustration and some huge hurdles, but now he's turned an old, engine-less Toyota into something unique: A 130-mile range electric vehicle powered by 94 lithium iron phosphate batteries.
Read the full article.


'Super window' could save $10 billion annually in energy costs
About $20 billion worth of energy leaks out of windows in the United States each winter -- and that's with double-paned insulating windows installed on a majority of buildings. Berkeley Lab is now working with manufacturers to bring to market a "super window" that is at least twice as insulating as 99 percent of the windows for sale today and will be ready to achieve mass-market status.
Read the full article.
---
Videos+: Technologies and inspiration in action
Meet the new Ultimaker S5 3D printer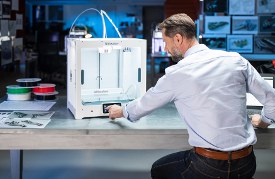 Built for the office, the S5 is Ultimaker's most advanced plastics 3D printer yet. This powerful, reliable, and versatile machine delivers industrial-class results. With a large build volume of 330 x 240 x 300 mm, you can print at full scale or fit multiple parts on a build plate using the full portfolio of Ultimaker materials, including ABS, CPE+, Nylon, and TPU 95A -- and you can print with different colors or materials thanks to dual-extrusion capabilities. See why electronics and engineering giant Bosch chose Ulitmaker for its global facilities to drive innovation while cutting manufacturing and design costs. Ultimaker makes 3D printing accurate and so easy.
Learn more.
New tires vs. worn tires -- Which perform best?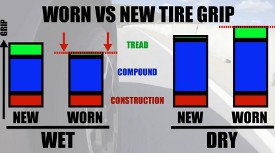 Do tires get better or worse with wear? As a tire wears, you may be surprised to learn that its dry performance actually improves. Braking distances tend to get shorter, and cornering grip tends to increase. The opposite, however, happens in wet conditions. Jason Fenske from Engineering Explained explains why, and how tire manufacturers are trying to design tires that perform well in all situations even near the end of their lives. Fenske always does an excellent job.
View the video.
---