| | |
| --- | --- |
| July 03, 2018 | Volume 14 Issue 25 |
---



New 22mm Brushless Servo Motor Packs a Punch
MICROMO launches the brand new FAULHABER 2264 BP4 series brushless dc servo motor. At 22 mm in diameter, 64 mm in length and weighing only 140 grams, the 2264 BP4 series delivers 59 mNm of continuous torque, and reaches speeds up to 34,500 revolutions per minute. This impressive power and performance capability is possible due to a new segmented winding of the coil, which also improves overall efficiency of the motor.
Learn more. This motor has lots of applications.
---
---
---
Feature articles


Super wood is stronger than most metals
Engineers at the University of Maryland have found a way to make wood more than 10 times stronger and tougher than before, creating a natural substance that is stronger than many titanium alloys. It is as strong as steel, but six times lighter.
Read the full article.


World's largest jet engine takes maiden flight
The world's largest jet engine took its first flight over the Mojave Desert on March 13. The GE9X is a showstopper. At 134 in., its fan diameter is so tall and wide that Shaquille O'Neil would fit inside the engine's cover with Kobe Bryant sitting on his shoulders. The whole engine is as wide as the body of an entire Boeing 737. By Tomas Kellner, GE Reports.
Read the full article.


0.38 sec: Fastest Rubik's Cube-solving robot uses 6 Kollmorgen ServoDisc motors
A pair of enterprising engineering students has posted a video online that shows a machine they built solving a Rubik's Cube puzzle in 0.38 sec -- the fastest in the world by far if they can get it made official (current world record is 0.637 sec). The machine was created by MIT Biometrics Lab Master's student Ben Katz and software developer Jared Di Carlo, and each has posted an in-depth blog about their creation and methods. "We noticed that all of the fast Rubik's Cube solvers were using stepper motors and thought that we could do better if we used better motors. So we did," said Di Carlo, adding that each motor "can accelerate insanely fast. In a 10-ms quarter-turn move, the motor reaches over 1,000 rpm." Katz said the device uses six Kollmorgen ServoDisc U9-series motors. "Two were taken from my old robot arm project, the rest were found pretty cheaply on eBay," he said. Two PlayStation cameras are also part of the mix.
Read Katz's blog, which contains videos and a link to his partner's page.


Ford chases a retro spirit with 50th anniversary Mustang Bullitt
Ford has a special-edition model due out this summer -- the all-new Mustang Bullitt, which celebrates the 50th anniversary of the movie "Bullitt" and the car in its iconic 10-minute San Francisco chase scene with Steve McQueen as the driver. While the 2019 475-hp model is cool, the story behind the original movie car and how it resurfaced is just as interesting.
Read the full article.


Top Tech Tip: Overcoming motor inertia --
5 things you need to know
Most engineers recognize that gearheads can be used to create a better inertia match between the object that is being moved and the motor being driven. Put simply, it is dictated by the gearhead ratio where the object reflected inertia to the motor is reduced by 1/ratio2. So, what should the correct inertia be? Jeff Nazzaro, gearhead and motor product manager, Electromechanical and Drives Division, Parker Hannifin, runs through what you need to know about gearhead and servo motors.
Read this informative Parker Hannifin blog post.


Top Tech Tip: Benefits of hybrid bearings
Hybrid bearings have shown good performance in poor lubrication and contaminated conditions, but the understanding of the contributing mechanisms and their effect on performance is still lacking. SKF has developed more insight into the tribology of hybrid bearings through both dedicated experiments and modeling.
Read about it here.


Top Product: Alternative to traditional drive systems
Nexen Group has introduced a stainless steel version of its patented precision roller pinion system (RPS). The Nexen RPS engages two teeth simultaneously to achieve superior accuracy with zero backlash at any length. The system is also extremely quiet and 99% efficient. Stainless steel makes the system corrosion resistant, with a long life of up to 36 million meters. Nexen's RPS provides a low-maintenance, durable alternative to rack and pinion, ball screw, and belt drive technology. The RPS is used for a wide range of applications including laser cutting, plasma cutting, and gantry applications.
Learn more.


Top Product: Revolutionary new high-pressure electric pump system
High Pressure Equipment Co. (HiP), a subsidiary of Graco, introduces the eTensifer pump, the first-of-its-kind high-pressure electric pump system. The plug-and-play pump simply plugs into a wall outlet -- no need for an air compressor like other high-pressure pumps on the market. The portable, lightweight (only 46 lb) eTensifier will deliver hydraulic/liquid pressures to 36,500 psi with a smoother flow rate from zero to full pressure and a quiet electric motor. SmartControl™ technology allows for two operational modes: a traditional pressure knob for standard jobs and an industry-first pressure test mode. Another first is the ProConnect™ quick-connect system that allows users to switch out the Sprague pump lower.
Learn more.


Top Product: Entry-level industrial-grade 3D printer
The FabPro 1000 from 3D Systems is a new entry-level system that packs 30 years of industrial 3D-printing know-how into its design to deliver superior quality at up to 3X faster high-throughput print speeds than competing printers. Digital Light Printing (DLP) Stereolithography uses a projector to image each layer within a UV-curable, liquid plastic material. This easy-to-use system, with a build size of 125 x 70 x 120 mm (4.92 x 2.76 x 4.72 in.), has 3D Sprint file preparation and print software included -- all at a price of $4,995.
Learn more about it.


Top Tools: Faster, cooler-running new Raspberry Pi unit -- still $35!
After a two-year wait since its last upgrade, Raspberry Pi released a new and improved version of its wildly popular single-board computer on March 14 -- Pi Day, of course. The Raspberry Pi 3 Model B+ boasts a 200-MHz increase in peak CPU clock frequency, roughly three times the wired and wireless network throughput, and the ability to sustain high performance for much longer periods. Features include: a 1.4-GHz 64-bit quad-core ARM Cortex-A53 CPU, dual-band 802.11ac wireless LAN and Bluetooth 4.2, faster Ethernet (Gigabit Ethernet over USB 2.0), Power-over-Ethernet support (with separate PoE HAT), improved PXE network and USB mass-storage booting, and improved thermal management.
Learn all about the new Raspberry Pi 3 Model B+.
---
Videos+: Technologies and inspiration in action
Jay Leno's Garage uses On Demand Manufacturing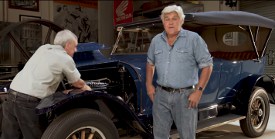 A reverse-engineering workflow using Faro scanners, Geomagic software, and SLA-printed investment casting patterns through On Demand Manufacturing from 3D Systems helped Jay Leno and his team get this hundred-year-old Owen Magnetic electric car back up and running efficiently and cost effectively.
View the video.
Festo creates rolling spider-like bot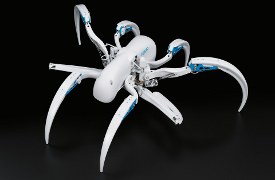 The pneumatics wizards at Festo, famous for creating nature-inspired bionic creature concepts that also often include electromechanical drives, motors and controllers, and grippers, have unveiled the cartwheeling BionicWheelBot at Hannover Messe 2018. Like its biological model, the flic-flac spider discovered at the edge of the Sahara, the BionicWheelBot can both walk and roll. This machine rolls along the ground by forming a wheel with three legs on each side of its body. Two more legs, which are retracted during running, are then extended. When the spider is rolled up like a ball, these legs push it off the ground and propel it forward in a continuous rolling motion.
View the video.
Curiosity provides impressive panorama of Mars from Gale Crater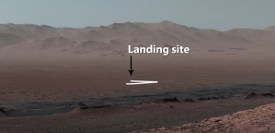 Mars Curiosity rover Project Scientist Ashwin Vasavada gives a descriptive tour of the Mars rover's view in Gale Crater. The white-balanced scene looks back over the journey so far. The view from "Vera Rubin Ridge" looks back over buttes, dunes, and other features along the route. If you're planning a space vacation one day, this is what you could be facing in a Martian winter.
View the video.
What is electroforming? How does it actually work?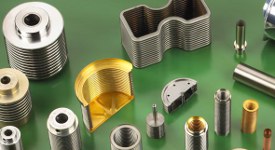 Electroplating may have been around for centuries, but only Servometer excels at manufacturing dynamic, convoluted bellows electroforms. Watch Servometer's five-step electroforming manufacturing process and learn how they are able to deliver electroformed components that feature extreme tolerances, complex geometries, lightweight construction, structural strength, and how they can be applied to a variety of applications.
Watch the video.
What is Electron Beam Additive Manufacturing? 19-ft-long parts!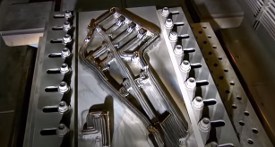 Sciaky launched its groundbreaking Electron Beam Additive Manufacturing technology in 2009 with the objective to save manufacturers time and money on the production of large-scale, high-value metal parts and prototypes. Today, Sciaky's EBAM technology remains the largest, fully programmable means of achieving near-net-shape parts made of weldable metals that are available in wire feedstock. These materials include: Titanium and Titanium alloys; Inconel 718, 625; Tantalum; Tungsten; Niobium; Stainless Steels (300 series); 2319, 4043 Aluminum; 4340 Steel; Zircalloy; 70-30 Copper Nickel; and 70-30 Nickel Copper. Make metal parts up to 19 ft x 4 ft x 4 ft!
Learn all about it.
---