| | |
| --- | --- |
| July 17, 2018 | Volume 14 Issue 27 |
---
---
---

Feature articles

Innovations in the world of bearings
For design engineers, specifying the right bearing for the right application can elevate anticipated equipment performance to higher levels -- and avoid (sometimes crippling) performance issues. Brian Dahmer from SKF USA runs through important innovations, including specialty protective coatings, materials advances, 'intelligence' capabilities, and unconventional lubrication.
Read the full article.

---


Wheels:
Future combat vehicles get super flexible -- Wow!
Round "tires" that transform into triangular tracks, extreme travel suspensions, and virtual windows -- these are just some of the impressive new military-vehicle innovations in the works from DARPA. The Defense Advanced Research Projects Agency is aiming to improve the mobility, survivability, safety, and effectiveness of future combat vehicles without piling on armor.
Read the full article.


Mike Likes:
Stainless steel retaining rings from stock
Smalley has over 5,000 Spirolox® Retaining Rings in 302 and 316 stainless steel from stock. Specials can be manufactured with their No-Tooling-Costs™. Smalley's manufacturing process allows for the economical production of stainless steel retaining rings. Spiral-type retaining rings are interchangeable with standard snap ring grooves and have No Ears To Interfere® with the assembly. Samples are available of stock parts at no charge to test in your application.
Learn more. (Samples available on top right tab on site.)


Precision dispensing for micro-electronics
The spread of miniaturization in automation has led to an ever-increasing demand for optimum dispensing of the tiniest volumes. Whether in electronics or micro-mechanical engineering, solder pastes, adhesives, lubricants, and 3D-printing filament must be applied or extruded precisely where needed, in exactly the right dosage and without spillage or dripping. Compact, high-torque DC motors deliver the precision and small size needed for such a challenge.
Read the full article.


Advancements in reed switch-based technology
Madison Company has developed an advancement in proven reed switch-based technology that provides ultra-high resolution, very tight tolerances, and consistent repeatable measurements in liquid level sensor designs. Sensors can be also designed to withstand extreme shock or vibration as well as corrosive conditions and temperature variations. Applications include: power generators, commercial compressors, power transmission equipment, chemical processing, and hydraulic systems.
Learn more.


Linear actuators for medical applications
SKF Ecomag linear actuators from SKF Motion Technologies enable safe and precise power-driven movement and positioning of procedure tables and chairs in medical settings. Standard Ecomag actuators can be supplied in four versions: push models ECO 2/4 and ECO 6/8, and push/pull models ECO 3/5 and ECO 7/9. Depending on the model, the actuators can deliver push-load force up to 6,000 N or 1,348 lb and pull-load force up to 4,000 N or 899 lb, stroke ranges up to 300 mm or 12 in., and fast positioning speeds up to 13 mm/s or 0.5 in./s. All versions integrate built-in limit switches. As an option, encoder signals can be specified for added positioning functionality.
Click here to learn more.


Odorless thermal insulation material for automotive
Interface Performance Materials introduces TI650 and TI1K innovative thermal insulation materials for automotive and heavy-duty vehicle heat shield applications. TI650 and TI1K are the first odorless and smokeless materials specifically formulated for three-layer heat shields in the automotive, medium-, and heavy-duty vehicle applications. These non-toxic materials withstand temps up to 1,000 C (1,832 F), are malleable, and are resistant to cracking when molded into a layered heat shield. Their low-density makeup makes them the ideal substrates for lightweight initiatives by OEMs and fabricators. A highly inorganic material, TI1K is also unique in its ability to meet the ASTM E136 flammability test standard with no detectable smoke.
Learn more.


Instant quoting for on-demand manufacturing
Xometry, a popular on-demand manufacturing platform, has released a new version of its Xometry Instant Quoting Engine. Key features include a redesigned summary view to help users quickly review their quotes, a part-level modification page that captures all changes in real time, and an always-visible 3D viewer with instant design feedback displayed directly on the model. Xometry provides instant quotes on CNC Machining, Sheet Metal Fabrication, 3D Printing, and Urethane Casting.
Check it out on the Xometry website.


High-torque rotary voice coil actuators
H2W Technologies has developed several high-torque rotary voice coil actuators, otherwise known as a limited angle torque motors (LATs). The model TWR-015-346-2RC was designed to allow for a low moving mass (68 grams per coil) and inertia, as well as dual independent coils to allow for two independent motion profiles or couple the coils together to double the torque output. This rotary voice coil actuator can generate a continuous torque of 185 in.-oz (1.29 Nm) and a peak torque of 555 in.-oz (3.88 Nm) at a duty cycle of 10% (i.e., 1 sec on and 9 sec off) in each coil on a 4-in. (102-mm) rotation arm. By coupling the coils, the continuous torque doubles. Applications include driving a gimbal axis in scanning applications and providing stabilizing torques for image stabilization.
Click here to learn more.


Completely updated new full-line catalog of fasteners
Micro Plastics introduces its new 300-page catalog #41 containing thousands of fastening solutions for engineers and product designers. Find hundreds of new problem-solving products including Spacers, Washers, Clips, Clamps, Ties, Bushings, Screws, Nuts, Rivets, and Plugs. Micro Plastics specializes in Nylon threaded fasteners, but the company also offers extensive product lines for wire management and circuit board hardware. Samples are available upon request.
Check out the new online catalog.
---
Most popular last issue


Most Popular Stories/Products 1st Half 2017: Part 2
Chevy Silverado engine, Marines sniper rifle, Nissan 370Z snowmobile, Jaguar electrified E-type classic, how a NASA engineer created the modern airplane wing, choosing a stepper or servo motor, specialized coatings for mechanical parts, link between superconductivity and the periodic table, and much more.
Read the full issue.
---
Videos+: Technologies and inspiration in action
Introducing the smallest wave springs on the market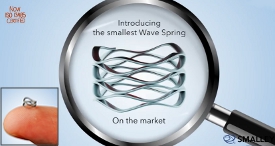 Smalley is involved in the development of medical technology and applications unique to the medical industry, and we are now ISO 13845 certified. We deliver high-quality alloys that are used for implants and medical instruments. Alloys including 316 Stainless Steel, Elgiloy, Inconel, and Titanium are readily available for fast production. With customs that can be designed with No-Tooling-Charges™ in sizes from .157" and 4 mm.
View the video.
Is DNA the future of data storage? Fascinating!
In the event of a nuclear fallout, every piece of digital and written information could be lost. Luckily, there is a way that all of human history could be recorded and safely stored beyond the civilization's end, and the key ingredient is inside all of us: our DNA. Science writer/editor Leo Bear-McGuinness explains. Wait until you see how much DNA space it takes to store the entire contents of the internet!
View the video.
---