| | |
| --- | --- |
| July 24, 2018 | Volume 14 Issue 28 |
---
---


New record set for largest 3D-printed space part
Lockheed Martin has created a 3D-printed titanium dome for a satellite fuel tank so big that you can't even put your arms around it. The 46-in.- diameter vessel completed final rounds of quality testing this month, ending a multi-year development program to create giant, high-pressure tanks that carry fuel on board satellites. The fuel tank dome was printed on an American-made Sciaky EBAM 110 machine.
Read the full article.


Plug-and-play motion system in a box
Rollon Corp. has launched Motion Box, a new pre-engineered Cartesian robot system designed to deliver users six different motion profiles that can be set up and running in a couple of hours. Motion Box covers everything from the human-machine interface (HMI) to the output of reliable motion. Even the cable management is included. The initial system setup is already complete, so end users can get parts moving in a reliable and repeatable manner. Motion Box incorporates the Q-Motion Controller from Mitsubishi Electric, which features four-axis motion control, energy-efficient drivers, integrated I/O and network access, and a clean, efficient HMI setup.
Learn more.


Waterproof 6-axis acceleration and angular rate sensor
Code Mercenaries has released the JoyWarrior56FR1-WP, a cost-efficient, waterproof, six-axis MEMS motion sensor that provides 3-axis measurements of both acceleration and angular rate with 16-bit resolution for motion, vibration, or orientation sensing applications. Readings are taken at 833 measurements per sec in standard mode, while a high-speed mode generates 6,664 data points per sec. The different range settings at which acceleration and angular rate can be measured can be stored permanently in the sensor. Comes with a 6-ft cable and USB interface. Available from U.S. distributor Saelig.
Click here to learn more.


High-gain rubber-type coupling
In 2007, NBK took the lead in the industry with the launching of the High-Gain Rubber Coupling. With the XG-Series, you can increase the productivity and control of your Servo System with higher gain compared to when using traditional couplings. These High-Gain Rubber Couplings shorten manufacturing time through the reduction of vibration even in high-gain surroundings by an innovative molding technique within the internal structure of the couplings.
Click here to learn more.


Heavy-duty air-powered conveyor resists wear and transports more
EXAIR's new 2-1/2-in. and 3-in. Heavy Duty Line Vacs are powerful in-line conveyors that transport high volumes of material through ordinary hose or tube -- at a rate that is typically twice that of ordinary air-powered conveyors. Designed for rugged, industrial applications, Heavy Duty Line Vacs have a hardened alloy construction that prevents premature wear when transporting abrasive or heavy materials like shot blast, tumbling media, or metal fittings. These units feature large throat diameters that make it possible to convey more material over longer vertical and horizontal lengths. Seven sizes available.
Learn more.


Permanent threads in thin sheet applications -- with only one-sided access
ATLAS SpinTite blind threaded inserts from PennEngineering provide strong, permanent, and reusable threads in thin sheet materials where only one side is accessible for hardware installation. Installation is performed from the accessible "front" side using spin-spin tooling technology. The inserts then become permanently mounted on the "back" side to accept a mating screw for final component attachment. This "blind" installation capability especially suits applications such as tubing, extrusions, and others where access to the back side is either limited or nonexistent. These steel, aluminum, brass, or stainless steel inserts support close-to-edge applications and can be installed at any stage during the production process (even after assemblies have been painted).
Click here to learn more.


DriveWare 7.4.2 released with stepper motor support
DriveWare is ADVANCED Motion Controls' no-cost software tool that allows users to set drive limits, tune the control loops, configure various types of feedback, auto-commutate, analyze signals over a built-in multi-channel oscilloscope, and more. Because of its powerful capabilities and user-friendly interface, DriveWare is the best way to commission and configure the company's DigiFlex Performance series drives. The biggest update to DriveWare 7.4.2 is the expanded support for stepper motors -- making it easy to configure closed-loop steppers while streamlined algorithms make autocommutation 75% faster. DigiFlex Performance servo drives can operate two-phase and three-phase steppers in addition to rotary and linear permanent magnet, brushed, and brushless servo motors.
Click here to learn more.
---
Most popular last issue


Future combat vehicles get super flexible -- Wow!
Round "tires" that transform into triangular tracks, extreme travel suspensions, and virtual windows -- these are just some of the impressive new military-vehicle innovations in the works from DARPA. The Defense Advanced Research Projects Agency is aiming to improve the mobility, survivability, safety, and effectiveness of future combat vehicles without piling on armor.
Read the full article.
---
Videos+: Technologies and inspiration in action
What type of adhesive do I need? Epoxy, urethane, or silicone?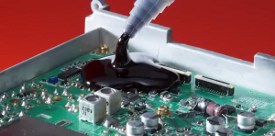 "What kind of formulation should I choose for my application?" If that's what you are wondering, Epoxies Etc. has some useful advice for you. Choosing the right chemistry for your formulation is a make-or-break decision, and it can help to maximize the value of your product. Get "tips and tricks and knowledge that sticks."
View the video.
LEGO James Bond Goldfinger car kit released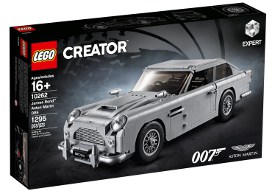 James Bond's Aston Martin DB5 from the 1964 hit film "Goldfinger" is the latest in the LEGO Creator Expert series and sports a wealth of authentic gadgets and gizmos all created in Q's workshop. Featuring 1,290 pieces, you can combine the understated sophistication of Aston Martin with the challenge of LEGO building and create your very own piece of James Bond memorabilia. Watch Mike Pskaki, senior designer, LEGO, describe how his team designed the car and what went into building in all those special features.
View the video.
Go to LEGO shop.
---