| | |
| --- | --- |
| August 21, 2018 | Volume 14 Issue 31 |
---
---
---

Feature articles

Anticipating the dangers of space
Alongside the well-known hazards of space -- freezing temperatures, crushing pressures, isolation -- astronauts also face risks from radiation, which can cause illness or injure organs. Texas A&M, NASA, and UT Medical Branch researchers use supercomputers to estimate radiation risks for low Earth orbits.
Read the full article.

---


Designing with threaded metal inserts for plastics
When deciding how best to attach plastic materials or components in an assembly, designers can choose several options, including adhesives or rivets. But what if disassembly and reassembly will be necessary for the unit down the road? The practical solution: threaded metal inserts. Bob Gallagher from PennEngineering runs through your insert fastening options, processes, materials, and sizes.
Read the full article.


World's most wear-resistant metal alloy engineered at Sandia Labs
If you're ever unlucky enough to have a car with metal tires, you might consider a set made from a new alloy engineered at Sandia National Laboratories. You could skid -- not drive, skid -- around the Earth's equator 500 times before wearing out the tread. Sandia's materials science team has engineered a special alloy believed to be the most wear-resistant metal in the world.
Read the full article.


Top Technical Tips: Noisy bearings?
Smalley wave springs are ideal for bearing preload. The wave spring preloads the bearing through its outer race, taking up play in the bearing. Preloading will reduce bearing damage, wear, noise, and vibration. The wave spring prevents sliding between the rolling elements. Smalley has over 150 standard springs available, from .188" to 16". Customs are available for unique bearing sizes with No-Tooling-Charges™.
Learn more. You can also request samples.


12 principles of modern military leadership: Part 1
Leadership is paramount to the success of any army -- and any organization in general. Leaders not only make life and death decisions sometimes, but directly control the climate and quality of life of their subordinates. But what is the real definition of leadership? Capt. Ron Roberts of the U.S. Army's Asymmetric Warfare Group discusses 12 fundamental leadership principles, as well as several educational and inspirational historical examples. How much do they apply to what you do?
Read the full article.


High-traction robot goes underground
Recent developments in motion control and engineering make it possible to inspect and perform maintenance in compact sewers from the inside. The underground sewer robot is equipped with a swiveling camera and an air-powered milling machine driven by FAULHABER miniature DC motors from MICROMO.
Read the full article.


New UR e-Series cobots feature unique sensing, safety, and precision tools
Universal Robots pioneered the collaborative robot and continues to evolve its ground-breaking, automation technology with the introduction of its new flagship line of e-Series cobots. The new UR3e, UR5e, and UR10e robot arms will launch in North America at IMTS in Chicago, Sept. 10-15, at Universal Robots' IMTS booth N-236861. With a new built-in, tool-centric force/torque sensor, the e-Series is ready to take on popular collaborative robot applications that require force control right out of the box such as sanding, buffing, polishing, and deburring, where force-feedback is paramount in order to obtain uniform results. Additionally, the force/torque sensor can be used to measure mass and perform inspection processes or precisely detect contact.
Learn more.


US Digital releases new MD3 microstepping motor driver
The MD3 Programmable Microstepping Motor Driver is capable of driving motors from NEMA size 14 to 42. The MD3 accepts 9 to 50 VDC power inputs and is rated for currents up to 7A continuous duty. In addition to digital input controls, the MD3 can be configured and controlled using the open MODBUS RTU protocol over a RS485 bus. A GUI application is supplied that allows many settings to be changed including the number of microsteps per full step, acceleration/deceleration rates, speed, and current cutback.
Learn more.


Metal bonding: Solvent-free activators from DELO speed up curing time
DELO, one of the world's leading manufacturers of industrial adhesives for automotive, consumer, and industrial electronics applications, has developed two solvent-free activators that speed up the curing time of metal adhesives like DELO-ML. These new activators prevent solvent vapors escaping into the environment, potentially causing both health and environmental hazards. DELO's low-viscous DELO-QUICK 5910 and the higher-viscous DELO-QUICK 5975 can be dispensed together with adhesive, without having to evaporate first. Components can be joined and processed immediately after dispensing of the activator, reducing cycle time in the production process.
Learn more.


New power-off brakes for parking brake applications
The MPC is a power-off brake module with an output shaft. The unit mounts directly onto a NEMA C-Face servo or stepper motor, and the output can also be coupled to a NEMA C-Face gear reducer. This brake is designed to decelerate or hold an inertial load when the voltage is turned off. When voltage is applied, the friction disc is released, and the brake is free of torque. This power-off brake is best suited for parking brake applications used to hold a load in position, and is ideal for creating brake motor packages for small servo and stepper NEMA 17 or NEMA 23 frame motors. Available from Servo2Go.
Learn more.
---
Most popular last issue


Is your metal too 'gummy' to cut? Draw on it with a Sharpie or glue stick
Your everyday permanent markers, glue sticks, and packing tape may offer a surprisingly low-tech solution to a long-standing nuisance in the manufacturing industry: Making soft and ductile, or so-called "gummy" metals, easier to cut. What makes inks and adhesives effective isn't their chemical content, but their stickiness to the surface of any gummy metal such as nickel, aluminum, stainless steels, or copper.
Read the full article.
---
Videos+: Technologies and inspiration in action
Pilot recounts tales of SR-71 Blackbird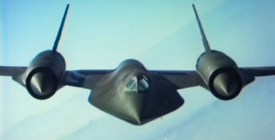 The SR-71 reconnaissance aircraft flew missions around the globe at speeds above Mach 3 and altitudes of 85,000 ft or more. Although its many contributions to national security will never be fully revealed to the public, the Skunk Works marvel holds many world aviation records for its speed and altitude. In this interview with former SR-71 pilot Col. Buzz Carpenter, you'll hear a first-hand account of the aircraft's power and majesty.
View the video.
---