| | |
| --- | --- |
| August 28, 2018 | Volume 14 Issue 32 |
---



The World's First -- and Best -- Linear Motion Guides
THK's original technology is behind the smooth and silent movement of the "Linear Motion System." The LM Guide is our major product that put the rolling of the linear motion part into practical use for the first time in the world. This improves the accuracy, rigidity, energy saving, velocity, productivity, and service life of the machine. THK offers a full support system from the beginning design phase throughout the maintenance, and follow-up service.
Click here to learn more.
---
---


Guide to overmolding best practices
Overmolding is a great injection molded feature you can utilize in your design to capture color contrasts, add flexibility or eliminate assembly. Take advantage of this feature by learning how to design your part for overmolding.
You'll learn:


How to set up your design for complex overmolding
Material evaluation and best practices for proper adhesion
Feature specifications to consider for good overmolds

Get the Xcentric overmolding guide (no registration required).
---

Feature articles

America's largest Air Force plane turns 50
Few planes inspire more awe than the Galaxy (C-5), which can carry two battle tanks across the Pacific Ocean in a matter of hours -- and on a single tank of jet fuel. Earlier this month, Lockheed delivered the latest upgraded version, called the C-5M Super Galaxy, to the U.S. Air Force. By Tomas Kellner, GE Reports
Read the full article.

---


How to implement redundancy in stepper motors
Some of the recent research activities in the area of electric motor drives for safety-critical applications (such as aerospace and nuclear power plants) are focused on looking at various fault-tolerant motor and drive topologies. After discussing different solutions, this article focuses on a miniature permanent magnet (PM) stepper motor design that provides increased redundancy.
Read the full article.


Download Photo Etching Precision Parts Guide
This Tech-Etch guide describes how photo etching produces prototype quantities and large production runs of precision parts for many mechanical and electrical applications, without the high cost and long lead times of hard tooling. Custom metal parts from .0005" thick and up are produced with intricate patterns, precise tolerances and burr-free edges, in addition to exact repeatability. By combining photo etching for blanking with inexpensive or universal tooling for forming, Tech-Etch produces complex designs and shapes.
Get the guide (no registration required).



Mean, green, aerodynamic machine: Lamborghini Aventador SVJ
Designers and engineers at Lamborghini drew on inspirations including spaceships and jet fighters to create the latest version of the Italian luxe brand's V12 flagship supercar model, the Aventador SVJ. Designed for "aerodynamic supremacy," the mean and green machine features four-wheel drive and four-wheel steering, significant downforce improvement, and holds the Nurburgring-Nordschleife production-car record for fastest lap time on that famous track
Read the full article.


Cross roller ring can swing the loads
Because it has orthogonally arranged cylindrical rollers, the cross roller ring from THK is a roller bearing with high rotation accuracy capable of bearing loads in every direction. Cylindrical rollers are arranged with each roller perpendicular to the adjacent roller, in a 90-deg V groove, separated from each other by a spacer retainer. This design allows just one bearing to receive loads in all directions including radial, axial, and moment loads. This component is optimal for applications such as joints and swiveling units of industrial robots, swiveling tables of machining centers, rotary units of manipulators, precision rotary tables, medical equipment, measuring instruments, and IC manufacturing machines. Available in several rotation configurations including inner/outer ring, inner ring only, and outer ring only. And now a new micro cross roller ring is perfect to handle smaller applications.
Learn more about THK cross roller rings.
Learn about the new Micro Cross Roller Ring RAU.


12 principles of modern military leadership: Part 2
Leadership is paramount to the success of any army -- and any organization in general. Leaders not only make life and death decisions sometimes, but directly control the climate and quality of life of their subordinates. But what is the real definition of leadership? Capt. Ron Roberts of the U.S. Army's Asymmetric Warfare Group discusses 12 fundamental leadership principles, as well as several educational and inspirational historical examples. How much do they apply to what you do?
Read the full article.


Laminating precision parts with polyimide film for insulation and spacing
When a dielectric is required to maintain accurate finger spacing or for insulation, Tech-Etch can laminate materials such as polyimide. Polyimide can be die-cut and directly bonded in place or full sheet laminated and then photo etched for extremely accurate positioning. Parts can be formed after lamination. Tech-Etch also photo etches polyimide film into flat parts including non-conductive washers, screens, gaskets, insulation layers, and liners. For flexible circuits, the coverlay is the insulating layer of polyimide placed over the exposed conductors. Polyimide is ideal for corrosive environments and also exhibits excellent physical, chemical, and electrical properties over a wide temperature range. Tech-Etch offers complete prototype-to-production facilities for etching extremely intricate parts.
Download a capabilities brochure (no registration required).


Replace traditional fasteners: 50+ retaining ring applications
The benefits of a Rotor Clip Retaining Ring are simple: The ring is made from less material than traditional fasteners, eliminating machined shoulders, threads, cover plates, and heat-formed studs -- so you save. Using a retaining ring to fasten your assembly instead of a traditional fastener not only reduces your costs, but also saves the environment. Fewer parts and less material means cost savings for you and less waste for the planet. This quality part offers lot traceability. Want to know what you can do with a Rotor Clip Retaining Ring?
View more than 50 application examples.


Polyimide heater kit -- tons of uses
The Polyimide heater kit from Omega Engineering contains thin and flexible heaters with adhesive backing to conform to practically any flat or curved surface. With 15 different shapes, this kit can suit almost any application. Heater configurations are outlined on a 0.3-m x 0.3-m (1-ft x 1-ft) sheet, with line markings for easy selection and cutout. When used in combination, these heaters can provide a number of resistances and wattages. Leads can be soldered on or connected with alligator clips. Typical applications include: aerospace, analytical equipment, tooling, commercial equipment, agriculture, packaging, and material handling.
Learn more.


Collect and understand vibration condition data
Vibration monitoring is one of the most effective ways to detect potential equipment failures before they cause downtime. However, vibration analysis is complex, and it can be cost prohibitive to place sensors on noncritical assets. The new, wireless Fluke 3561 FC Vibration Sensor allows maintenance teams to improve uptime by adding remote, continuous vibration monitoring to virtually any rotating equipment. With a frequency range of 10 to 1,000 hertz, the 3561 FC detects and notifies users of conditional changes caused by critical faults like imbalance, misalignment, looseness, and bearing wear, providing warning of impending equipment failure.
Learn more.


Clamping levers with eccentrical cam
JW Winco now offers GN 927 Clamping Levers with Eccentrical Cam in Tapped Type and Threaded Stud versions. The RoHS-compliant clamping levers are used for rapid clamping and releasing operations. In contrast to a clamping operation utilizing threads, these levers permit torque-free clamping. The zinc die-cast, plastic-coated lever has been designed to ensure its movement cannot exceed the maximum clamping position. In addition, there are no loose components, since all are assembled and mounted in their correct order. Thrust forces up to 1.8 lb (8 N) can be obtained.
Learn more.


New 3M metal bonding adhesive
3M Scotch-Weld Metal Bonder Acrylic Adhesive DP8407NS delivers strength, corrosion resistance, and reliable performance for bonding metal without extensive surface prep. This high-strength, fast-curing structural adhesive offers high peel and durability, and maintains its strength at temps as low as -40 F. With the ability to bond active metals like steel, copper, brass, and bronze, 3M's Metal Bonder is ideal for a wide range of assemblies in metal fabrication, transportation, specialty vehicle, architectural panels, appliances, and office furniture. It bonds plastics and composites for multi-material bonding and is also well suited for bonding metals prior to powder coating and paint processes.
Click here to learn more.
---
Most popular last issue


World's most wear-resistant metal alloy engineered at Sandia Labs
If you're ever unlucky enough to have a car with metal tires, you might consider a set made from a new alloy engineered at Sandia National Laboratories. You could skid -- not drive, skid -- around the Earth's equator 500 times before wearing out the tread. Sandia's materials science team has engineered a special alloy believed to be the most wear-resistant metal in the world.
Read the full article.


Pilot recounts tales of SR-71 Blackbird
The SR-71 reconnaissance aircraft flew missions around the globe at speeds above Mach 3 and altitudes of 85,000 ft or more. Although its many contributions to national security will never be fully revealed to the public, the Skunk Works marvel holds many world aviation records for its speed and altitude. In this interview with former SR-71 pilot Col. Buzz Carpenter, you'll hear a first-hand account of the aircraft's power and majesty.
View the video.
---
Videos+: Technologies and inspiration in action
Torque tools go out of calibration. Fix them.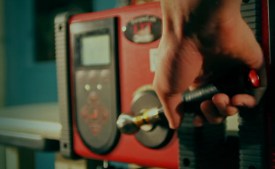 Using a quality torque tester makes a safer world through accuracy and precision. Torque testers can be used for quick tools tests on the line or in the lab to determine whether the tools are holding a given setting. The Mountz TorqueLab LTT is a laboratory-grade instrument designed for testing and monitoring torque applications and is commonly used for quality control, R&D, and calibration applications. It tests or calibrates hand-torque screwdrivers, electric screwdrivers, pneumatic screwdrivers, and torque wrenches. It features EZ-Plug & Play technology, which is an auto-recognition system with Mountz torque sensors.
View the video.
Ride inside a Boeing T-X fighter jet cockpit with a 360 view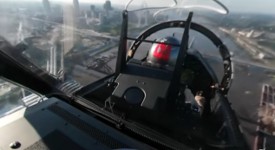 Fly along with test pilots Bull and Grouch inside the T-X cockpit as they soar through the sky near the St. Louis Gateway arch. The Boeing T-X is an all-new advanced pilot training system designed specifically for the U.S. Air Force training mission. It includes trainer aircraft, ground-based training, and support -- all designed together from the ground up. In the highly competitive race to give the American military a replacement for its aging T-38 trainer aircraft, Boeing T-X is the only offering that is more than 90 percent made in America and 100 percent made for the U.S. Air Force. (Hold and drag your cursor to enjoy the 360-degree ride. 360 view may not be supported on some mobile devices.)
View the video.
---