| | |
| --- | --- |
| September 04, 2018 | Volume 14 Issue 33 |
---



New Innovative Way to Take Up Tolerances!
Smalley Linear Springs are a continuous wave-formed (marcelled) wire length produced from spring tempered materials. They act as a load-bearing device having approximately the same load/deflection characteristics as a wave spring. Linear Springs are now available as a standard part in carbon and stainless steel, with over 200 sizes.
Click here for more info.
---
In this issue of Designfax

Mercedes celebrates: Anti-lock braking system turns 40
12 principles of modern military leadership: Part 3
Electronic components printed like newspapers
2,304 motors: LEGO builds life-size drivable Bugatti Chiron
Nexen expands precision rotary indexer line
Engineer's Toolbox: Cushioned aluminum cylinders enhance sawmill performance
100 million random moves: New rotary micro stage
Application Note: Cooling for automotive applications
Precision linear motion drive w/ thrust capacity to 800 lb
How to leverage mechatronics for MCAD and ECAD synergy
New hybrid nylon TPEs are tough, flexible, and more
Advance your modeling skills: COMSOL training courses
Videos+: Technologies and inspiration in action

Opposed-piston diesel engines are crazy efficient

Most Popular Last Issue

America's largest Air Force plane turns 50
Mean, green machine: Lamborghini Aventador
12 principles of modern military leadership Part 2

New Products

Electrical, Mechanical, Motion

Cover Image: Life-size LEGO Bugatti really runs

News

Scientists develop new materials that move in response to light

U.S. Army harnessing power of artificial intel to build smarter robots

New motion control strategy helps reap maximum power from wind farms
---


Impressive Speed and Power, in Hand
MICROMO launches the new FAULHABER 1660 BHx series, a high-power, slotless brushless DC motor based on 2-pole technology that's setting new standards for performance, speed, and power. 16mm in diameter and 60mm in length, the 1660 BHx series motor weighs 78g and is ideal for handheld tools and devices requiring impressive power and high efficiency. Available in two motor design options, each optimized for speed and torque performance.
Learn more.
---
Feature articles


Mercedes celebrates: Anti-lock braking system turns 40
At the end of August 1978, Mercedes-Benz and Bosch presented the digital anti-lock braking system (ABS) in Unterturkheim, Germany. A world first, it helped the driver maintain full control over the car's steering even under emergency braking, because the wheels do not lock. ABS was available in the S-Class (model series 116) from the end of 1978. It redefined the role of the vehicle, which, in the future, was to become a partner on four wheels -- a partner that increasingly provided active assistance to the human behind the wheel.
Read the full article.


12 principles of modern military leadership: Part 3
Leadership is paramount to the success of any army -- and any organization in general. Leaders not only make life and death decisions sometimes, but directly control the climate and quality of life of their subordinates. But what is the real definition of leadership? Capt. Ron Roberts of the U.S. Army's Asymmetric Warfare Group discusses 12 fundamental leadership principles, as well as several educational and inspirational historical examples. How much do they apply to what you do? This is the final article in this series.
Read the full article.


2,304 motors: LEGO engineers build life-size drivable Bugatti Chiron
Nope, it's not a late April Fool's joke. Engineers at LEGO have built a life-size, working Bugatti Chiron (in real life the world's fastest production car) that features more than 1 million LEGO Technic elements and is powered exclusively using LEGO motors. The feat took more than 13,000 man-hours to complete. Really impressive multi-discipline engineering here!
Read the full article.


Nexen expands precision rotary indexer line
The Motor Ready Sealed (MRS) precision rotary indexer maintains the benefits of Nexen's existing patented precision roller pinion drive design -- zero backlash, high precision, high torque, and high acceleration -- while delivering significant new benefits. A high roller pinion-to-gear ratio allows users to direct drive the system with the addition of a servo motor, eliminating the cost of a reducer. For high-load applications, the customer can drive the system with a reducer/motor combination. Additionally, the gear-to-pinion reaction loads are fully supported, so the servo motor shaft is not subjected to radial loading, which eliminates the need for costly high output-capacity reducers in high-load applications. All of these features reduce engineering and installation time.
Learn more.


Engineer's Toolbox:
Cushioned aluminum cylinders are 'Ideal' enhancement for sawmill performance
Pneumatics technology continues to be a valuable player in many types of industrial automation applications. In the past, heavy-duty steel pneumatic cylinders were preferred for lumber production machinery, but more recently that preference has changed. Now a technology called Ideal Cushioning from Aventics Corp., combined with the lighter weight and relatively lower cost of the company's aluminum pneumatic cylinders, enables Baxley Equipment Co. to supply highly competitive trimmers that accelerate lumber processing while reducing excess piston movement and bounce.
Read the full article.


100 million random moves: New lifetime spec for rotary micro stage with integral controller
New Scale Technologies has significantly increased the lifetime specification for its M3-RS-U Rotary Smart Stage, a precision rotary micro stage with embedded controller. The new specification of 100 million random positions underscores the utility of these compact, all-in-one motion modules for integrating embedded motion inside medical, commercial, and industrial instruments. These rotary stages are ideal for beam steering and mirror positioning applications where precise, point-to-point positioning or dynamic scanning up to 100 Hz is needed. Applications include medical instruments such as surgical lasers and fluorescence microscopes, industrial systems for 3D measurements and remote sensing, optical communications systems, and obstacle detection and tracking systems for robots and drones (UAVs).
Learn more.


Application Note: Cooling for automotive applications
Advances in automotive technologies such as smart headlights, autonomous systems for collision avoidance, and infotainment systems require enhanced thermal protection of critical electronics to ensure optimized performance. Packing more functionality into smaller footprints has increased the heat flux density and thermal challenges in automotive electronics. Designing active cooling systems will provide a thermal management solution needed to operate each sensitive device within its temperature range and optimize its performance. Get this in-depth application note from Laird Thermal Systems.
Read the app note (no registration required).


Precision linear motion drive with thrust capacity to 800 lb
The Precision Motion Drive System from Amacoil/Uhing is a Uhing Model RG rolling ring linear drive integrated with a motion controller for precision linear motion applications. The Precision Motion Drive is fully programmable and meets application requirements for precision winding/spooling, pick-and-place machines, X-Y coordinate tool movement, metrology equipment, and other machinery providing fast, accurate positioning and reciprocating linear motion. Depending on the size of the RG drive nut in the system, the Precision Motion Drive System provides from 7 to 800 lb of axial thrust.
Learn more.


How to leverage mechatronics for MCAD and ECAD synergy
One thing at the forefront of most company thinking is how to beat the competition. One way to do this is to create smart products, but that leads to the question, "How?" One possible answer: mechatronics! The name is a combination of mechanics and electronics, however, the discipline includes much more than just the two. Keep reading to discover all about this technology and how it can help you take the lead on your competitors.
Read the TriMech Solutions blog.


New hybrid nylon TPEs are tough, flexible, and more
Nylon Corporation of America has launched an extended product family of nylon (polyamide) -based thermoplastic elastomers (TPEs), also known as polyether-block-amides (PEBA), for a range of applications in the automotive, sporting goods, personal electronics, composite, and specialty films markets. These materials are block copolymers of nylon segments and polyether segments. The nylon block is the hard segment and the polyether block is the soft, flexible segment. NY-FLEX grades are thus hybrid materials, offering a unique combination of rubber-like elastomeric properties and thermoplastic-like processing capabilities. By varying the type and the ratio of these two blocks, a wide range of NY-FLEX grades can be offered.
Learn more.


Advance your modeling skills by attending a COMSOL training course
You are invited to attend COMSOL Multiphysics training courses across the U.S. and Canada in September and October. This series will feature multiple 2-day intensive sessions as well as training courses focused on specific types of physics. Additionally, COMSOL will hold sessions on advanced topics, solver settings, simulation apps, best practices, and more. Really great information here. You can register for any combination of individual courses.
Find a course near you.
---
Most popular last issue


America's largest Air Force plane turns 50
Few planes inspire more awe than the Galaxy (C-5), which can carry two battle tanks across the Pacific Ocean in a matter of hours -- and on a single tank of jet fuel. Earlier this month, Lockheed delivered the latest upgraded version, called the C-5M Super Galaxy, to the U.S. Air Force. By Tomas Kellner, GE Reports
Read the full article.


Mean, green, aerodynamic machine: Lamborghini Aventador SVJ
Designers and engineers at Lamborghini drew on inspirations including spaceships and jet fighters to create the latest version of the Italian luxe brand's V12 flagship supercar model, the Aventador SVJ. Designed for "aerodynamic supremacy," the mean and green machine features four-wheel drive and four-wheel steering, significant downforce improvement, and holds the Nurburgring-Nordschleife production-car record for fastest lap time on that famous track
Read the full article.
---
Videos+: Technologies and inspiration in action
Opposed-piston diesel engines are crazy efficient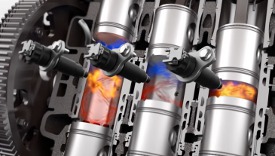 Jason Fenske from Engineering Explained takes a look at the Achates Power opposed-piston engine, which is packed full of unique technology. The supercharged, turbocharged, diesel three cylinder makes use of six pistons, two of which operate in each cylinder. It's a two-stroke design, meaning every time the pistons come together a power stroke occurs, forcing both pistons away from one another and rotating their respective crankshafts. The two crankshafts are geared together to a common output shaft, which powers the vehicle. Research has shown two-stroke opposed-piston engines to be wildly efficient. Three-cylinder designs are the most efficient, and it's possible to achieve brake thermal efficiencies as high as 55percent, a massive improvement for road car engines.
View the video.
---