| | |
| --- | --- |
| September 11, 2018 | Volume 14 Issue 34 |
---
In this issue of Designfax

U.S. Army working on tripling energy of explosives
Lightweighting: GM using generative design software
These lithium-ion batteries can't catch fire
Chevrolet unveils Colorado ZR2 Bison ruggedized off-roader
Nexen expands precision rotary indexer line
Engineer's Toolbox: How Design for Assembly helps additive manufacturing succeed
Universal Robots' 25,000th cobot sold is gold edition
How colorants affect plastic characteristics
Build a mini synchronous drive system
Electromechanical actuators with modular design
Through-beam object-detecting fork sensors
160 pages of piezo linear motors, stages, multi-axis motion
QTR Series Torque Motors by Tecnotion
Videos+: Technologies and inspiration in action

The smallest wave springs on the market
See world's most efficient aero engine assembled

Most Popular Last Issue

2,304 motors: LEGO life-size drivable Bugatti
12 principles of modern military leadership Part 3
Opposed-piston diesel engines are crazy efficient

New Products

Electrical, Mechanical, Motion

Cover Image: Chevrolet unveils Colorado ZR2 Bison

News

Check the back seat: Rear Door Alert technology to become standard on all four-door Nissan nameplates

Human pilots vs. machines: Lockheed Martin and Drone Racing League launch groundbreaking AI innovation challenge

Airbus manned glider soars to 76,000 ft to break own altitude record, surpassing even U-2 reconnaissance plane

Why a robot can't yet outjump a flea: How small creatures generate world's fastest snaps, jumps, and punches
---


Guide to overmolding best practices
Overmolding is a great injection molded feature you can utilize in your design to capture color contrasts, add flexibility or eliminate assembly. Take advantage of this feature by learning how to design your part for overmolding.
You'll learn:


How to set up your design for complex overmolding
Material evaluation and best practices for proper adhesion
Feature specifications to consider for good overmolds

Get the Xcentric overmolding guide (no registration required).


Nexen expands precision rotary indexer line
The Motor Ready Sealed (MRS) precision rotary indexer maintains the benefits of Nexen's existing patented precision roller pinion drive design -- zero backlash, high precision, high torque, and high acceleration -- while delivering significant new benefits. A high roller pinion-to-gear ratio allows users to direct drive the system with the addition of a servo motor, eliminating the cost of a reducer. For high-load applications, the customer can drive the system with a reducer/motor combination. Additionally, the gear-to-pinion reaction loads are fully supported, so the servo motor shaft is not subjected to radial loading, which eliminates the need for costly high output-capacity reducers in high-load applications. All of these features reduce engineering and installation time.
Learn more.


Engineer's Toolbox: How Design for Assembly helps additive manufacturing succeed
Product development today is still a type of puzzle board, a maze of individual parts and players that need to fit together. Additive manufacturing can begin to really change that, but it will only do so if we know how to drive all design facets and puzzle pieces toward simplicity -- and can see the purpose of the product as a whole, executed in as few parts, operations, and suppliers as possible. Nicholas Dewhurst, Executive VP, Boothroyd Dewhurst, takes a deep dive into the (sometimes seemingly complex) process of part simplification using the latest technologies. Great information here!
Read the full article.


Universal Robots' 25,000th cobot sold is gold edition awarded to customer at IMTS
To celebrate the sale of 25,000 cobots worldwide, Universal Robots gave away its first and only Gold Edition cobot to the lucky customer who ordered the 25,000th cobot. The milestone was announced Sept. 10 in Chicago at IMTS, the nation's largest manufacturing trade show. Cobots are now the fastest growing segment of industrial automation, expected to jump tenfold to 34 percent of all industrial robot sales by 2025.
Read the full article.


How colorants affect plastic characteristics
If you're starting a custom plastic injection molding project, you'll want to select a material with the properties most suitable for the function of your parts. One aspect of polymer characteristics that doesn't always get the consideration it deserves is the addition of colorant. Believe it or not, there is a whole scientific body of knowledge about the ways in which adding color to plastic can affect the behavioral properties of the plastic. This short article by Denny Scher of ICO Mold takes a high-level look at some of the different, and surprising, ways colorants can have an effect on plastics.
Read the full article.


Build a mini synchronous drive system
With the Miniature Synchronous Drive System from Stock Drive Products (SDP), you can put your own 1-, 2-, or 3-mm design together in a snap. The tiny timing belts and pulleys are engineered and manufactured to give high accuracy and smooth, dependable operation in 3D printers, moving security cameras, med devices, robotic surgical equipment, self-service machines, and more. Advantages include no-slip synchronization, accurate positioning, high torque transmission with low backlash, quiet operation, and long belt life.
Click here to learn more.


Electromechanical actuators with modular design
SKF CASM-100 electromechanical actuators from SKF Motion Technologies have been uniquely engineered with a modular design, enabling tailored solutions for a wide range of industrial linear movement and positioning applications. Modules provide choices among motor types, gearboxes, ball screws or roller screws, and accessories. Standardized interfaces connect the different components. These actuators use up to 80 percent less energy than pneumatic cylinders and 50 percent less energy than hydraulic alternatives and eliminate any need for constantly running compressors, hoses, and other components.
Click here to learn more.


Through-beam object-detecting fork sensors
Fork sensors (slot sensors) from AutomationDirect are U- or L-shaped through-beam object-detecting sensors that have the transmitter and receiver built into the opposing "fork" arms of the sensor housing. New PS series fork sensor additions include harsh-duty U-frame sensors for food applications, L-frame or angled fork sensors for unique mounting situations, and fork sensors for liquid detection. Depending on the model, PS series fork sensors are available in visible red, infrared, and laser lighting and in sensing ranges from 5 mm to 220 mm.
Learn more.


QTR Series torque motors by Tecnotion
With Tecnotion torque motors, the magnetic design is optimized for maximum flux density and copper fill to provide very high torque-to-volume ratios. Motor sizes from 68-mm to 160-mm diameters are available, packing serious power to work with any servo drives on the market. Tecnotion torque motors are extremely compact, provide a very stiff drive train, eliminate the need for time-consuming mounting procedures, are virtually maintenance free, and can be integrated directly into the machine structure, while the spacious open inner diameter enables wire and cable feedthrough. The entire series comes with completely sealed stators and integrated temperature protection and measurement sensors.
Learn more.
---
Most popular last issue


2,304 motors: LEGO engineers build life-size drivable Bugatti Chiron
Nope, it's not a late April Fool's joke. Engineers at LEGO have built a life-size, working Bugatti Chiron (in real life the world's fastest production car) that features more than 1 million LEGO Technic elements and is powered exclusively using LEGO motors. The feat took more than 13,000 man-hours to complete. Really impressive multi-discipline engineering here!
Read the full article.


Opposed-piston diesel engines are crazy efficient
Jason Fenske from Engineering Explained takes a look at the Achates Power opposed-piston engine, which is packed full of unique technology. The supercharged, turbocharged, diesel three-cylinder makes use of six pistons, two of which operate in each cylinder. Research has shown two-stroke opposed-piston engines to be wildly efficient. Three-cylinder designs are the most efficient, and it's possible to achieve brake thermal efficiencies as high as 55 percent, a massive improvement for road car engines.
View the video.
---
Videos+: Technologies and inspiration in action
Introducing the smallest wave springs on the market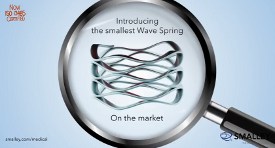 Smalley is involved in the development of medical technology and applications unique to the medical industry, and we are now ISO 13845 certified. We deliver high-quality alloys that are used for implants and medical instruments. Alloys including 316 Stainless Steel, Elgiloy, Inconel, and Titanium are readily available for fast production. Customs can be designed with No-Tooling-Charges™ in sizes from .157" and 4 mm.
View the video.
See world's most efficient aero engine assembled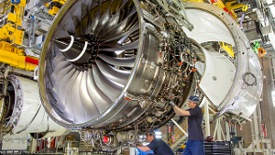 It takes more than 20,000 components perfectly fitted together to build the world's most efficient and fastest-selling wide-body jet engine, the Trent XWB. See how it is done at Rolls-Royce's assembly plant in Dahlewitz, Germany. The A350-1000 is the latest member of Airbus' leading wide-body family to use the engine line. The newest iteration provides 97,000 lb of thrust and includes new high-temp turbine technology, a larger engine core, and advanced fan aerodynamics.
View the video.
---