| | |
| --- | --- |
| October 09, 2018 | Volume 14 Issue 38 |
---



The World's First -- and Best -- Linear Motion Guides
THK's original technology is behind the smooth and silent movement of the "Linear Motion System." The LM Guide is our major product that put the rolling of the linear motion part into practical use for the first time in the world. This improves the accuracy, rigidity, energy saving, velocity, productivity, and service life of the machine. THK offers a full support system from the beginning design phase throughout the maintenance, and follow-up service.
Click here to learn more.
---
---


Are You Spending Too Much On Metal Bellows?
Making an error when choosing the right material for your application's performance requirements could be one reason a project is over or under budget. Finding the right material at the right price doesn't have to be difficult. BellowsTech edge welded bellows are available in a wide variety of materials with a range of media compatibilities. Our newly developed one-page "Material Selection Guide" quickly and easily helps you compare leak rates, temperature ranges, tensile strengths, and more of various typical applications.
View infographic ...
---

Feature articles

50 years ago: On the way to the Moon
In the race to fly humans to the Moon in the 1960s, the Soviet Union supported two separate programs. One based on the Saturn-V class N1 Moon rocket planned to land a single cosmonaut on the Moon. The other, the L1 or Zond program (modified Soyuz spacecraft), planned to send two cosmonauts on circumlunar missions without a Moon landing. [Countdown Series: 50th anniversary of Apollo 11]
Read the full article.

---


Molded threads and how to design them
Molded threads are everywhere as part of mass-produced plastic parts we encounter every day, parts that were made using multi-cavity, highly automated molds costing hundreds of thousands of dollars and requiring many months to design and manufacture. But what if you don't have that kind of time or money? No worries, that's what contract manufacturers like Protolabs are for. Just follow some basic design guidelines, and understand that the threads found on molded parts are a bit different than the ones made in a machine shop.
Read the full article.


Robots can now pick up any object after
inspecting it
Breakthroughs in computer vision have enabled robots to make basic distinctions between objects, but even then, they don't truly understand objects' shapes, so there's little they can do after a quick pick-up. But researchers from MIT's Computer Science and Artificial Intelligence Laboratory (CSAIL) say they've made a key development in this area of work.
Read the full article.


Atlantic Spring Heavy Wire Die Spring Specialists
Custom die springs manufactured by Atlantic Spring, a MW Industries company, use a broad range of rectangular cross-sections that can be developed out of a variety of materials including titanium, 300 series stainless steel, and 17-7 PH Stainless. Engineering professionals will optimize designs to specifically fit their customer's application for best performance and lowest cost. Custom die springs are ideal in applications where heavy shock load and cycle life are paramount.
Learn more here.


INFINITI Project Black S brings Formula One tech to the road
Based on the INFINITI Q60 sports coupe, Project Black S is an engineering testbed exploring how Renault Sport Formula One Team-inspired dual-hybrid powertrain technology (using both heat and kinetic energy-harvesting systems) can be deployed in a twin-turbo V6 gasoline road car. The prototype represents the state-of-the-art performance, dynamic capability, effective aerodynamics, and intelligent energy management offered by INFINITI.
Read the full article.


Alternative to traditional drive systems
Nexen Group has introduced a stainless steel version of its patented precision roller pinion system (RPS). The Nexen RPS engages two teeth simultaneously to achieve superior accuracy with zero backlash at any length. The system is also extremely quiet and 99 percent efficient. Stainless steel makes the system corrosion resistant, with a long life of up to 36 million meters. Nexen's RPS provides a low-maintenance, durable alternative to rack and pinion, ball screw, and belt drive technology. The RPS is used for a wide range of applications including laser cutting, plasma cutting, and gantry applications.
Learn more.


Engineering Essentials: Sheet metal design guide
If you're looking for a basic guide to sheet metal design, this one from Xometry will serve your needs well. Be sure to follow the design requirements and tolerances in this guide to ensure parts fall closer to design intent. This is the type of information you'll sock away and then refer to again and again.
Read the full article.


Flexible circuit design guide
Tech-Etch uses advanced techniques to manufacture flex and rigid-flex circuits to exacting customer specifications. Special processes include selective plating a single circuit with two different finishes, contoured circuits with variable metal thickness, semi-additive and subtractive techniques, open window or cantilevered contact leads, plus SMT for component assembly. Tech-Etch specializes in flexible circuits for medical device, medical implant, diagnostic ultrasound, and patient monitoring applications, in addition to telecommunications, aerospace, semiconductor, and other high-reliability electronic applications.
Learn about flex circuits and download the guide (no registration required).


Great Resources: ABCs of gears and more
KHK USA takes you on a journey through the history and applications of gears in two information-packed free volumes called "The ABCs of Gears." Part A is aimed at beginners, while part B moves on to intermediate fare, such as types of gears and tooth forms, heat treatment, surface treatment, production methods, etc. Another mid-level text called "Introduction to Gears" and an in-depth "Gear Technical Reference" are also available, chock full of materials information and calculation examples and tables. Best of all, there is no registration for any of these valuable no-cost PDF resources.
Click here to learn more.


Drop-in solution makes your machine ready for Industry 4.0
Bosch Rexroth's IoT Gateway Rack is an IP65-rated enclosure containing Rexroth's award-winning IoT Gateway. It includes all the necessary wiring and connections to connect PLCs, I/O, and other data sources for collection, processing, and forwarding of plant floor data to upper-level data systems, making it ideal for retrofitting older machines with Industry 4.0 data-transfer capabilities. The plug-and-play design allows OEMs to use the IoT Gateway Rack as an optional addition to their existing machines. Uses standard 110-V plug.
Learn more.


Structural adhesive offers high-temperature stability
DELO MONOPOX HT2860 achieves up to three times the strength at a temperature of 150 C compared to previous product generations. Ideal for bonding magnets in electric motors used in cars, drilling, milling tools, washing machines, as well as in many other applications, this new adhesive has a glass transition temperature (Tg) of 168 C. It achieves a strength of 18 MPa on sand-blasted aluminum at 150 C. This is up to three times higher than standard epoxy resins. The versatile epoxy resin can be heat-cured in an oven for 40 minutes at 150 C or by induction.
Learn more.


New food-grade high-performance PEEK polymers
To help OEMs meet the stringent regulatory and quality demands affecting the food equipment industry, Victrex is introducing a dedicated PEEK food-grade portfolio. Compared to metal components, the new VICTREX FG family of high-performing thermoplastics offers additional benefits in terms of cost effectiveness, productivity, and performance for OEMs -- and the neutral taste expected by consumers. In addition, with the adoption of Industry 4.0 technology, VICTREX PEEK can offer food and beverage manufacturers the opportunity to optimize efficiency and reduce production costs, when compared to the use of metals.
Learn more.


Cool Tools: Minimally invasive video borescope
Extech Instruments has launched the BR250-4, an affordable and versatile wireless inspection borescope designed to get into openings as small as 4.5 mm while providing bright clear images on its detachable, wireless 3.5-in. color display. When you need to get into walls, ducts, furnaces, boiler tubes, air handlers, exchangers, coils, plenums, and other concealed or hard-to-access areas, this is your hero. And when there's no existing opening and drilling is required, making a much smaller hole leaves minimal damage.
Learn more.
---
Most popular last issue


Chevy Blazer line comes back to life
Like the proverbial phoenix rising from the ashes, the Chevrolet Blazer line is back. This time around, the nameplate is a midsize SUV lineup that is bold, athletic, and filled with options and features -- and it comes ready to do some real work.
Read the full article.


Researchers identify new metal superalloy
Japanese scientists have identified a metal able to stand up to constant forces in ultra-high temperatures, offering promising applications in aircraft jet engines, gas turbines for electric power generation, and more. The alloy is extremely strong compared with cutting-edge Nickel-based single-crystal superalloys.
Read the full article.
---
Videos+: Technologies and inspiration in action
What machine builders want in a Precision Linear Stage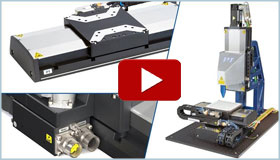 Design engineers in the precision automation market often put different things at the top of their requirement lists than their colleagues in the instrumentation sector. Some requirements could include robustness, minimum dimensions, dynamic performance, and 24/7 reliability. The high dynamics and low maintenance of linear stages deserve a second look by engineers.
Read tech article>
Watch video>
---