| | |
| --- | --- |
| October 23, 2018 | Volume 14 Issue 40 |
---



30-Second Quotes for Plastic Injection Molding
ICOMold offers the only instant quotations in the plastic injection molding industry. Simply upload your CAD models, specify your plastic material, quantity and other options, and within 30 seconds you will get your mold cost and piece price. The online quote system is also interactive -- you can change your options and see your new price instantly.
Get an instant quote now.
---
---
---
Feature articles


Ford starts using graphene in vehicle parts
It's in cell phones and even some sporting goods -- and soon, for the first time in automotive, it will be under the hood in Ford vehicles. It's the wonder material graphene -- a two-dimensional nanomaterial. When mixed into foam materials, the graphene imparts impressive functional properties.
Read the full article.


3D-printer 'fingerprints' can trace 3D-printed guns
Like fingerprints, no 3D printer is exactly the same. That's the takeaway from a new University at Buffalo-led study that describes what's believed to be the first accurate method for tracing a 3D-printed object to the machine it came from. The advancement could also help track the origin of counterfeit products and other goods.
Read the full article.


GE designing engine for world's first supersonic business jet
On Oct. 15, GE Aviation announced that it has completed the initial design of the first supersonic engine purpose-built for business jets. The new engine class, which will be featured on the Aerion AS2 plane, will be called the GE Affinity turbofan. Aerion Corporation plans to fly the AS2 12-passenger jet in 2023, with certification in 2025. Other development partners in the venture include Lockheed Martin and Honeywell.
Read the full article.


12 key factors in bellows design
What do you need to know to design your own custom bellows? The specialists at Servometer have prepared this handy resource for you. Typical bellows applications include: volume compensators, actuators, electrical spring contacts, pressure switches and transducers, flexible shaft couplings, and more.
Read the full article.


SmartMotor can handle extreme low temps
Moog Animatics has released its new Low Temperature Range (LTR) SmartMotor in two standard NEMA frame sizes: model SM17205M-LTR (the LTR-17) and model SM23165M-LTR (the LTR-23). Both motors have been meticulously engineered for robust and reliable operation in extremely frigid environments and at high altitudes. To achieve this, onboard internal heaters ensure that the motors can start up in temperatures below -40 degrees C. Other design changes allow these motors to withstand random vibrations up to 6G 10-2000 Hz, and standard IP sealing protects the motors from condensation.
Learn more.


New 3M tape tackles high-temp fastening applications
Since 1980, 3M VHB Tapes have opened the door to faster and easier assemblies. Now, the new GPH series from 3M combines the extreme, permanent bonding power and convenience of 3M VHB Tapes with high-temperature resistance. It can withstand operating temperatures up to 450 F, with long-term durability in conditions up to 300 F. Users will experience excellent adhesion to high and medium surface energy materials, as well as coated or painted surfaces. 3M VHB Tapes, including the new GPH series, replace traditional mechanical fasteners, subsequently eliminating processes like drilling, grinding, refinishing, screwing, welding, and associated rework/clean-up.
Click here to learn more.


Protect internal threads during paint and powder coating processes
New PEM PreTect thread masking plugs from PennEngineering will protect internal threads of self-clinching nuts and standoffs during paint and powder coating processes. The pre-installed silicone masking plugs -- supplied already in place -- have been designed for self-clinching blind standoffs, thru-hole standoffs, and nuts in thread sizes #4-40 to 1/4-20 and M3 to M6. Plugs can be augmented for thru-hole fastener types with a specially engineered stretched polyester film offering thread protection on the side opposite the plug. Plugs and film can be removed easily using a fine tip tool when processes are completed.
Learn more.


Tech Tip: Why use flame-resistant adhesives?
Learn about the benefits of flame-retardant adhesive and potting systems, including how they mitigate the risks associated with smoke, toxicity, and flames. Several Master Bond epoxies have been formulated to meet the stringent UL94V-0 specification and pass the horizontal/vertical burn test per FAR standard 14 CFR 25.853 (a). These products feature non-halogenated fillers, have low smoke emissions, and are self-extinguishing.
Learn more.


1000Base-T1 automotive Ethernet common mode choke
Pulse Electronics' Networking Business Unit has introduced the 1000Base-T1 Ethernet Common Mode Choke for automotive applications. Designed to deliver high reliability and performance, the AE5002 1000Base-T1 series is ideal for applications such as Infotainment, Advanced Driver Assist Systems (ADAS) Body Control, Camera/Radar, Gateways, and Backbone Diagnostics.
Learn more.


Lube nozzles oil the wheels of aviation gearboxes
Gearboxes used in aviation and other similar demanding applications are specially designed, held to tight tolerances, and require precise and reliable lubrication. This is in contrast to how gearboxes in heavier, more industrial applications tend to be immersed in lubricant without the need for targeted lubrication. The delivery of precise, highly accurate (and in some cases screened lubricants) is usually provided by lube nozzles. The Lee Company, with over 70 years of experience in precision fluid control, is able to offer special nozzle designs to meet most requirements. Safety screens can be added for additional protection.
Click here to learn more.
---
Most popular last issue


Wheels: Fastest cop car is now an SUV
A sport utility from Ford is the best-selling cop car in America, and now it is the best accelerating and fastest police vehicle in the United States, according to preliminary test data from the Michigan State Police. The Ford bested all entries, including V8-equipped sedans, with its EcoBoost-powered all-wheel-drive version of the all-new 2020 Police Interceptor Utility -- and it's fuel efficient too.
Read the full article.


Aluminum on its way to gaining titanium-like strength?
Russian scientists at the National University of Science and Technology MISIS in Moscow have proposed a technology that can double the strength of products made with 3D-printed aluminum powder when that material is specially formulated. The feat advances the characteristics of these products to challenge the quality of titanium alloys in some applications.
Read the full article.
---
Videos+: Technologies and inspiration in action
An automation first: Cobot rings New York Stock Exchange closing bell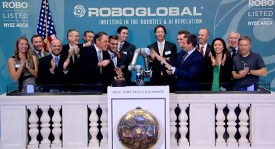 A robot arm -- well, a cobot, actually -- rang the closing bell at the New York Stock Exchange (NYSE) on Oct. 17. In an automation first, the prestigious task was performed by a Universal Robots UR5e fitted with a two-fingered gripper from Robotiq. Since no safety guarding is required with UR cobots, the affair was pulled off with little setup, and the cobot was viewed as just one of the gang. Cobots are now the fastest growing segment of industrial automation, expected to jump tenfold to 34 percent of all industrial robot sales by 2025. Universal Robots pioneered the market by selling the first commercially viable cobot in 2008 and has kept its early frontrunner position with a 60 percent global share of the cobot market, selling more cobots than all competitors combined.
View the video.
Do we really need 10-speed transmissions?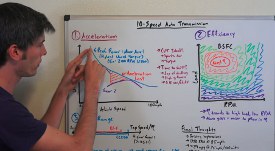 According to Jason Fenske from Engineering Explained, "There are very legitimate reasons why we're seeing 10-speed automatic transmissions implemented in new cars, such as the Lexus LC500. More gears means a broader range of gear ratios without massive steps between those gear ratios. It means you can keep your car's engine closer to peak horsepower in order to achieve maximum acceleration, and it means you can put your engine in the right load and RPM range in order to maximize efficiency." Fenske dives deeper into this subject.
View the video.
---