| | |
| --- | --- |
| November 06, 2018 | Volume 14 Issue 41 |
---



Noisy Bearing??
Single-turn wave springs are ideal for bearing preload. The spring preloads the bearing through its outer race, taking up play in the bearing. This reduces bearing damage, wear, noise, and vibration. Smalley has stock parts from .188" to 16". Customs are available from .157" to 120".
Learn more.
---
---


New 22mm Brushless Servo Motor Packs a Punch
MICROMO launches the brand new FAULHABER 2264 BP4 series brushless DC servo motor. At 22 mm in diameter, 64 mm in length and weighing only 140 grams, the 2264 BP4 series delivers 59 mNm of continuous torque, and reaches speeds up to 34,500 RPM. This impressive power and performance capability is possible due to a new segmented winding of the coil, which also improves overall efficiency of the motor.
Learn more. This motor has many applications.
---
Feature articles


Inside look: Painting cars for Mars
NASA's JPL paint shop does a thousand different paint jobs a year. And while every piece of spacecraft that comes through the shop is important, one headed for the Red Planet -- in this case, the Mars 2020 rover -- adds a little extra oomph.
Read the full article.


Mopar reimagines 1968 Dodge Charger with modernized 1,000-hp 'Super Charger' concept
Dodge and Mopar set out to wow the crowds at the 2018 Specialty Equipment Market Association (SEMA) Show Oct. 30 to Nov. 2 -- and boy did they ever with the 1968 Dodge "Super Charger" Concept. The stealthy muscle car, excitingly faithful to the original design language, features modern elements from the current Dodge Charger SRT and Challenger SRT lineup to showcase the new 1,000-hp "Hellephant" 426 Supercharged Mopar Crate HEMI V8 engine and kit.
Read the full article.


30-second quotes for plastic injection molding
ICOMold offers the only instant quotations in the plastic injection molding industry. Simply upload your CAD models, specify your plastic material, quantity and other options, and within 30 seconds you will get your mold cost and piece price. The online quote system is also interactive -- you can change your options and see your new price instantly.
Get an instant quote now.


Cross roller ring can swing the loads
Because it has orthogonally arranged cylindrical rollers, the cross roller ring from THK is a roller bearing with high rotation accuracy capable of bearing loads in every direction. Cylindrical rollers are arranged with each roller perpendicular to the adjacent roller, in a 90-deg V groove, separated from each other by a spacer retainer. This design allows just one bearing to receive loads in all directions including radial, axial, and moment loads. This component is optimal for applications such as joints and swiveling units of industrial robots, swiveling tables of machining centers, rotary units of manipulators, precision rotary tables, medical equipment, measuring instruments, and IC manufacturing machines. Available in several rotation configurations including inner/outer ring, inner ring only, and outer ring only. And now a new micro cross roller ring is perfect to handle smaller applications.
Learn more about THK cross roller rings.
Learn about the new Micro Cross Roller Ring RAU.


Smart gripper has fingertip sensors that see and feel objects
You can automate high-precision assembly tasks with the OnRobot RG2-FT smart gripper. The built-in 6-axis F/T sensors at the fingertips provide extremely accurate gripping for better production quality. This gripper is so smart it detects the risk of slipping before it happens! The Danish company OnRobot has just opened its U.S. headquarters in Dallas. The company is a global leader in end-of-arm tooling for collaborative robots and also provides hardware and software used with collaborative robots from a variety of robot manufacturers such as Universal Robots, KUKA, FANUC, and Yaskawa.
Learn more.


See further at higher sensitivity: Advanced, lightweight infrared camera core for imaging gimbals
Sierra-Olympic Technologies, a supplier of infrared (IR) and thermal imaging components, cameras, and systems solutions, has just introduced the Ventus 275, a midwave-infrared imaging engine with a continuous zoom (CZ) optic. Advanced image enhancements include electronic image stabilization, automatic/manual gain control, adaptive contrast control, and optional target tracking/detection. This compact, lightweight MWIR thermal camera core is specially designed for OEM integrators of surveillance system enclosures and other imaging gimbals.
Learn more.


World's most compact 3,000-W integrated servo motor
JVL's newest addition to its motor portfolio is a complete, high-capacity MAC motor with a rating of 3,000 W. MAC motors are complete servo systems that include a high-dynamic AC servo motor, hall sensors, encoder, power supply, driver, and positioning controller and Nano-PLC, as well as options for incorporating various control modules such as Bluetooth, WLAN, ZigBee, EtherCAT, EtherNet/IP, CANopen, DeviceNet, Profibus, Profinet, Nano PLC, and more. With a length of only 311.8 mm and a torque of 9.55/28.6 Nm at 3,000 rpm, this MAC motor matches the size of traditional servo motors without built-in controllers. Many more features.
Learn more.


3D print then mill: Edgecam 2019 R1 includes additive machining module
Supporting the Direct Energy Deposition method, Edgecam now offers a dedicated manufacturing cycle that accurately guides a laser as it deposits material to form a shape. After that, the shape is machined using Edgecam's milling cycles to create the final component. As Edgecam 2019 R1 now offers full ToolStore support for Additive Manufacturing, shapes can be built using almost any milling cycle, including advanced functions such as rotary and 5-axis simultaneous machining.
Learn more.


World's smallest safety laser scanner
A laser scanner is a safety device that uses the reflection of laser beams to detect the presence of objects or people. The SE2L Safety Laser Scanner from IDEC is the world's smallest unit of its kind -- and the world's first with master/slave functionality and dual protection zones. This scanner is certified for use in safety applications including AGVs, forklifts, robots, and other items of moving equipment found in industrial facilities.
Learn more.


GM goes into eBike business, name its brand for 10 grand
What's in a name? Well, 10,000 bucks if you come up with the right one. General Motors is developing a folding and compact electric bike line, but it's stumped by what to call it. They're looking for "simple, smart, and bold concepts capable of bringing the eBike brand to life" and "fun ideas capable of being understood around the world." Have you got a knack for naming? Well don't spin your wheels. The deadline is Nov. 26.
Find out more.
---
Most popular last issue


Ford starts using graphene in vehicle parts
It's in cell phones and even some sporting goods -- and soon, for the first time in automotive, it will be under the hood in Ford vehicles. It's the wonder material graphene -- a two-dimensional nanomaterial. When mixed into foam materials, the graphene imparts impressive functional properties.
Read the full article.


GE designing engine for world's first supersonic business jet
On Oct. 15, GE Aviation announced that it has completed the initial design of the first supersonic engine purpose-built for business jets. The new engine class, which will be featured on the Aerion AS2 plane, will be called the GE Affinity turbofan. Aerion Corporation plans to fly the AS2 12-passenger jet in 2023, with certification in 2025. Other development partners in the venture include Lockheed Martin and Honeywell.
Read the full article.
---
Videos+: Technologies and inspiration in action
Attack the Stack! Apply Parallel Kinematics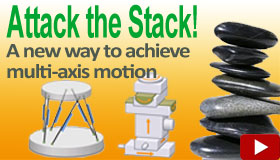 Multi-axis motion is traditionally created by stacking linear, rotary, and goniometer stages. But there's a new way to achieve controlled precise motion -- parallel kinematics. Hexapods deliver multi-axis motion in one stage with 6 legs, in any direction, with an easily programmed single center of rotation (pivot point). Should you be trading in the stack for a hexapod?
Watch video >
---