| | |
| --- | --- |
| December 04, 2018 | Volume 14 Issue 45 |
---



Low-Profile Retaining Rings
Smalley Hoopster® Rings fit into shallower grooves than regular snap rings or retaining rings. Where retaining rings once were not an option because of groove depth, the low profile, precision circularity and small radial size allow Hoopsters to be unobtrusive components, ideal for thin wall tubes.
Learn more.
---
---


Impressive Speed & Power, in Hand
MICROMO launches the new FAULHABER 1660 BHx series, a high-power brushless DC motor based on 2-pole technology setting impressive standards for performance, speed, and power. 16mm in diameter and 60mm in length, the 1660 BHx series motor weighs only 78g and is ideal for handheld tools and devices requiring impressive power and high efficiency. Available in two motor design options, each optimized for speed and torque performance.
Learn more. There are many applications for this motor.
---

Feature articles

World's first 3D-printed titanium wheel unveiled
HRE Wheels and GE Additive recently unveiled the first titanium wheel created using electron-beam additive manufacturing (EBM), a type of 3D printing. Called the "HRE3D+," the prototype wheel demonstrates what the future of wheel technology will bring using advanced materials, processes, and design.
Read the full article.

---


Wings: Researchers fly first-ever ion drive plane
MIT engineers have built and flown the first-ever self-powered plane with no moving parts. Instead of propellers or turbines, the light aircraft is powered by an "ionic wind" -- a silent but mighty flow of ions produced aboard the plane that generates enough thrust to propel the aircraft over a sustained, steady flight.
Read the full article.


Wheels:
Jeep rolls out Gladiator -- first pickup in 25 years
Jeep rolled out something really big at the LA Auto Show last week, and it came in the hulking form of the Gladiator -- the brand's first new pickup in just over 25 years. The very versatile midsize truck line promises open-air freedom, impressive on- and off-road dynamics, best-in-class towing, fuel-efficient powertrains, innovative safety and advanced technology features, and more.
Read the full article.


Holiday gifts for engineers and makers of all ages
Featuring more than 30 unique products, Newark element14's Holiday Gift Guide includes a range of developer kits and other tools for engineers of all ages and abilities, from those with decades of experience to those just starting out. Whether you're shopping for a gadget collector, budding engineer, hobbyist, or professional, this gift guide is a one-stop-shop for finding something they're sure to love, like a Raspberry Pi 3 Model B+ Starter Kit, wearable technology for beginners, low-cost 3D printer, and much much more.
Find that special something.


Big additions to miniature LED product line
Thanks to the recent acquisition of Display Products, Inc. (DPP), VCC is offering LEDs that drive energy-saving solutions for a range of applications. In mid-October, VCC announced the first wave of available replacement LED products, including the bi-pin model of the T-2 Slide Based LED Lamp. Now, the innovative company is making additional models available to provide several benefits for manufacturers, designers, and even end users seeking ways to improve efficiency and reduce maintenance costs. This next wave of rollouts includes T-2 Slide Based LED lamps in voltages ranging from 12V to 120VAC, as well as the new and noteworthy T-3 1/4 Miniature LEDs.
Learn more.


Electric high-force linear actuator choices: Ball vs. roller screw
Many applications require high-force linear actuators -- from moving equipment in a foundry to powering a press in metal forming to guiding heavy logs in a sawmill. Whatever the application, a machine designer is faced with a choice: whether to specify a ball or roller screw in the electric high-force linear actuator. Learn how to make the best decision for your application.
Read the Tolomatic blog.


When should you 3D print jigs and fixtures?
Jigs and fixtures are typically machined, but industrial 3D printing can often be used as a complement or alternative to machining. Designing irregular or complex shapes? Need smaller-than-usual tooling? Building components that are difficult or impossible to machine? If so, additive manufacturing is probably a good fit for your jigs, fixtures, and other tooling needs.
Read the Protolabs design tip.


Micro-brakes for precise motion control applications
The ultra-compact 112 Model Electromagnetic Micro-Brakes from Miki Pulley ensure fast response in high-torque, demanding applications. The simple design features a stator with integrated mounting flange, proprietary composite friction liner, and armature complete with ring plate spring and hub. These brakes halt rotation mechanically by utilizing an electromagnetic field to create mechanical friction. With fast response, the brake's armature engages the stator when the coil is energized. A constant-force plate spring transfers torque to the rotating brake body, halting all motion.
Learn more.


Biggest reasons engineers hate their CAD system
Darren Garnick of Onshape says that, in a CAD satisfaction survey of 230 design professionals last year, Engineering.com asked a very provocative question: What do you hate most about your CAD software? The research, sponsored by SOLIDWORKS, revealed these four things that engineers and designers despise the most (in order of importance).
Read this informative Onshape blog.


Expanded TPE portfolio for soft-touch surfaces
The new FG/SF THERMOLAST K series compounds from KRAIBURG TPE provide design flexibility, cost-effective processability, and flawless surface quality. They comply with all established automotive standards set by OEMs with regard to emission and odor, and they also provide permanent UV stability. The flexible materials are available in hardness grades ranging between 50 and 80 Shore A. They offer excellent adhesion to polypropylene in two-component applications and provide attractive, satin-finished surfaces with a pleasant soft-touch feel and permanent abrasion resistance.
Learn more.
---
Most popular last issue


All-new Toyota 2019 RAV4: More sport, more utility
Toyota was instrumental in creating the compact crossover SUV segment with the original RAV4 more than two decades ago, and now the Japanese automaker aims to redefine it. In recent years, automakers smoothed out compact SUV design, adopting more passenger car-like traits. The all-new, fifth-generation RAV4 brings back a more dedicated SUV appearance, more sport, and more utility.
Read the full article.


Boeing 777X final body join
It's official! Workers at Boeing are joining together the first 777X flight test airplane at the company's Everett, WA, site. In this video, the three main sections come together. Great progress is being made as Boeing prepares for flight test in 2019 of what will be the most fuel-efficient twin-engine airplane in the world.
View the video.
---
Videos+: Technologies and inspiration in action
Honey, I shrunk the V-8 engine!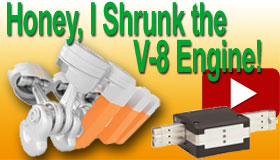 Piezo V8 Linear Motor: Borrowing from the classic design of a V-8 engine to achieve high push/pull and holding forces, patented piezo actuator technology and linear stepping motion design principles come together to create the fastest and strongest non-magnetic drive of its class size. These piezoelectric motors are self-clamping, i.e. at rest or in steady state mode, they automatically hold the position without any need for power. Learn how this technology can be used in your application.
Watch video >
---