| | |
| --- | --- |
| December 18, 2018 | Volume 14 Issue 47 |
---



Guide to overmolding best practices
Overmolding is a great injection molded feature you can utilize in your design to capture color contrasts, add flexibility or eliminate assembly. Take advantage of this feature by learning how to design your part for overmolding.
You'll learn:


How to set up your design for complex overmolding
Material evaluation and best practices for proper adhesion
Feature specifications to consider for good overmolds

Get the Xcentric overmolding guide (no registration required).
---
---


30-Second Quotes for Plastic Injection Molding
ICOMold offers the only instant quotations in the plastic injection molding industry. Simply upload your CAD models, specify your plastic material, quantity and other options, and within 30 seconds you will get your mold cost and piece price. The online quote system is also interactive -- you can change your options and see your new price instantly.
Get an instant quote now.
---

Feature articles

DOD scaling up hypersonics development
"In the last year, China has tested more hypersonics weapons than we have in a decade," said Michael Griffin, undersecretary of defense for research and engineering, at a National Defense Industrial Association-sponsored meeting Dec. 14. "We've got to fix that." Russia also is involved in "game-changer" hypersonics.
Read the full article.

---


Chairless exoskeleton solves long-standing problem
The Chairless Chair is a new innovation for relieving strain and fatigue from excessive standing during long work shifts. The entire construct is lightweight, easy to put on, and hardly noticeable when walking. Operating a switch on the strap turns the flexible construct into a stable seat. Two small FAULHABER DC motors activate a stop valve in the hydraulic elements of the shock absorbers, locking the support into the seated position.
Read the full article.


Off-road: Honda enters sport side-by-side ATV market
So many fun vehicles to get through before the end of the year, and so little time, so here's a bonus. Honda has just unveiled its Talon 1000X and Talon 1000R off-road sport side-by-side ATVs. The line is a new category entry for the brand known for high-performance dirt bikes like its CR and CRF lineups and its high-grade Pioneer family of work/play side-by-sides. The Talon line is an attempt to marry the two.
Read the full article.


Top Tech Tip: Noisy Bearing??
Single-turn wave springs are ideal for bearing preload. The spring preloads the bearing through its outer race, taking up play in the bearing. This reduces bearing damage, wear, noise, and vibration. Smalley has stock parts from .188" to 16". Customs are available from .157" to 120".
Learn more.
Cool Tools: Create amazing, lit 3D visuals -- fast
As more companies rely on 3D visualization to make real-time design decisions, KeyShot continues to bring advanced CG solutions to designers and engineers. KeyShot 8 brings real-time speed in the most easy-to-use interface designed for an efficient workflow, with the most accurate materials and advanced lighting capabilities. By providing users with results faster than any software available, KeyShot has become the visualization software designers, engineers, marketing specialists, and 3D artists trust to fit seamlessly into their workflow. Users include many of the Fortune 1000 product manufacturers and major industrial design companies, including NASA, SpaceX, Google, Microsoft, Samsung, Caterpillar, Under Armour, and more.
Learn more.


THK introduces low-inertia ball screw/spline BNS-V
Featuring an exceptionally compact and lightweight structure, THK's latest Ball Screw/Spline BNS-V enables quick starts and stops during high-speed operation. The low-inertia BNS-V is a stroke/rotary unit with ball screw grooves and a ball spline groove that cross one another on a single shaft. The nuts of the ball screw and the ball spline have dedicated support bearings directly embedded on the circumference of the nuts. Advantages include a highly rigid shaft support, an angular-contact structure for highly accurate positioning, and smooth motion with low noise. The BNS-V is a downsized version of THK's popular Ball Screw/Spline BNS-A.
Learn more.


Super car brake-cooling simulation with CAD-embedded CFD
Brake cooling is a crucial area in motorsport and sports car engineering. A recent thesis project by Arne Lindgren of Halmstad University in Sweden considered different cooling solutions for the extreme conditions of super cars. The project, conducted for super car manufacturer Koenigsegg Automotive AB, had the objective to design an efficient brake cooling solution for their latest model, the Regera. Lindgren used FloEFD simulation software from Mentor Graphics.
Read the full article.


Miniature ICP teardrop accelerometer
PCB Piezotronics has released its smallest ICP teardrop accelerometer with a Transducer Electronic Data Sheet (TEDS) -- Model 352A59. This single-axis accelerometer was developed to minimize the effects of mass loading on small devices with an integral M3 connector and removable cable that can be easily routed within devices. The 352A59 provides outstanding results during vibration testing of small structures. The adhesive mounting and TEDS contribute to a quick, error-proof setup. Suggested applications include satellite and aircraft structures, military and consumer electronics, and general product validation.
Learn more.


MakerBot launches performance 3D printer for professionals
MakerBot has just introduced a new category for the professional segment with the launch of Method, its first "performance 3D printer." Performance 3D printing bridges the gap between desktop and industrial 3D printing by bringing features that were previously only available on industrial 3D printers to professionals at a significantly lower cost. Industrial technologies on the MakerBot Method 3D polymer printer include a Circulating Heated Chamber, Dual Performance Extruders, Precision PVA Water Soluble Supports, Dry-Sealed Material Bays, and an Ultra-Rigid Metal Frame. Method also includes built-in sensors and automation features that provide a seamless user experience and deliver a high level of precision, reliability, and dimensional accuracy -- all for $6,499 (and even less on pre-order).
Learn more.
---
Most popular last issue


Retro-inspired new Porsche 911 is a slick and sleek update
The 8th generation of the Porsche 911 features a design language that pulls from the past to create something powerfully new in the form of the Carrera S and Carrera 4S models. While the front and the dash feature elements that are clear nods to much earlier models, the rear and the next-gen flat-six turbocharged engine tech -- which provides 443 hp, an improvement of almost 25 hp from the current model -- are clearly modern updates.
Read the full article.


4,300 degrees F! 'Sun in a box' could store renewable energy
MIT engineers have come up with a conceptual design for a system to store renewable energy, such as solar and wind power, and deliver that energy back into an electric grid on demand. The new design stores heat generated by excess electricity from solar or wind power in large tanks of white-hot molten silicon, and then converts the light from the glowing metal back into electricity when it's needed.
Read the full article.
---
Videos+: Technologies and inspiration in action
Minimize mechanical misalignments, improve efficiency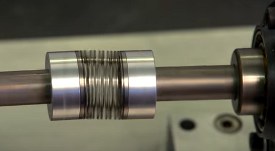 C-Flex Couplings combine the best qualities of disc, beam, and bellows couplings in a unique and economical new design. Made to couple two rotating shafts together, these couplings can accommodate large misalignments while transmitting high torque loads with zero backlash. Benefits include lower energy usage and less frequent bearing failure. Flexible pivot bearings and super plastic torsional damping couplings are also available.
View the video.
---