| | |
| --- | --- |
| December 26, 2018 | Volume 14 Issue 48 |
---



Motors for model train meet demanding requirements
Building an N-gauge (1:160) model train system involves working with very small units. The 1930s-inspired BR 70 locomotive from Fleischmann is only 2.25 in. long when measured buffer to buffer. As on large locomotives, traction (and on the model, power transmission) between the wheel and the track is a crucial factor. To give the unit appropriately scaled big-train power with low vibration and noise, the folks at Fleischmann turned to customized DC motors from the FAULHABER Group.
Read the full article.
---
---


17,200 Stock Metric Gears
KHK USA Inc offers the largest selection of stock metric gears in North America. With over 180 types, in more than 17,200 configurations, KHK USA offers the broadest selection of metric spur gears, helical gears, internal ring gears, gear racks, bevel gears, worms and wormwheels, and other gear types.
See what KHK USA has in stock for you today.


3D printing helps predict leaky heart valves
Researchers at the Wyss Institute for Biologically Inspired Engineering at Harvard University have created a novel 3D-printing workflow that allows cardiologists to evaluate how different valve sizes will interact with each patient's unique anatomy -- before a transcatheter aortic valve replacement (TAVR) via a catheter is actually performed.
Read the full article.


Happy New Year from Designfax!
Thanks to all of our readers, sponsors, writers, and article contributors for making 2018 another great year for us. We wish all of you a healthy, happy, and prosperous 2019!

Don't forget to pass along your issue of Designfax to an engineering colleague.

And if you're looking to advertise, we can help you out with that too.
Go to the Designfax advertise page.


See you in 2019 with our Best Of 2018 issues!


Classic History: Type 10 -- The first Bugatti
When Ettore Bugatti started to develop a new car in 1908, his goals were clear. The Type 10 was to be small, lightweight, and agile -- as well as sufficiently powerful to win races. At the beginning of the 20th century, this was a new approach. Up to then, vehicles had engines with large displacements and were very heavy.
Read the full article.


Mike Likes: COMSOL Learning Center available to all engineers
COMSOL's Learning Center features a series of video tutorials in a self-guided learning environment that gives users a comprehensive introduction to working with the COMSOL Multiphysics software. There are 30+ self-service, self-paced tutorials consisting of videos and additional resources such as exercise model files and blog posts for an interactive and hands-on learning experience. The contents are based on the fundamental steps in the modeling and simulation workflow, including building a geometry, adding physics, solving, and postprocessing results.
Check it out (no registration required -- video list at bottom of page).


50 Years Ago: Apollo 8 first human flight to moon
At Christmastime a half-century ago, millions around the world paused to follow the flight of Apollo 8. For the first time, humans left Earth for a distant destination -- the Moon. The mission was a key step toward meeting President John F. Kennedy's goal of "landing a man on the Moon and returning him safely to Earth" by the end of the decade.
Read the full article.


Top Tech Tip: Low-profile retaining rings
Smalley Hoopster® Rings fit into shallower grooves than regular snap rings or retaining rings. Where retaining rings once were not an option because of groove depth, the low profile, precision circularity, and small radial size allow Hoopsters to be unobtrusive components, ideal for thin wall tubes.
Learn more.


Great Resources: Design guidelines for selecting/using stainless steels
This extensive guide from the Nickel Institute helps designers better understand the large family of corrosion-resistant stainless steels. It describes typical corrosion modes and how to select materials to minimize or prevent corrosion. Forty-seven figures help illustrate important characteristics of, and end-use applications for, 57 different stainless steel types, including chemical compositions, physical and mechanical properties, properties at elevated temperatures, and heat-transfer characteristics.
Get your guide (no registration required).


Construction truck design evolves at Hitachi using modern calculation management
The engineering department at Hitachi Construction Truck Manufacturing is taking steps to improve their rigid-frame hauling truck design through improving their design analysis tools. The company has a history of using spreadsheet programs and older coding languages as a means to solve some engineering problems, but these legacy approaches can introduce redundancies and slowdowns in a variety of ways during a design process. Gradually, the department is implementing the use of Maple to maximize the value of its calculation efforts.
Read the full article.


New MathWorks toolbox for autonomous system development
MathWorks has introduced Sensor Fusion and Tracking Toolbox, which is now available as part of Release 2018b. The new toolbox equips engineers working on autonomous systems in aerospace and defense, automotive, consumer electronics, and other industries with algorithms and tools to maintain position, orientation, and situational awareness. The toolbox extends MATLAB-based workflows to help engineers develop accurate perception algorithms for autonomous systems.
Learn more.


Design Tip: Uniform wall thickness
Ever notice how wall features on products like a molded toothbrush holder or plastic gas can are all relatively uniform? That's because consistent wall thickness helps prevent sink, warp, and inaccurate or non-functional parts. This design tip from Protolabs offers several ways to avoid those problems. They even included a helpful chart that shows recommended wall thickness for common injection molding materials.
Read the full article.
Cool Tools: FLIR introduces advanced sonar and GPS fishing cam

FLIR Systems has just announced the Raymarine Element, a new generation of advanced, combination sonar and GPS displays. Featuring the acclaimed Raymarine RealVision 3D and new HyperVision sonar technology, the Element series delivers lifelike imaging and helps meet the demands of both coastal and bass fishermen with advanced sonar, versatile mapping capabilities, and a highly intuitive user experience. The all-in-one transducer combines HyperVision, DownVision, SideVision, RealVision, and conventional CHIRP sonar channels into one simple installation. Anglers can see structure, vegetation, and fish with incredible lifelike detail. Available 1Q 2019.
Learn more.
---
Most popular last issue


Rivian debuts world-first all-electric pickup -- space and power galore
Rivian, a new-kid-on-the-block electric vehicle manufacturer, introduced its R1T, an all-electric, five-passenger pickup at the LA Auto Show at the beginning of this month. Featuring a tailored and restrained design, the truck boasts a range of up to 400+ miles, quad-motor AWD that does 0 to 60 mph in 3 sec (wow!), and a totally unique skateboard platform with lots of storage.
Read the full article.


DOD scaling up hypersonics development
"In the last year, China has tested more hypersonics weapons than we have in a decade," said Michael Griffin, undersecretary of defense for research and engineering, at a National Defense Industrial Association-sponsored meeting Dec. 14. "We've got to fix that." Russia also is involved in "game-changer" hypersonics.
Read the full article.


Honda enters sport side-by-side ATV market
So many fun vehicles to get through before the end of the year, and so little time, so here's a bonus. Honda has just unveiled its Talon 1000X and Talon 1000R off-road sport side-by-side ATVs. The line is a new category entry for the brand known for high-performance dirt bikes like its CR and CRF lineups and its high-grade Pioneer family of work/play side-by-sides. The Talon line is an attempt to marry the two.
Read the full article.
---
Videos+: Technologies and inspiration in action
7 strangest new engines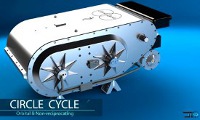 Tech Planet runs through their top seven choices for alternative engine designs for cars, power tools, spacecraft, and more. Some are works in progress, some are prototypes, and some are just concepts. What a fun and different countdown. Thanks, Tech Planet!
View the video.
---