| | |
| --- | --- |
| February 19, 2019 | Volume 15 Issue 07 |
---



Mechanical & Rotary Feedthroughs
BellowsTech, LLC edge welded bellows can act as a flexible seal when designed as a mechanical feedthrough, allowing movement of a tool within a sealed environment under vacuum or positive pressure. Edge welded bellows provide the greatest flexibility and motion, reaching a 90% stroke length. Material choices include Stainless Steel, Inconel, Titanium and Hastelloy.
Learn more and shop standard bellows online!
---
---


Rapid vs. Traditional Manufacturing
The plastic injection molding industry and its manufacturing processes have evolved through the years. Gain an understanding of the differences between the rapid and traditional manufacturing processes and how each directly influences and impacts the outcome of parts, costs and speed to market.
When you attend this webinar you will:


Gain an understanding of the differences between the rapid and traditional manufacturing processes
Learn about the injection molding component development process
Discover the key factors that impact getting your product to market faster
Understand the features of aluminum and steel molds

Get the Xcentric Rapid vs. Traditional Manufacturing guide (no registration required).


NASA advancing unique 3D-printed sensor technology
A NASA technologist is taking miniaturization to the extreme. Mahmooda Sultana won funding to advance a potentially revolutionary, nanomaterial-based detector platform capable of sensing everything from minute concentrations of gases and vapor to atmospheric pressure and temperature, and then transmitting that data via a wireless antenna. Central to the effort is a 3D-printing system that applies nanomaterials, layer by layer, onto a substrate to create tiny sensors.
Read the full article.


Six surprising capabilities of modern hydraulics
Bosch Rexroth's Dr. Steffen Haack lays out six capabilities for modern hydraulics as a strong drive technology that is well prepared for Industry 4.0 applications, which may come as a surprise to many. Don't underestimate the performance and intelligence of this highly precise and energy-efficient technology.
Read the full article.


High-traction robot goes underground
Recent developments in motion control and engineering make it possible to inspect and perform maintenance in compact sewers from the inside. The underground sewer robot is equipped with a swiveling camera and an air-powered milling machine driven by FAULHABER miniature DC motors from MICROMO.
Read the full article.


Stepper or servo motor -- Which should it be?
Bring out the full capacity of your machines through the most efficient mechatronic design. Hurley Gill, Senior Applications/Systems at Kollmorgen, outlines servo and stepper motor baseline capabilities for selection criteria like torque, speed, accuracy, and repeatability. Technical advantages and disadvantages are discussed, helping machine designers select the best motor-drive system for their application.
Click here to read: Servo or Stepper: Which Should It Be?
Kollmorgen designs and manufactures innovative motion control systems, including servo and stepper motors, drives, amplifiers, gearheads, and actuators.


Top Product: Alternative to traditional drive systems
Nexen Group has introduced a stainless steel version of its patented precision roller pinion system (RPS). The Nexen RPS engages two teeth simultaneously to achieve superior accuracy with zero backlash at any length. The system is also extremely quiet and 99 percent efficient. Stainless steel makes the system corrosion resistant, with a long life of up to 36 million meters. Nexen's RPS provides a low-maintenance, durable alternative to rack and pinion, ball screw, and belt drive technology. The RPS is used for a wide range of applications including laser cutting, plasma cutting, and gantry applications.
Learn more.


Bend the rules of lighting design: Cut and form LED sheets
VCC is bending the rules of lighting design with its new VentoFlex tiles. The VentoFlex modular lighting system opens up countless ways for architects and lighting designers to make an impact. Available in 12-in. x 12-in. sheets, these innovative LED tiles can be cut and formed around any design element, including rounded corners and tight spaces, without taking up much room at all -- just 0.15 in. (3.81 mm). A pair of scissors is the only tool required to cut VentoFlex tiles to the size and shape you desire. Ten or 15 tiles can be linked together to one driver and dimmer to create thousands of square inches of versatile lighting power!
Learn more about this new and exciting lighting technology.


Cable assemblies for demanding microwave and RF applications
Intelliconnect has expanded its cable assembly offering for high-frequency and mission-critical applications. Comprised of high-quality cables, connectors, and terminations, the highly reliable RF cable assembly product offering now includes Low Loss, Semi-Rigid, Semi-Flex, and Conformable versions. The microwave and RF cable assembly line is designed for a wide range of applications including marine, medical, mil/aero, microwave communications, oil and gas, rail traction, test and measurement, and more. Available in a variety of sizes and performance specs, these assemblies operate up to 70 GHz and beyond and can be armored internally or externally. Phase matching is also available. Assemblies can be specified as matched sets or built to a specified phase length.
Learn more.
---
Most popular last issue


Fastest Camaro is made for the track
The fastest, most track-capable Camaro ever -- the 2019 Camaro ZL1 1LE -- will offer a 10-speed automatic transmission beginning late February. During development, Chevy engineers pushed the limits of the automatic transmission to be more than one-half second faster than the standard manual on General Motors' 2.9-mile Milford Road Course.
Read the full article.


50 Years Ago: Apollo's Lunar Module bridged the technological leap to the Moon
The lunar module is mostly remembered for its role between July 1969 and December 1972, when six of the spacecraft successfully landed 12 American astronauts on the Moon. It also served as a "lifeboat" when the Apollo 13 command/service module was disabled en route to the Moon in April 1970. But why did engineers choose a "Lunar Orbit Rendezvous" plan that included linking up with a "mother ship" in orbit rather than a single spacecraft? [Countdown Series: 50th anniversary of Apollo 11]
Read the full article.
---
Videos+: Technologies and inspiration in action
New highly efficient spoke motor design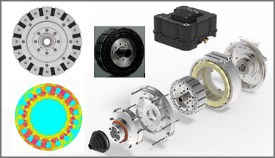 Equipmake (Norfolk, U.K.) has 20 years of experience developing and integrating industry-leading electric vehicle powertrains. One of its innovations is the 220-kW APM200 spoke motor, a lightweight, compact, high-performance electric motor with a max speed of 10,000 rpm that features magnets arranged like the spokes of a wheel. Ian Foley, managing director of Equipmake, explains how it works and why it is the next generation of electric motor design.
View the video.
Lightsaber dueling becomes a real thing in France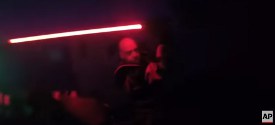 According to a Feb. 18, 2019, AP news story, the Force is so strong in France that the French fencing federation has officially recognized lightsaber dueling as a competitive sport. Sure, the lightsabers are polycarbonate and not lasers (yet) and the matches look a little confused, but there is real potential for the competitions to grow into something rather enlightening in the future.
View the video and read the story.
---