| | |
| --- | --- |
| March 05, 2019 | Volume 15 Issue 09 |
---



Small Diameter Wave Springs
Smalley Wave Springs are available from stock in diameters as small as 0.250". Hundreds of new sizes have been added to stock in both carbon and stainless steel. With up to a 50% reduction in spring height, Smalley's new series of smaller Crest-to-Crest® Wave Springs minimize assembly cost and total assembly size due to the reduced spring cavity required. Over 4,000 springs are available from stock; free samples available.
Learn more.
---
---


Powerful Brushless DC Motors with Integrated Control
FAULHABER brushless DC motors feature high torque and high speed, with a small size and weight. They are ideal for heavy-duty servo applications with frequent overload conditions as well as for continuous-duty applications where maximum operational lifetime is required. FAULHABER brushless DC motors are also available with integrated speed or motion control, providing a compact, easy-to-use motion solution for precise and efficient control.
Learn more.


50 Years Ago: Apollo 11 preparations take place
In February 1969, NASA was becoming cautiously optimistic that the first human lunar landing could be achieved by that summer to meet President John F. Kennedy's goal of landing a man on the Moon and returning him safely to Earth before the end of the decade. Workers assembled the Saturn V rocket, support astronauts simulated lunar surface science experiments, the Apollo 11 astronauts took a geology training field trip, and scientists and technicians began a simulation of the Lunar Receiving Laboratory. [Countdown Series: 50th anniversary of Apollo 11]
Read the full article.


Titanium Springs from Atlantic Spring
Titanium springs from Atlantic Spring offer improved resistance to corrosion, lower torsion modulus, shorter free length, greater strength, and significant weight reduction over steel springs. These attributes make titanium springs ideal for various aircraft, space, military, and defense applications. Atlantic Spring offers rapid prototyping services. Prototypes can be available within 3 to 5 days dependent upon design complexity and material availability. AS9100D certified and ITAR registered.
See our capabilities.


Refined muscle: New Mercedes-AMG GT R Roadster
Looking like a well-defined comic-book superhero, the new Mercedes-AMG GT R Roadster deftly melds high performance and a refined, stylish design. It's classy and yet ripped, straight from the gym -- but a high-end gym at that. The 577-hp V8 Biturbo features intelligent lightweight construction and highly dynamic handling. It's quick too. Zero to 60 mph in 3.5 sec.
Read the full article.


Top Product: Allite Super Magnesium
Weighing 33 percent less than aluminum, while also being stiffer and stronger pound for pound, the new Allite Super Magnesium alloy has shown its mettle in classified defense and aerospace applications. Now it's available for wider use. This material is less expensive than carbon fiber and has the lowest carbon footprint of any structural material throughout the value chain. Industry applications include home improvement, sporting goods, aerospace, automotive, biking, and beyond. Three alloy variants available to suit welding, forming/forging, or casting. These alloys feature excellent shock-absorption properties, good electromagnetic shielding performance, good heat dissipation, and recyclability. Allite is based in Dayton, OH.
Learn more.


Developing microrobotics for disaster recovery and high-risk environs
Technological advances in microelectromechanical systems (MEMS), additive manufacturing, piezoelectric actuators, and low-power sensors have allowed researchers to expand into the realm of micro-to-milli robotics. However, due to the technical obstacles experienced as the technology shrinks, these platforms lack the power, navigation, and control to accomplish complex tasks proficiently. A new DARPA program aims to overcome these challenges.
Read the full article.


Replace metals with hard materials
The use of sapphire, ceramics, and other hard materials has significant advantages over metal, depending on the application. The materials machined at Insaco are harder and stronger in compression than most metals. They can be electrically or thermally insulating or conducting, and in the case of sapphire, can be polished optically clear to a surface finish less than 1 micro inch. This allows for selecting a material based on the most important material property required and allows for versatility in selecting the material that makes the most sense. When a low-cost part must be frequently replaced because of a harsh environment, looking to hard materials may be the key to lowering overall cost. Learn more about metal replacement materials in this informative Insaco article.
Read the full article.


High-speed, high-precision mechanical gantry system
PI has added to its family of precision automation sub-systems with the A-351 MGS, a compact mechanical gantry system engineered to deliver maximum throughput for applications that require controlled precise overhead motion. The gantry is driven by linear motors, and each axis is equipped with preloaded linear bearings. Applications include high-precision 3D printers, assembly, pick-and-place, alignment, inspection, and other industrial automation applications. The A-351 MGS gantry system is designed for high load capacity of 20 kg, twice the amount of its A-341 air-bearing-based sibling. Absolute-measuring linear encoders with nanometer resolution are optional.
Learn more.
See PI automation platforms in action.


New inductive-technology position sensors
Novotechnik's TF1 Series touchless linear position sensors overcome issues with legacy magnetostrictive technology. They are unaffected by strong magnetic fields and metal flakes or filings present in a user's environment. The TF1 Series consists of an inductively coupled position marker attached to a moving rod/piece of the user's application that requires a position measurement and the sensor with operational and programming status LEDs. While operating, LEDs indicate whether the sensor is operating and the marker within measuring range or out of range, as well as indicating results of internal diagnostics for valid output from the sensor. Can also measure speed and temperature.
Learn more.


Sensor development kit for power-optimized IoT applications
The RSL10 Sensor Development Kit from ON Semiconductor is designed to provide engineering teams with a comprehensive platform for developing IoT applications with cutting-edge smart sensor technology, enabled by the industry's lowest power Bluetooth Low Energy radio. The kit brings together the highly integrated RSL10 System-in-Package (RSL10 SIP) with a range of advanced low-power sensors from Bosch Sensortec. The development platform provides nine degrees of freedom (DoF) detection and environmental monitoring, including ambient light, volatile organic compounds (VOC), pressure, relative humidity, and temperature. An ultra-low noise digital microphone is also included, along with a user-programmable RGB LED, three programmable push-button switches, and 64 kb of EEPROM. Using the RSL10 Sense and Control mobile application, developers can connect to the RSL10 Sensor Development Kit to monitor sensors and to evaluate the kit's features. The app also supports multiple commercial cloud platforms for uploading sensor data.
Learn more.


HVACR Tech Tip: How to properly clean a condenser coil
Condenser coil cleaning is one of those subjects where there is a fair amount of misdirection and misinformation being propagated by some manufacturers/distributors that has caused unfortunate confusion in the industry. Parker Hannifin provides answers to common questions to set the record straight. Why do condenser coil cleaners foam, and evaporator coils usually don't? What is the difference between the acid and non-acid condenser coil cleaners? Learn these things and more in this informative post.
Read the Parker Hannifin blog.


EC fans offer spark-proof IP68-ATEX protection for harsh AC applications
Orion Fans has expanded its family of Electronically Commutated (EC) fans to include spark-proof IP68-ATEX-rated versions for applications involving explosive atmospheres or flammable gases. Implementing IP68-ATEX fans into a design decreases the possibility of an explosion or fire. Available in a range of sizes including 60 mm, 120 mm, and 172 mm, the EC IP68-ATEX fans are ideal for a broad range of applications including appliances, commercial and process control, refrigeration, HVAC, electronic enclosures, and cabinets. By maintaining the same interface between the fan and equipment, EC fans can be used as drop-in replacements for equivalent-sized AC fans. The AC input fans utilize a brushless DC motor and incorporate voltage transformation within the motor for significantly lower power consumption. This equates to power savings of up to 50 percent.
Learn more.
---
Most popular last issue


Mazda celebrates: MX-5 Miata 30th Anniversary edition
There's a party going on at Mazda, and the Miata is the guest of honor -- the 2019 Mazda MX-5 Miata 30th Anniversary special edition, that is. Just debuted at the Chicago Auto Show this month, the forever-young two-seater is sportier than ever in its exclusive coat of Racing Orange exterior paint. And with a peppy 181-hp SKYACTIV-G 2.0L engine under the hood, drivers are sure to have a good time.
Read the full article.


Worth Reading: AK-47 maker gets into drone biz
The Washington Post featured a piece Feb. 23 on the Kalashnikov Group, the originators of the AK-47 assault rifle, partnering up and getting into the drone-building business. But these aren't just any drones -- they're cheap, can fly pretty far, and are weaponized with explosives to run a kamikaze mission. A real eye-opener.
Read the full article.
---
Videos+: Technologies and inspiration in action
Scientific approach to making plastic parts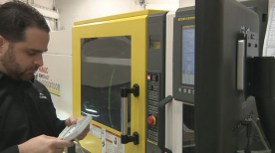 A Proprietary Process Engine developed at Xcentric Mold helps to eliminate the areas of the molding process that can cause defects in plastic parts. Before the molding begins, the Process Engine calculates, monitors, and corrects using a comprehensive algorithm and part geometry, including shot size, back pressure, transfer position, injection pressure and time, injection speed, and more. Stress build up in a part can cause warp, fractures, size or shrink issues, color blends, voids, sink marks, and sheen issues. Learn how Xcentric's Process Engine works to get your parts right -- and saves time and money on your injection molding projects.
View the video (third video on page).
Navy helps Army develop drone-busting tech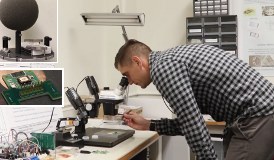 Students from the Naval Postgraduate School (NPS) recently won a research award to continue their work developing a MEMS-based sensor system that can detect drones solely by the sounds they produce. The effort was initially part of the Army Futures Command's "A-Hack-of-the-Drones" hackathon competition held in Austin, TX, last fall. The NPS Echo Intelligence Team is now rapidly prototyping their innovative solution to detect drones across the battlespace and beyond.
View the video.
---