| | |
| --- | --- |
| March 12, 2019 | Volume 15 Issue 10 |
---



Achieve Maximum Flexibility with Electroformed Bellows Couplings
Electrodeposited bellows technology offers the best combination of flexibility and strength among coupling technologies. Servometer® flexible shaft bellows couplings offer seamless construction with maximum flexibility, and handle angular misalignment up to 31° and parallel misalignments up to .076". Servometer bellows couplings exhibit low windup due to the bellows' radial rigidity, and low side thrust due to its lateral flexibility.
Request a free sample.
---
---


Goodyear debuts flying car concept tire
Flying cars need tires too, but they need something special -- and very lightweight. Recently unveiled at the 2019 Geneva International Motor Show, the Goodyear AERO concept is a two-in-one tire designed for the autonomous flying cars of the future. Interestingly, this concept would work as both a tire for driving on the road and a "propeller" for flying through the sky.
Read the full article.


Ford Ranger gets tough with special VelociRaptor treatment
Who knew a little 2019 Ford Ranger could look so intimidating? The creative geniuses at Hennessey Performance Engineering did. Known for taking vehicles "from mild to wild," the famous upgrades shop has created a 500-unit special edition VelociRaptor Ranger that looks as big and bad as its high-end Raptor sibling. It's got solid power upgrades too.
Read the full article.


App Note: Air-rifle trigger assembly gets coiled spring pins
When engineers at SPIROL evaluated the trigger assembly for a client's air-rifle product, they thought they could do better in terms of part count, assembly time, and assembly steps. Their solution was to replace 15 components (five pins and 10 retaining E-rings) with five self-retaining Coiled Pins. Learn how they did it -- and helped to automate production along the way.
Read the SPIROL application note.


Vandal-resistant sealed switches
C&K has just launched its ATP19 and ATP22 series anti-vandal sealed pushbutton switches. The new high-strength, lightweight switches are IP67/IK10 rated, ensuring their suitability for operation in harsh conditions and ability to withstand potential malicious damage. The switches are also corrosion resistant and offer the industry-standard ring-illuminated version in 19-mm and 22-mm diameters.
Learn more.


Clippard PTFE multi-channel gradient valves
NIV series gradient valves feature multiple two-way, normally closed solenoids connected around a central body. This unique design provides significant reduction in internal volume with enhanced mixing capabilities. Each actuator operates independently, allowing for flow of various media to be mixed or for one media to be split into multiple streams. These multi-channel gradient valves are useful for solvent selection, stream splitting, flushing, and other automated applications.
Learn more.


Cool Tools: New Artec LEO 3D scanner
Exact Metrology is proud to announce the availability of its Artec LEO 3D scanner, the first scanner to offer onboard automatic processing with an integrated touch panel viewer. This frees users from being tied to a computer for data capture. The scanner has a 3D reconstruction rate of 80 frames per second, making it the fastest professional scanner on the market. With its large field of view, Artec LEO can scan and process large objects and scenes quickly and accurately, and it boasts a data acquisition rate of up to 4 million points per sec.
Learn more.


New Sinamics G120X drive series specializes in infrastructure pump, fan, and compressor applications
Siemens has introduced the new Sinamics G120X drive, a simple, seamless, and easy-to-use drive designed for use in pump, fan, and compressor applications in industries such as water/wastewater, HVAC/R, irrigation/agriculture, and in industrial environments. Sinamics G120X has a power range of 1 to 700 hp (0.75 to 630 kW) and can operate in temps from -4 to 140 F (-20 to 60 C) with any standard motor, including synchronous reluctance motors (SRM). It has an integral DC choke that improves harmonics and EMC performance. Sinamics G120X meets all the latest and upcoming UL, NEMA, and EN/IEC standards for 2019 and beyond and offers up to 100-kA short-circuit current rating (SCCR), ensuring enhanced product safety and energy efficiency.
Learn more.


Fun! LEGO launches 1,471-piece 1967 Ford Mustang
If it's still too cold in your neck of the woods to work on a car in the driveway, you have other options to tinker. The LEGO Creator Expert Ford Mustang went on sale March 1. Developed in partnership with Ford, the 13-in.-long 1967 Fastback muscle car comes complete with working steering, dark-blue bodywork, white racing stripes, bonnet scoop, printed Mustang grille badge, GT emblems, and five-spoke rims with road-gripping tires. Customization options include a supercharger, rear ducktail spoiler, beefy exhaust pipes, front chin spoiler, and a nitrous oxide tank for an authentic pony car build experience.
Check it out.
---
Most popular last issue


Refined muscle: New Mercedes-AMG GT R Roadster
Looking like a well-defined comic-book superhero, the new Mercedes-AMG GT R Roadster deftly melds high performance and a refined, stylish design. It's classy and yet ripped, straight from the gym -- but a high-end gym at that. The 577-hp V8 Biturbo features intelligent lightweight construction and highly dynamic handling. It's quick too. Zero to 60 mph in 3.5 sec.
Read the full article.
---
Videos+: Technologies and inspiration in action
Application Focus: Components for endurance tester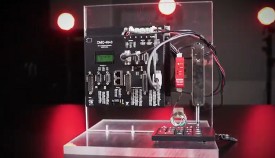 Successful manufacturing automation systems require consistent results and durable components to meet high cycle counts. This application explains how the components from FUTEK (load cell and differential strain gauge amplifier), Galil (motion controller), and SMAC (moving coil linear actuator) work together to create a robust endurance testing system. Learn the basics so you can grow your knowledge base.
View the FUTEK video.
Body and paint problems with my Tesla Model 3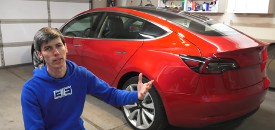 Jason Fenske from Engineering Explained had a $46,000 Tesla Model 3 delivered, and right away -- before he even drove it -- he noticed fit and finish issues. And then he saw some more, and then, well, he got to measuring too. He found paint scratches, paint defects, and also mismatching panel gaps. Is Fenske being picky about his add-on $2,500 special red paint job? Is Tesla missing the mark by ramping up production? Would you accept a new car in a condition like this?
View the video.
---