| | |
| --- | --- |
| June 25, 2019 | Volume 15 Issue 24 |
---



Why Use a Hexapod?
Hexapod motion systems are the most versatile multi-axis positioning systems, also called Stewart Platforms. A traditional hexapod parallel kinematic positioning system is based on 6 actuators arranged between a top and bottom platform. Available in many sizes, bases from 100mm to 1m, able to handle loads from 2kg to 2000k.
FAQs »
---
In this issue of Designfax

SKF helps build world's largest ship lift
New manufacturing process for aluminum alloys
50 Years Ago: One month until Apollo 11 liftoff
James Bond's new ride: Aston Martin Valhalla hypercar
Meet Xometry: 'It's like Uber for manufacturing'
Qs about linear motor actuators engineers should ask
Self-clinching fasteners for composites
Quick-release heavy-duty ball lock pins
Reduce belt-driven spindle failures
MapleSim 2019: More tools for creating digital twins
Motorized puller assemblies: Out-of-the-box productivity
Build your own mini synchronous drive systems
Videos+: Technologies and inspiration in action

Adaptive gripper modeled on chameleon tongue
Adhesives: Epoxy, urethane, or silicone?
3D printing: U.S. Air Force and obsolete parts

Most Popular Last Issue

Neat! Harvard/MIT engineers reinvent piston
Hyperspeed -- What, why, and how for U.S. Army
Skateboard features new truck design

New Products

Electrical, Mechanical, Motion

Cover Image: New James Bond car is Aston Martin Valhalla

News

Nearly energy-free, super-fast computing invented by scientists using light pulses

The big squeeze: Scientists develop new type of refrigeration via force-driven liquid gas transition

DARPA works on training artificial intelligence to win a dogfight in combat
---


Best-kept secret in the circuit breaker industry
When STELPRO, a Quebec-based manufacturer of integrated heating solutions for the HVAC industry, asked partners all along its supply chain to identify cost-saving opportunities, installing NOARK miniature circuit breakers in panels on all their equipment was one solution that provided long-term quality and savings (typically 30 to 50 percent in price). NOARK's five-year warranty was a huge added bonus.
Read the full article.
---

Feature articles

SKF helps build world's largest ship lift
China's new Three Gorges ship lift is the largest and most complex of its kind in the world. SKF partnered with the Chinese company responsible for its creation in several important aspects of the project, supplying important components from plain, roller, and thrust bearings to hydraulic nuts, pumps, and other mounting and dismounting tools.
Read the full article.

---


New manufacturing process for aluminum alloys developed
An advanced manufacturing process to produce nanostructured rods and tubes directly from high-performance aluminum alloy powder -- in a single step -- was recently demonstrated by researchers from the Pacific Northwest National Laboratory. The new method aims to re-ShAPE some key application areas in automotive and other industries.
Read the full article.


50 Years Ago: One month until Apollo 11 liftoff
The achievement of President John F. Kennedy's goal of landing a man on the Moon and returning him safely to Earth was just one month away. Apollo 10 astronauts met with the Apollo 11 crew to describe their mission and pass along lessons learned. Astronauts also performed lunar Extravehicular Activity training sessions, and the U.S. Navy practiced recovery procedures. [Countdown Series: 50th anniversary of Apollo 11]
Read the full article.


James Bond's new ride is Aston Martin Valhalla hypercar
James Bond will drive Aston Martin's latest (real) mid-engine hypercar, called the Valhalla, in the franchise's new movie scheduled for release in 2020. We don't know if 007's new wheels will sport additional lasers, rocket motors, missiles, or a self-destruct button in the movie, but it will use real-world flexible wing technology validated by NASA to keep it low and fast.
Read the full article.


Meet Xometry: 'It's like Uber for manufacturing'
Manufacturing is a notoriously finicky business. Smaller machine shops dependent on a handful of local customers in a single industry are particularly vulnerable to the whims of economic downturns. Since finding new work can be costly and time consuming, some have been hoping for an Uber-like service for manufacturing. The Maryland-based company Xometry recently developed that very model. By Amy Kover, GE Reports
Read the full article.


Important Qs about linear motor actuators that design engineers should ask
Many design engineers overestimate how accurate traditional motors and actuators stay over long travel runs, mistakenly believing that if the solution works well for short runs, it will work equally well on long ones. Do you know what type of actuator you should use for your application? Patrick Lehr, Product Manager, Precision Mechanics at Parker Hannifin, has some really good tips for you.
Read the full article.


Self-clinching fasteners for composites, plastics, and other rigid materials
The PEM VariMount fastening system from PennEngineering enables the use of PEM self-clinching fasteners for attachment applications in composites, plastics, metal, and any rigid material or panel. The system integrates a self-clinching nut, stud, or standoff pre-installed permanently into a steel or stainless steel base plate. The base plate with multiple radial holes effectively becomes a mounting platform, which can be bonded or mechanically attached to virtually any rigid material. Once mounted, the pre-installed PEM self-clinching fastener ultimately is positioned where designed to accept mating hardware.
Learn more.


Quick-release heavy-duty ball lock pins in stainless steel
JW Winco has expanded its line of GN 113.10 Heavy Duty Ball Lock Pins Stainless Steel, with Stainless Steel Shank AISI 630. These rapid-release pins have an extreme load capacity and are used for quick fixing, connecting, and locking of various parts and workpieces. A typical application for the Ball Lock Pins is where they may need to be regularly moved in and out of position when connecting two components, but a more secure hold is required of those two components. By pressing the spring-loaded push button, both balls are unlocked. By releasing it, the balls are locked again.
Learn more.


Reduce belt-driven spindle failures with precision load limiter
Setco's TensionSet is a load-limiting device that ensures proper belt tensioning on motor drives, protecting shaft bearings and other components from premature failure. The patented and easy-to-install product rotates like a nut to generate pull force on a threaded rod. The pull force increases the distance between the pulleys on the motor drive and creates belt tension. When pull force exceeds the load setting during tightening, TensionSet disengages internally to prevent over-tensioning. Positive reverse drive causes the TensionSet to rotate in the reverse direction, removing tensioning load. This product helps increase belt life, leading to less downtime for machine maintenance, and is retrofittable to many spindle brands.
Learn more.


MapleSim 2019: More tools for creating digital twins and other system-level modeling
From digital twins for virtual commissioning to system-level models for complex engineering design projects, MapleSim helps organizations reduce development risk, lower costs, and enable innovation. The latest release provides improved performance, increased modeling scope, and more ways to connect to an existing toolchain. Simulation is faster for all customers in MapleSim 2019 due to more efficient handling of constraints when preparing the model, resulting in more compact, faster simulation code without any loss of fidelity. These results mean that MapleSim's industry-leading speeds have gotten even better, saving time and enabling more real-time applications. In addition, models developed in MapleSim and then exported for use in other tools also run faster in the target applications.
Learn more.


Motorized puller assemblies provide out-of-the-box productivity
Versa Motorized Puller assemblies include all components for out-of-the-box productivity for a wide variety of downstream handling requirements. Available in Pinch Wheel or Caterpillar designs, pullers are mounted on a 12-in. x 14-in. base plate for easy positioning of feed materials and include a choice of either AC or DC motor, drive, and a remote Operator Control Station (OCS) that can be mounted wherever desired. A variety of speed ranges are available, with pinch roll or belt materials to suit a broad range of product requirements. These puller assemblies are ideal for many applications, including downstream handling of pipe, profiles, and tubing as well as wire/cable, steel materials, and more.
Learn more.


Build your own mini synchronous drive systems
With the Miniature Synchronous Drive System from Stock Drive Products (SDP), you can put your own 1-, 2-, or 3-mm design together in a snap. The tiny timing belts and pulleys are engineered and manufactured to give high accuracy and smooth, dependable operation in 3D printers, moving security cameras, med devices, robotic surgical equipment, self-service machines, and more. Advantages include no-slip synchronization, accurate positioning, high torque transmission with low backlash, quiet operation, and long belt life.
Learn more.
---
Most popular last issue


Neat! Harvard/MIT engineers reinvent piston using soft materials
A team of roboticists has developed a new way to design pistons that replaces their conventional rigid elements with compressible structures inside a membrane made of soft materials. The resulting "tension pistons" generate more than three times the force of comparable conventional pistons, eliminate much of the friction, and are strikingly more energy efficient.
Read the full article.


Skateboard features new truck design
Wear-resistant plain bearings from igus are key parts of the "Curfboard," which combines surfboard and skateboard technologies. It's four-hinge suspension design means turning hard helps the board accelerate, so no more pushing the board with your feet!
Read the full article.
---
Videos+: Technologies and inspiration in action
Adaptive gripper modeled on chameleon tongue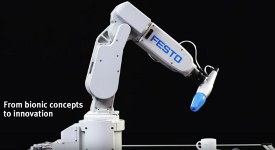 The adaptive shape gripper model DHEF by Festo is good at picking up items of virtually any shape. Modeled on how a chameleon's tongue grips insects, it grips energy efficiently and reliably when combined with a pneumatic drive. The silicone cap of the adaptive shape gripper can fold in on itself to create a firm, form-fitting hold. Unlike the mechanical grippers currently available on the market that can only grip specific components, the adaptive shape gripper is extremely flexible. It can even manage components with freely formed shapes and round geometries. It is perfectly suited to handle small parts in classic machine building and more.
See it in action.
Adhesives: Epoxy, urethane, or silicone for my application?
Epoxies, Etc. runs through the basics when trying to decide whether to use epoxies, urethane, or silicone for generalized applications. Learn the pros and cons of each, including adhesion properties, operating temps, special formulation possibilities, price, and even environmental considerations. A good, elementary overview.
View the video.
How research in 3D printing will help U.S. Air Force replace obsolete parts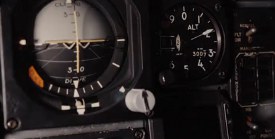 The University of Dayton Research Institute is working with America Makes, 3D Systems, and the U.S. Air Force to apply additive manufacturing to the replacement of hard-to-build parts to sustain aging military aircraft. Using Creaform 3D scanning and 3D Systems software, and taking that data into SOLIDWORKS, enables the production of new designs in hours. The Figure 4 Production platform and materials allow for new inventory of parts to be delivered in days.
View the video.
---