| | |
| --- | --- |
| July 23, 2019 | Volume 15 Issue 28 |
---
---


Molded Case Circuit Breakers for UL508A
NOARK M1 MCCB's are now available in 150 and 125 amperage capacities, perfectly suited for UL508A panel builders, system integrators, large machine builders and OEMs. These MCCB's feature a proven double-break contact mechanism for dependable performance. The patented low-friction spindle bearing design minimizes the amount of force needed for operation. They also feature NOARK's patented arc-extinguishing technology for maximum protection, plus an industry-exclusive 5-year limited warranty. Certifications: UL 489 Listed, IEC, CSA certified, CE compliant, RoHS compliant.
Learn more.


50 Years Ago: Apollo 11 launch and Moon landing
An estimated 1 million people gathered on the beaches of central Florida to witness first-hand the launch of Apollo 11, while more than 500 million people around the world watched the event live on television. Officially named as a crew just six months earlier, Commander Neil A. Armstrong, Lunar Module Pilot Edwin E. "Buzz" Aldrin, and Command Module Pilot Michael Collins were prepared to undertake the historic mission. [Countdown Series: 50th anniversary of Apollo 11]
Read the full article.


2020 Corvette Stingray: First-ever mid-engine for the line aims to keep it fast and affordable
What's new about the 2020 Corvette Stingray? Everything! The first-ever production mid-engine for the line features "supercar-level craftsmanship" and is also the fastest, most powerful entry Corvette ever -- 0 to 60 mph in under 3 sec. Purists may freak at the engine placement, but the pop-top car's developers say the traditional front-engine vehicle had reached its limits of performance. As for the design's heavy emphasis on angular lines, that could be a turnoff for long-time Corvette fans too. But the price is right, and GM says that is a big bonus.
Read the full article.


On-Demand Webinar: Rapid vs. Traditional Manufacturing
The plastic injection molding industry and its manufacturing processes have evolved through the years. Gain an understanding of the differences between the rapid and traditional manufacturing processes and how each directly influences and impacts the outcome of parts, costs, and speed to market. When you attend this webinar, you will:

Gain an understanding of the differences between the rapid and traditional manufacturing processes
Learn about the injection molding component development process
Discover the key factors that impact getting your product to market faster
Understand the features of aluminum and steel molds

View the Xcentric webinar.


Alternative to traditional drive systems
Nexen Group has introduced a stainless steel version of its patented precision roller pinion system (RPS). The Nexen RPS engages two teeth simultaneously to achieve superior accuracy with zero backlash at any length. The system is also extremely quiet and 99 percent efficient. Stainless steel makes the system corrosion resistant, with a long life of up to 36 million meters. Nexen's RPS provides a low-maintenance, durable alternative to rack and pinion, ball screw, and belt drive technology. The RPS is used for a wide range of applications including laser cutting, plasma cutting, and gantry applications.
Learn more.


Top Tech Tip: Stepper or servo motor --
Which should it be?
Bring out the full capacity of your machines through the most efficient mechatronic design. Hurley Gill, Senior Applications/Systems at Kollmorgen, outlines servo and stepper motor baseline capabilities for selection criteria like torque, speed, accuracy, and repeatability. Technical advantages and disadvantages are discussed, helping machine designers select the best motor drive system for their application.
Read the full article.


Replacing hydraulics with electric actuators -- avoid pitfalls, gain the benefits
Electric actuators continue to find new and exciting places within automation processes from the mundane to some of the most extreme operating environments on the planet. Every day, machine designers seek alternative electric solutions to hydraulic cylinders for the very first time. However, there are many common pitfalls to properly sizing an electric equivalent. When sized correctly, replacement with high-force electric linear actuators can provide tremendous benefit in processes, quality, and reducing your total cost of ownership.
Read this informative Tolomatic blog.


High-speed couplings handle 24,000 RPM
Miki Pulley has just introduced its SFM coupling line for direct sale to OEMs in North America. SFM couplings are designed for high-speed power transmission applications up to 24,000 rpm where high torque and precision alignment are critical, such as main spindle applications in machining centers and similar machinery, automation systems including assembly systems, and high-speed servo motor applications. Available in 10 sizes, SFM couplings transmit torque by connecting two shafts while damping system vibrations and accommodating misalignment. The couplings have a disk spring design that provides high torsional rigidity and axial flexibility. The high response, zero-backlash design features a high torque-to-weight ratio.
Learn more.


Formatter of advanced composites materials expands operations
Web Industries, a precision formatter of advanced composites materials for aerospace, space, and medical applications, is implementing a major expansion of its Denton, TX, manufacturing facility. The expansion will increase the plant's productive capacity, smooth the flow of manufacturing activities, and help support larger customer programs. The $1.5-million project will add 20,000 sq ft of manufacturing space to the facility, nearly doubling its size, and create new multi-layer insulation (MLI) and composite ply cutting production cells. The completed expansion will transform Web Denton into one of the company's Centers of Excellence, joining other Web manufacturing hubs such as Atlanta, GA, and Montpelier, VT.
Learn more about Web Industries' capabilities.


Get an IOT security development kit -- on the house
Security has become the biggest challenge for IoT (Internet of Things) development, with eight out of 10 developers identifying it as their biggest hurdle. To help developers create highly secure, end-to-end IoT solutions, leading global technology solutions provider Avnet is providing 20,000 Azure Sphere starter kits -- gratis. Additionally, developers will have access to a series of resources including webinars, lectures, road tests, and design contests hosted by Avnet as part of Avnet's ongoing relationship with Microsoft's Azure Sphere Ecosystem. The Avnet Azure Sphere MT3620 Starter Kit is a fast and easy way to equip IoT endpoint devices to be highly secure. By uniting hardware, software, and cloud in one secure solution, Azure Sphere secures the seven critical properties of an IoT device: hardware root of trust, defense in depth, small trusted computing base, dynamic compartments, certificate-based authentication, failure reporting, and renewable security.
Learn more.


Just out! THK introduces TRK Robot Hand assembly
THK America is known for being a leader in linear motion guides, but now they're stretching their reach into the end-effector market. The Schaumburg, IL-based company has just added the Type TRX Robot Hand to its quality lineup. THK's robot hand integrates fingers, actuator, and a driver controller for an all-in-one, space-saving design. Two sizes available.
Learn more.
---
Most popular last issue


Must See! Hoverboard wows Paris parade crowd
Your dreams of having a jet pack are so 2018. Franky Zapata, the French inventor of the jet-fuel-powered, gyrostabilized Flyboard Air platform, stole the show at France's annual Bastille Day parade last weekend in Paris. At the invitation of the French Armed Forces, Zapata sported a rifle and a very confident look-Mom-no-hands attitude as he soared above the Champs-Elysees to the amazement of politicians, military personnel, and the public. The board can go to 10,000 ft, has a max speed over 90 mph, uses four 250-hp turbine engines, and has been demonstrated to fly up to 10 minutes so far. Jaw dropping and also scary. The France 24 site posted the incredible video and short report.
View the video.



Pikes Peak fastest production car ever is ... a Bentley?
Bentley Motors, well-known for cars that ooze upper-crust sophistication, just keeps surprising us. Last year, the British automaker made history when its Bentayga model was the fastest production SUV at the The Broadmoor Pikes Peak International Hill Climb, the ultra-challenging uphill course in Colorado. This year, Bentley set a new record on June 30 with their Continental GT, which was the fastest production car ever up the mountain.
Read the full article.
---
Videos+: Technologies and inspiration in action
Is this the world's best automatic transmission?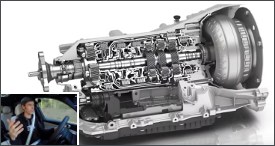 Jason Fenske from Engineering Explained thinks he has discovered the world's best automatic transmission, and he can't wait to tell you all about how it works and why automatic transmissions became cool again. Fenske says ZF's 8-Speed Auto "can give modern dual clutch transmissions a run for their money. It's light, compact, quick-shifting, and shifts are incredibly smooth."
View the video.
Honey, I shrunk the V-8 engine!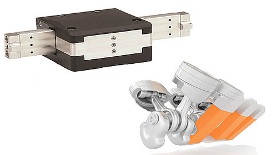 Borrowing from the classic design of a V-8 engine to achieve high push/pull and holding forces, patented piezo actuator technology and linear stepping motion design principles come together to create the fastest and strongest non-magnetic drive of its class size. These piezoelectric motors are self-clamping -- at rest or in steady-state mode, they automatically hold the position without any need for power. Learn how this technology can be used in your application.
Watch video.
Optimize mechanical misalignments, get hidden benefits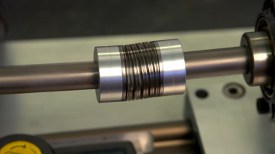 C-Flex Couplings combine the best qualities of disc, beam, and bellows couplings in a unique and economical new design. Made to couple two rotating shafts together, these couplings can accommodate large misalignments while transmitting high torque loads with zero backlash. Benefits include lower energy usage and less-frequent bearing failure, since less stress is placed upon bearings. Constructed using high-strength hardened stainless steel or glass impregnated polyamide flexures, these couplings require no maintenance and provide years of trouble-free life, even in contaminated environments. Flexible Pivot Bearings and Super Plastic Torsional Damping Couplings also available.
Watch C-Flex Couplings in action handling misalignments.
Click here to learn more.
---