| | |
| --- | --- |
| August 13, 2019 | Volume 15 Issue 30 |
---



THK LM Guides Now Available for Quick Ship
Get THK world-class Linear Motion Guides fast with the new Quick Ship Program. A wide range of Caged Type (long-term maintenance free) or Full Ball Type LM guides are stocked in the U.S. and available with 1 to 2 week delivery. Rails and blocks are individually stocked for easy and fast interchangeability. THK's LM guide lineup includes global standard sizes, wide rail types, radial types and miniature types.
Learn more.
---
---


Researchers develop 3D-printed self-healing rubber
Researchers at the USC Viterbi School of Engineering have developed 3D-printed rubber materials that can repair themselves over the course of a few hours. So far, they have demonstrated this capability on a range of products, including a shoe pad, a soft robot, a multiphase composite, and an electronic sensor.
Read the full article.


Hole-y moly! Lotus all-electric hypercar features giant Venturi tunnels
Hypercars can all seem the same after a while, at least for those of us who can't afford them! But the almost 2,000-hp all-electric Lotus Evija has some really different design and function details. For starters, you can't miss those huge Venturi tunnel exits at the back of the vehicle in their giant, red LED taillight frames. It's also the first Lotus road car to feature a one-piece carbon fiber monocoque chassis, and it's a world-first to use both main- and dipped-beam laser lighting. And to top it off, this well may be the new world's most powerful series production road car.
Read the full article.


Engineer's Toolbox:
How many mils is your coating?
Although portable coating thickness gauges are not new, most fail to provide the accuracy, speed, or simplicity required for anyone to conduct quick checks as needed on the production line or in the field. Well all that has changed. A new solution from Kett enables simple, one-hand non-destructive testing -- even on curved and complex surfaces -- on painting, plating, anodizing, and organic coatings.
Read the full article.


Low-outgassing epoxy adhesives
Epoxies, Etc. has published a new bulletin featuring its Low-Outgassing Epoxy Adhesives and Potting Compounds, which are sometimes required in aerospace, optical, and electro-optical applications. NASA has set the standard for testing when it comes to outgassing requirements. The two measurements that are used to screen materials are the Total Mass Loss (TML) and Collected Volatile Condensable Materials (CVCM) of the epoxy adhesive. Learn about six products from Epoxies, Etc. that are NASA Low-Outgassing Compliant.
Learn more.


New Orbex brushless servo motors enhance efficiency
The Orbex Group, known for high-performance slip rings, now offers brushless servo motors that combine high torque, low inertia, and various customizable options to improve efficiency in dynamic servo-driven applications. Available in a range of frame sizes (60 to 176 mm), NdFeB-based brushless servo motors include incremental encoders for position feedback and electrical commutation -- enhancing motor efficiency, minimizing maintenance requirements, and increasing throughput. Customizable features include windings, brakes, additional feedback options, connectors, and custom mounting options. Frameless configurations are also available. The motors offer smooth, low-cogging motion and IP65-level protection. Typical applications include communications, security and AGVs, defense, packaging, robotics, and more.
Learn more.


Standard air wipe dries, cools, cleans small diameters
EXAIR's new 3/8-in. Standard Air Wipe produces a 360-degree airstream that can blow off, dry, clean, or cool the material passing through it. The split design can be clamped around continuously moving material such as wire, cable, pipe, hose, and extruded shapes. It ejects a small amount of compressed air through a thin slotted nozzle that pulls in high volumes of surrounding room air. The airflow is uniformly ejected. Air velocity can be varied with a pressure regulator, and instant on/off control provides precision blowoff. Applications include wiping wire, drying inks, cooling hot extruded shapes, and blowoff of water, plating, coatings, and dust.
Learn more.


Quick-ship program for standard and custom-designed process heaters
Durex Industries, a leading manufacturer of electric industrial heaters, sensors, and systems, now offers screw plug, flange immersion, and circulation heaters with fast-turn shipping capabilities. Durex uses product platforms to provide standard "catalog-type" designs as well as customized designs in the same fast-turnaround window. Plug heaters ship in 3 to 5 days, flange heaters ship in 5 to 7, and circulation heaters in 9 to 12 days -- regardless if standard or custom configured. In addition, there is no upcharge for customized units or "non-standard" configurations.
Learn more.


Best-kept secret in the circuit breaker industry
When STELPRO, a Quebec-based manufacturer of integrated heating solutions for the HVAC industry, asked partners all along its supply chain to identify cost-saving opportunities, installing NOARK miniature circuit breakers in panels on all their equipment was one solution that provided long-term quality and savings (typically 30 to 50 percent in price). NOARK's five-year warranty was a huge added bonus.
Read the full article.


Cobots load and unload Haas CNC machines
Loading and unloading CNC machines is becoming one of the most popular applications for collaborative robots as manufacturers face significant difficulties in staffing this tedious task. A new distributor agreement between Universal Robots and Phillips Corp. aims to further the rapid deployment of cobots with Haas CNC machines, offering machine shops a safe, user-friendly solution to optimize spindle uptime. Haas provides the best-selling CNC machines in the Western Hemisphere, and Phillips is the world's largest Haas Factory Outlet. "Having an expensive machine sit idle and missing out on orders due to lack of staffing is every manufacturer's nightmare," says Stu Shepherd, regional sales director for the Americas division of Universal Robots, which has already sold more than 1,000 UR cobots for tending Haas CNC machines.
Watch cobots tending CNC machines and learn more about this partnership.


Fun! LEGO releases Harley-Davidson Fat Boy model
Always wanted that super-cool Harley but only have a hundred bucks? You can get one. LEGO has just released a new detailed Harley-Davidson Creator Expert Fat Boy model that captures the beauty of the real-life machine with realistic finishes, surfaces, and design elements. Featuring 1,023 pieces, the foot-long model comes complete with moving pistons, solid-disc wheels, teardrop fuel tank, integrated speedometer, and dual exhaust pipes. Turn the handlebar, move the gear shift and brake levers, and flip down the motorcycle's kickstand for easy parking. Live your dream! Finished with an authentic dark red and black color scheme. Available on the LEGO site.
Learn more.
---
Most popular last issue


New world record for strongest adhesive
DELO, one of the world's leading manufacturers of industrial adhesives for automotive, consumer, and industrial electronics applications, has broken the world record for achieving the heaviest lift using adhesive. The company lifted an 18-ton truck and held it in the air for one full hour -- suspended from a bonded aluminum cylinder.
Read the full article.


Most advanced Ford track car ever: GT Mk II
The limited-edition Ford GT Mk II answers the question, "What can be done without rules?" says Larry Holt, chief technical officer, Multimatic, the co-creator of the 700-hp, track-only version of the GT. Engineered without race series regulations and limitations, it produces 200 hp more than the GT race car and includes aerodynamic enhancements for added downforce, further weight savings, and chassis updates for better handling.
Read the full article.
---
Videos+: Technologies and inspiration in action
Cool Tools: Artec Micro desktop 3D scanner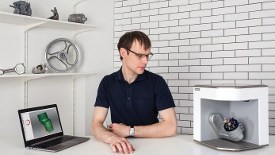 Artec 3D recently announced the Artec Micro, an automated, easy-to-use, metrology-grade desktop 3D scanner. Equipped with cutting-edge twin cameras, Artec Micro is the company's most accurate 3D scanner to date. Complete with blue LED lights that are synchronized with the scanner's dual-axis rotation system, Artec Micro creates the perfect digital copy using minimal frames. With a single click, it creates a high-resolution color 3D scan that boasts an incredible point accuracy of up to 10 microns -- a tenth the size of a single grain of table salt. This scanner is a great tool for geometric and tolerance testing for quality inspection applications. Artec Micro can also be used for precision mechanics and reverse-engineering applications.
Learn more and see it in action.
5 favorite keyboard shortcuts in SOLIDWORKS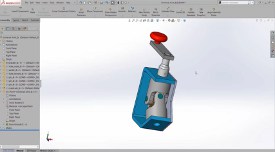 Chris Joren, elite application engineer with TriMech Solutions, runs through his five personal favorite keyboard shortcuts when working in SOLIDWORKS. It's all about being efficient when working on your model, after all. Learn what hitting keys like tab, shift, control, space bar, and combos can do to speed you along in your design work -- and never suffer from hidden part elements again!
View the video.
---